Activists Place 15-Foot-Tall Jeff Bezos Face Cutout on Roof of Whole Foods Store
An animal rights activist group in California raised a 15-foot-tall cutout photo of Amazon CEO Jeff Bezos above a Whole Foods Market location Monday. The Oakland-based activist group Direct Action Everywhere gathered at a Whole Foods in San Francisco's Noe Valley to stage their protest.
The group raised the tall cutout of Bezos' face above the store with a caption that read, "I profit from criminal animal cruelty."
The non-profit activist group claims that cruel conditions to animals have been discovered through undercover investigations at at California farms that market their products as "free range" and humane," according to the San Francisco Chronicle.
Direct Action Everywhere protesters gathered Monday morning to form a human chain and block the entrance of the Whole Foods, forcing the store to close during the protest. Whole Foods issued a statement that said "repeated" targeting by the activists created an environment they felt "jeopardizes the safety" of its customers and staff.
Some of the protesters held Bezos masks over their faces and others carried signs that read things like "Animal Bill of Rights" and "Rose's Law." Among the protesters was former Baywatch actress Alexandra Paul.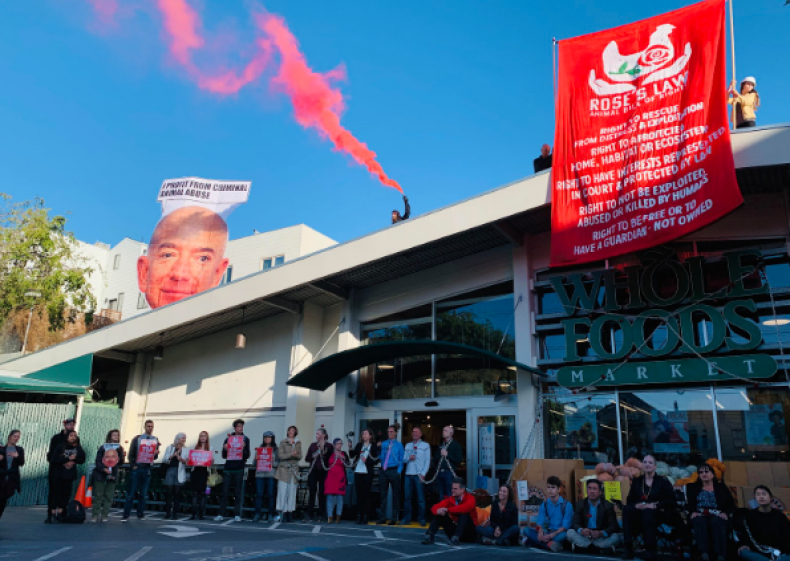 Amazon owns Whole Foods Market after acquiring it in 2017 for $13.7 billion, USA Today reported. Amazon released a statement earlier this year that it has a "vision of making Whole Foods Market's high-quality, natural and organic food affordable for everyone."
"We respect everyone's right to voice their opinion, but our responsibility is to provide a safe environment for our customers and our Team Members," Whole Foods said in their statement. It went on to say its stores try to "provide transparency in animal welfare," and that it uses Global Animal Partnership and other third-party certifiers to carry out audits on farms.
Among the demonstrators was Cassie King, a University of California-Berkeley graduate who said she faces perhaps eight felony charges while working to expose animal cruelty at farms and cruelty to rescue animals.
"We're here today asking Jeff Bezos to disavow the prosecution of whistleblowers and to support the right to rescue animals who are suffering inside factory farms," King said.
Direct Action Everywhere considers its "fiercely nonviolent" approach as one of its core values.
"We directly challenge systems of oppression with the power of nonviolence," its website states. "We accept suffering without retaliation for the sake of the cause. Even when tested, we respond nonviolently in act, word and tone"
Whole Foods Market has 504 stores, including 483 in the United States, 14 in Canada and seven in the United Kingdom.