As RNC Arrives in North Carolina, Activists Project Images of Unemployed Onto Building
Ahead of the start of the Republican National Convention on Monday, activists in Charlotte, North Carolina displayed a video of those that have become unemployed since the start of the coronavirus pandemic.
The images were projected on the wall of the Hilton Garden Inn hotel on Sunday night as Republican delegates were scheduled to arrive for the convention. It showed pictures of several men and women from across the country who had been left unemployed and struggling to make ends meet because of the pandemic.
"29 million reported that their households didn't have enough to eat for week ending July 21," said one of the images, coupled with pictures of President Trump and Senate Majority Leader Mitch McConnell.
The Center for Popular Democracy Action projected the video just a few streets away from the Charlotte Convention Center, where some events part of the RNC are due to take place.
"We're here w/ @unemployaction & @Action_NC to tell them what RNC really stands for: #ResponsibleforNationalCollapse," a tweet from CPD Action said.
The projection was a collaboration with its sister organisations Unemployed Action, a movement which fights for Congress to extend the $600 weekly unemployed benefits, and Action NC, a local North Carolinian equality and justice group.
One of the Center for Popular Democracy Action's co-executive directors is Ana Maria Archila, the activist who confronted former GOP Senator Jeff Flake in an elevator during the confirmation hearings of then-Supreme Court nominee Brett Kavanaugh in 2018.
Archilla was Rep. Alexandria Ocasio-Cortez's guest for the State of the Union address the year after.
According to household survey data from the Bureau of Labour Statistics, there were 16.3 million unemployed people in the U.S. by the end of July. Millions of those without a job are also likely to have lost their health insurance coverage when they became unemployed.
As the last federal coronavirus moratorium for renters comes to an end Monday, there are some 30-40 million Americans at risk of eviction in the country.
The Republican National Convention starts Monday in Charlotte, with some events set to take place in the city's convention centre, lasting for four nights.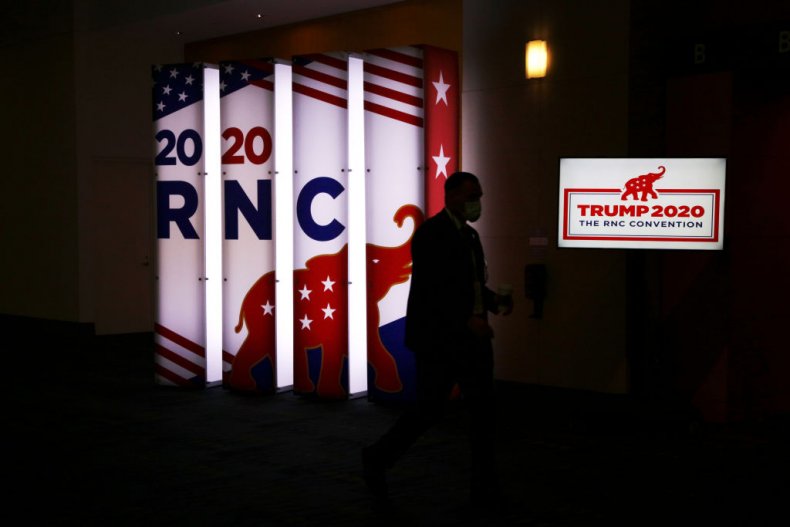 More than 20 former Republican members of Congress endorsed Democratic presidential candidate Joe Biden earlier on Monday, "in a strong rebuke to the current administration." Former Arizona Sen. Jeff Flake was the most prominent of the group, which included a large cohort of former congresswoman and congressmen.
Unlike the Democratic National Convention, held virtually, the RNC will be a mixture of in-person and virtual events. Some of the speakers include first lady Melania Trump, Secretary of State Mike Pompeo and Sen. Rand Paul (R-KY).