Activists Question Walmart, Others Carrying MyPillow Products Over CEO's Response to Capitol Riot
An online activist group has questioned major retail companies including Walmart and Amazon for selling MyPillow products, after company CEO Mike Lindell's response to last week's riot at the U.S. Capitol.
Sleeping Giants, an activist group that aims to combat hate speech and bigotry online, tweeted at Walmart, Amazon, Bed Bath & Beyond and Lowes on Friday asking if they would continue to carry MyPillow products after Lindell, according to them, "called for the insurrection."
"Will you continue to carry MyPillow after their CEO called for the insurrection and played a role in supporting it last week?" the tweet read.
The group attached a video of Lindell pushing the false narrative that the presidential election was stolen due to voter fraud, and assuring voters that "Donald Trump is going to be your president for the next four years."
In the video, which was reportedly taken after the deadly riot at the U.S. Capitol on January 6, Lindell tells viewers to "pray for protection for everybody that's standing up to these guys."
"This is the only time we have in history to beat these guys, to suppress the evil, and beat the evil," he says.
"This is a fight for everything we've grown up with, everything we live for, everything this country stands for. The whole world is watching, and 100%, Donald Trump is going to be your president for the next four years," he adds.
Lindell has been embroiled in controversy for months as one of Trump's top supporters, due to false claims that President-elect Joe Biden's victory was the result of a "stolen" election.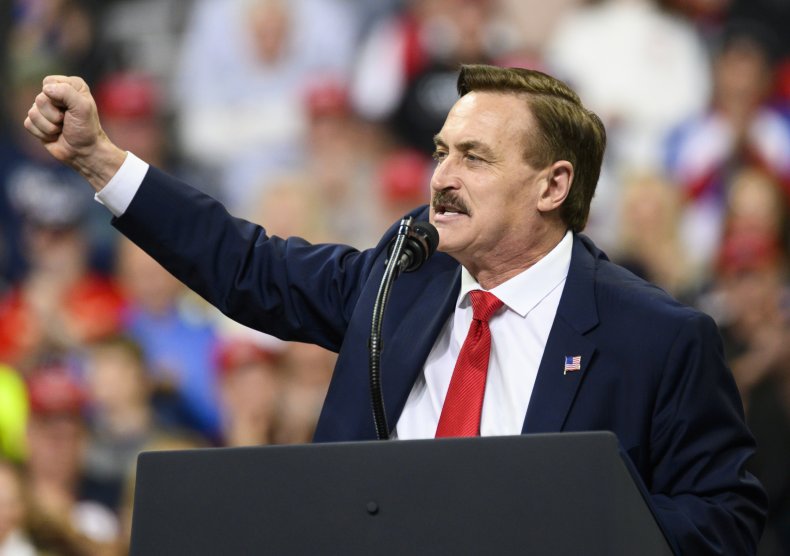 On Friday, the MyPillow CEO came under fire on social media after a photo of him heading into a meeting with Trump showed notes that appeared to urge the president to invoke "martial law if necessary."
A Washington Post photographer captured the partially obscured image of Lindell's notes, revealing a call for martial law and other emergency "powers," as he entered the White House on Friday.
Many interpreted the notes as an appeal for an illegal last-minute power grab or "coup" from a president who has now been impeached twice, and will be forced to leave office in just five days.
In December, Lindell also tweeted, but quickly deleted, a call for Trump to impose martial law in states that he had lost.
Last week's violent attack on the Capitol left at least five people dead, including one Capitol police officer.
Fears that Trump supporters will initiate more violence ahead of Biden's inauguration has prompted social media sites to heighten content moderation and suspend the president from using his accounts.
The social media site Parler, which had been popular among conservatives and far-right extremists, was taken offline Monday after the company allegedly failed to moderate content that "threatens the public safety, such as by inciting and planning the rape, torture, and assassination of named public officials."
Biden's inauguration has since been designated a "national special security event," and it will likely be protected by over 20,000 National Guard members, Metropolitan Police Chief Robert Contee said this past Wednesday.
Newsweek reached out to Walmart, Amazon and Lowes for comment. Bed Bath & Beyond declined to comment, according a company spokesperson.