Brett Kavanaugh Nomination: Activists Raise $900,000 to Pressure Susan Collins on Vote
Liberal activists are sending Maine Senator Susan Collins a pointed message: vote against Supreme Court nominee Brett Kavanaugh, or we'll run you out of office, New York Magazine reported.
Activists have raised more than $900,000 to fund her opponent's campaign in the 2020 election, when Collins, a Republican, will seek to retain her seat. The fundraiser says it will return the crowd-sourced funds to donors if Collins votes against the Supreme Court nominee.
Along with Alaska Senator Lisa Murkowski, the Maine incumbent holds a decisive swing role in the upcoming vote on Kavanaugh. Republicans control 51 seats in the Senate and can approve Kavanaugh if all party members vote for the nominee or if Vice President Mike Pence is called to break a 50-50 tie.
Collins has at times bucked the partisan atmosphere of Washington that leads to party-line votes. Most notably, she pushed back against the Republican repeal of the Affordable Care Act last year. During her campaign for office, she promoted herself as a pro-choice politician who would prioritize her constituents over her party. Now, many are questioning those claims.
Collins has not formally stated whether she will vote to approve Kavanaugh, but she previously said she would not approve a candidate who sought to overturn Roe vs. Wade, the 1973 decision that legalized abortion.
After a lengthy meeting with Kavanaugh in August, Collins declared that the nominee had assured her that he regarded Roe vs. Wade as "settled law."
Analysts and Democratic lawmakers have pointed out the tautology in this phrasing. "Everything the Supreme Court decides is settled law until it unsettles it," Senate Minority Leader Chuck Schumer said. "Saying a case is settled law is not the same thing as saying a case was correctly decided." Only as a Supreme Court justice could Kavanaugh help overturn Roe.
Emails leaked to the The New York Times last week only bolstered liberals' concerns that Kavanaugh intended to overturn Roe if approved. In 2003 correspondence, the nominee wrote "I am not sure that all legal scholars refer to Roe as the settled law of the land at the Supreme Court level since Court can always overrule its precedent, and three current Justices on the Court would do so."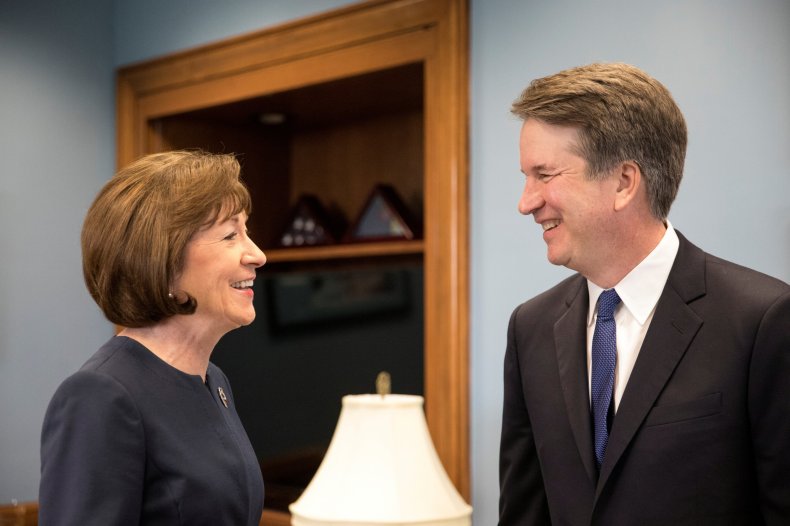 Liberal voters have expressed unease about a range of Kavanaugh's views, including his record opposing regulation of large businesses and fears that he will help abolish gun control legislation and unravel the Affordable Care Act.
"As an ex-Mainer who has a pre-existing condition, if you vote yes on Kavanaugh, you're voting to kill me," one woman said in a video on the fundraising page.
"If he was confirmed to the Supreme Court, he could instantly take away rights for people like me as a non-binary person or people of nearly any marginalized identity," an individual identified as Maddy said.
The dire sentiments and financial threats may not be enough to sway Collins, according to New York Magazine's Daily Intelligencer, which reported that Collins had the tenth-highest home-state approval rating of all U.S. Senators as of July.