Activists Slam Coke, Other Companies for 'Low-Key Betrayal' Over Georgia Election Law
As voting laws were signed into effect on Thursday, Georgia activists criticized major corporations—especially ones based out of the Peach State—for "low-key betrayal" for not taking a harder stance against the officials that pushed for the legislation.
The new law requires voter IDs for absentee ballots, allowing fewer ballot drop boxes, having state officials oversee local election boards, and criminalizing bringing food and water to voters that are in line. Republicans have praised the law as a way to keep elections fair and secure, but Democrats have called it voter suppression.
According to Bloomberg, local activists have called for boycotts against major Georgia-based businesses for backing politicians who supported the bill. They appeared to take aim at companies like Coca-Cola, Delta Air Lines and General Motors for not criticizing the lawmakers that they'd previously supported on Friday.
In a statement received by Newsweek, New Georgia Project Action Fund CEO Nsé Ufot said that the companies "can't have it both ways," and criticized praise directed at the bill.
"SB 202 is not commendable in the least. It represents everything Republican lawmakers are fighting for: a rollback of voting rights for Black and Brown communities, new voters, and young people in Georgia. Delta, Coca-Cola, and the Georgia Chamber of Commerce's praise of this bill is a betrayal. It shows they are ready to dismantle the freedom to vote alongside the Republican lawmakers they so willingly support," she said.
Ufot continued: "It is completely unacceptable to praise the bills that take away our most fundamental American right to vote and simultaneously profit off of our dollars. Their low-key betrayal has now become completely blinding."
Coca-Cola said in a statement obtained by Newsweek that it had been working with the Metro Atlanta Chamber in "expressing our concerns and advocating for positive change in voting legislation. We, along with our business coalition partners, sought improvements that would enhance accessibility, maximize voter participation, maintain election integrity and serve all Georgians."
The company added that it would work to better voter protection. "We will continue to identify opportunities for engagement and strive for improvements aimed at promoting and protecting the right to vote in our home state and elsewhere," Coca-Cola said.
In a Friday statement received by Newsweek, Delta also spoke about the importance of secure elections but also making sure that voters had access. CEO Ed Bastian said the company understands concern "over other provisions in the legislation, and there continues to be work ahead." He also noted that the company was committed to listening to its communities and people as well as working with both parties on legislation.
"Delta believes that full and equal access to voting is a fundamental right for all citizens," Bastian said. "Over the past several weeks, Delta engaged extensively with state elected officials in both parties to express our strong view that Georgia must have a fair and secure election process, with broad voter participation and equal access to the polls. The legislation signed this week improved considerably during the legislative process, and expands weekend voting, codifies Sunday voting and protects a voter's ability to cast an absentee ballot without providing a reason. For the first time, drop boxes have also been authorized for all counties statewide and poll workers will be allowed to work across county lines"
In her statement, Ufot called on Georgia businesses to alter their statements and show support for other voting legislation.
"Georgia businesses: if you really care, you will change your public statements. You will publicly support the Voting Rights Advancement Act and the For The People Act. You will also tell your Republican friends to pass these acts immediately. Make it clear that you care about your customers, employees and community members," she said.
Following passage of the new law, there were also calls for major sporting events to be moved out of Georgia. Some activists have called for the PGA to not hold the annual Masters Tournament at Augusta National Golf Club in April. The MLB Players Association's executive director also expressed an interest in discussing moving the All-Star game, which is scheduled for July, out of the state.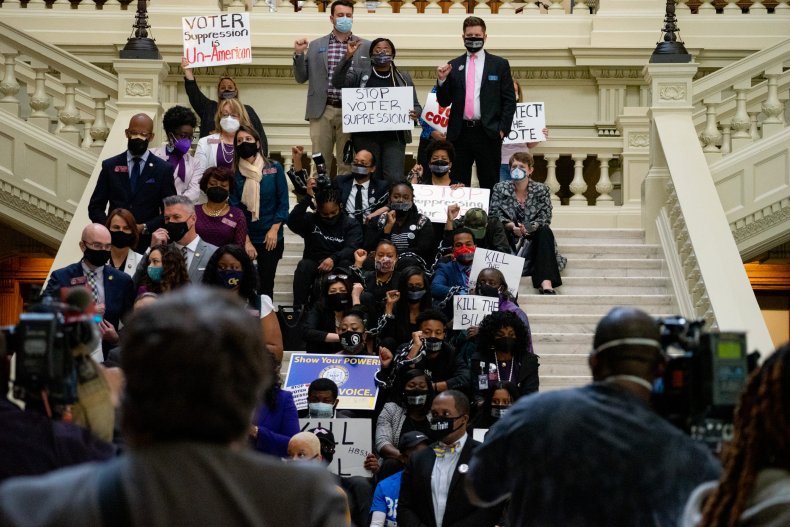 Update 3/27/21 10:13 a.m. ET, to include further comment from Coca-Cola.