Actor Arrested for Part in Capitol Riot to Represent Himself at Trial in 'Divine' Authority
James Beeks, a Broadway actor and Michael Jackson impersonator from Florida, was arrested Tuesday for allegedly joining the Oath Keepers group during the January 6 riot at the U.S. Capitol.
Beeks, 49, was allegedly among Oath Keeper members and affiliates who "marched in 'stack' formation into the Capitol grounds and then up the east steps of the Capitol to the area outside of the Rotunda doors" on January 6, according to the U.S. Department of Justice (DOJ).
Another defendant in the case told Politico that Beeks told the group of Oath Keepers that he had just joined and had been following social media posts from a Florida member named Kelly Meggs.
Though Beeks' face was covered during the riot, investigators were ultimately able to identify Beeks by his Michael Jackson "BAD" jacket, according to the DOJ report.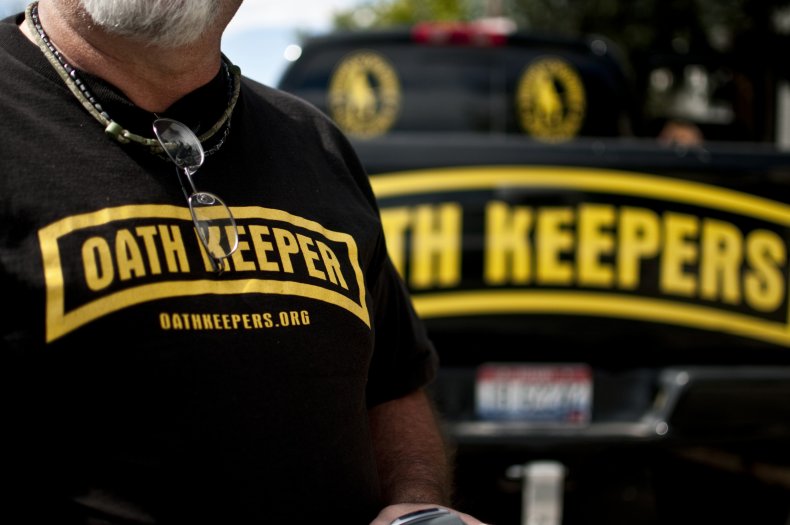 "Law enforcement was further able to corroborate Beeks's possession of the black jacket that appears consistent with the one he was seen wearing on January 6, 2021," investigators told Politico. "The jacket appears to be from Michael Jackson's BAD world tour, which started in 1987."
The FBI also said that "Beeks has an additional connection to Michael Jackson: According to his LinkedIn profile and YouTube page, Beeks regularly performs as a Michael Jackson impersonator."
Investigators were also able to identify Beeks due to the placement of his right ear in a photo of the Oath Keepers at the Capitol, Politico said.
"While law enforcement was not able to locate a photograph or video of Beeks at the Capitol with his full face visible (because of his helmet and gaiter), law enforcement was able to make a comparison based on his visible ear," the FBI said, according to Politico. "Specifically, a photograph of Beeks's right ear while at the Capitol appears similar to Beeks's right ear as seen on a video of Beeks on Beeks's YouTube page."
Beeks, who goes by the stage name James T. Justis, has been a part of several Broadway shows, including Kinky Boots, Aida, and Ragtime, and was performing as Judas in a traveling production of Jesus Christ Superstar before his arrest.
The DOJ said Beeks is charged with "obstruction of Congress, a felony, and a misdemeanor charge of unlawfully entering a restricted building or grounds."
During a hearing held via videoconference on Monday, U.S. District Court Chief Judge Beryl Howell asked if Beeks wished to recognize himself. Beeks responded that "I cannot represent myself because I am myself. I reserve all rights at all times and waive none, ever." He also claimed to be beyond the jurisdiction of the court, Politico reported.
"I am an American standing under public law and I am here by special divine appearance," Beeks told Howell.
Although Beeks refused to submit to court authority, one of the public defenders, Michelle Peterson, "huddled privately with Beeks Monday and convinced him to agree to strict terms of pretrial release that include GPS monitoring and a curfew," according to Politico.