'Despicable Me' Actor Fired for Making 'OK' Symbol While Posing With 6-Year-Old Girl at Universal Orlando Resort
An actor at Universal Orlando Resort has been fired for making the "OK" symbol while posing for a photo with a six-year-old biracial girl.
Tiffiney Zinger, who is black, and her husband Richard Zinger, who is white, traveled from Colorado to Orlando with their two young children earlier this year, USA Today reports.
The family went to Universal Orlando for the day to attend the character breakfast at the Loews Royal Pacific Resort, a Universal hotel, at 11am on March 23.
But it wasn't until August when Tiffiney spotted the unidentified actor, dressed as Gru from the film Despicable Me, making the gesture—used by white supremacists and the far-right—as she looked through vacation photos.
Zinger said she recognized the symbol as hateful and had to tell her daughter, who has autism and has since turned seven, that she couldn't use the photo for her second-grade class project.
"We just wanted to take them to see the minions," Zinger told USA Today. "Do something special for our family and this person ruined that special warm feeling."
The incident has left Zinger "emotionally distraught" and she worries that it could harm her daughter's development.
Zinger added that after spotting the symbol in the photo, she looked through her smartphone and found a 29-second video clip that showed the actor gesturing for the young girl to stand at his side and then moving his right hand just above her shoulder to curl his fingers into the "OK" symbol.
Richard Zinger added to USA Today: "It's more than the 'OK' sign. A lot of people don't understand what that sign means."
The couple said they reached out to Universal days after discovering the video and were told the incident was being investigated.
When they didn't hear back for a month, they contacted Universal again. They told USA Today they were informed the details of the investigation were "proprietary information" and were offered a gift card and free tickets.
They say they don't want financial compensation, but have hired an attorney after a corporate lawyer for Universal reached out to them.
Zinger says she wants to "cause change" to ensure something like this doesn't happen to another family again.
A Universal Orlando Resort spokesman confirmed to Newsweek that the actor involved is no longer employed there.
"We never want our guests to experience what this family did," the spokesman, Tom Schroder, said. "This is not acceptable and we are sorry – and we are taking steps to make sure nothing like this happens again.
"We can't discuss specifics about this incident, but we can confirm that the actor no longer works here. We remain in contact with the family and will work with them privately to make this right."
The incident at Universal occurred just a week after the Australian man charged with killing 51 people at mosques in Christchurch, New Zealand, flashed the "OK" symbol during a courtroom appearance after his arrest.
Last week, the Anti-Defamation League added the "OK" hand gesture to its database of hate symbols frequently used by white supremacists and other far-right extremists.
The group described the gesture as one that has been appropriated as a symbol meaning "white power."
The online "Hate on Display" database already includes burning crosses, Ku Klux Klan robes, the swastika and many other notorious and overt symbols of racism and anti-Semitism.
The civil rights group launched the database in 2000 to help law enforcement officers, school officials and other people recognize signs of extremist activity, according to the Associated Press. It has since grown to include nearly 200 entries.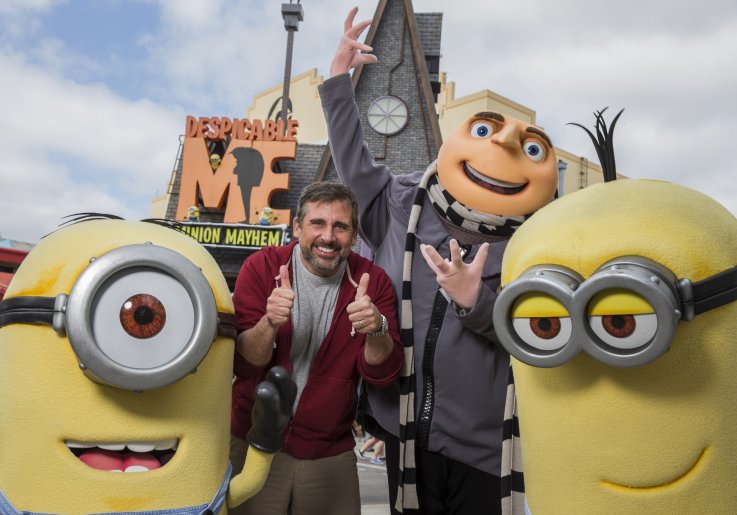 'Despicable Me' Actor Fired for Making 'OK' Symbol While Posing With 6-Year-Old Girl at Universal Orlando Resort | U.S.