Actor Shemar Moore Used to Host 'Soul Train,' But Some of His Fans Only Just Figured That Out
Long before Shemar Moore became the stealthy Daniel "Hondo" Harrelson of CBS' hit series S.W.A.T., and years before he put his thinking cap on as the intelligent FBI agent Derek Morgan from Criminal Minds, the actor filled the role as the music-loving dancing-machine host of Soul Train.
It's an entry on Moore's IMDb page that many fans on Twitter have seemed to have forgotten, but it's true. In the midst of his eight-year run as the Young & the Restless' Malcolm Winters, Moore also spent five years moonlighting as the host of Soul Train.
Dozens of people on social media were reminded of Moore's time holding the Soul Train reigns on Wednesday night, after a Twitter user shared a thread of clips from the beloved dance show, including video bits of Moore dancing down the soul train line with guests. While the clips served as a fun trip down memory lane for some people, there were others whose minds were completely blown to learn that the star once occupied show creator Don Cornelius' position.
"I was today years old when I learned Shemar Moore was on Soul Train," one Twitter user wrote.
Another wrote: "This is bad. I didn't know Shemar Moore was on Soul Train and I'm old enough to remember!"
The music-dance show first premiered on Chicago's WCIU-TV in 1970 with Cornelius serving as the host. Its popularity in the Windy City caught the attention of TV markets in places like Atlanta, Detroit, Los Angeles, Houston, Cleveland, Birmingham and Philadelphia, which ultimately led to Soul Train's syndication and switch to a nation-wide weekly format.
The dance show was the first of its kind—a television program produced and created by Black Americans for Black Americans, and it shined a light on a number of legendary Black artists, including The Jackson 5, Aretha Franklin, Smokey Robinson, Patti Labelle, James Brown and Stevie Wonder.
Cornelius maintained his role as the show's host until 1993, after which Soul Train featured a series of rotating guest hosts. Comedian Mystro Clark landed the job as Soul Train's permanent host in 1997, however, he exited two years later. Then Moore came on board and served as the host from 1999 to 2003. Following his departure, Charmed star Dorian Gregory took over the post until 2006, which marked the last new season of Soul Train.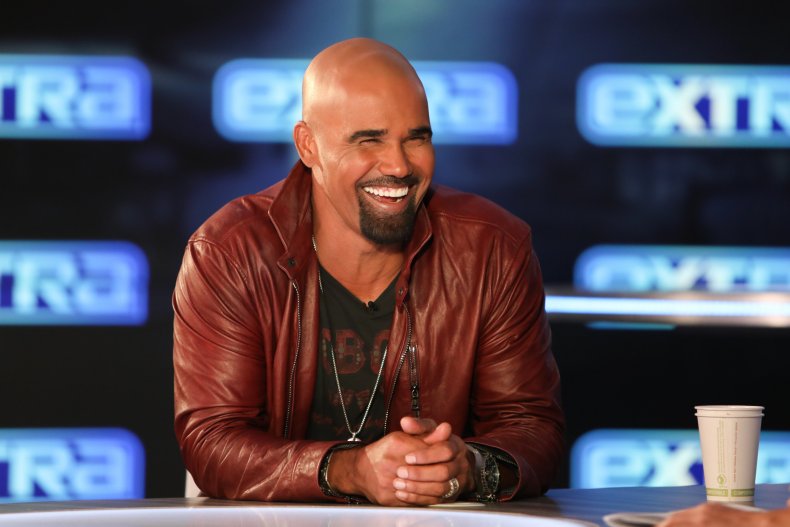 Moore had a penchant for joining the crowd out on the dance floor and was often filmed working it in the soul train line or dancing with the ladies on stage lifts, which Twitter users also got a kick out of.
"The way Shemar Moore dances on Soul Train is how I do everything in my life," one person wrote on Twitter.