Actress Gina Carano Defies Hollywood Vaccine Mandate With Non-Union Project
Actress Gina Carano has once again made it clear she's not playing by Hollywood's rules.
That's with the revelation this week that the former Mandalorian cast member is bypassing her previously announced first film project with The Daily Wire and instead is in production on a non-union Western with the conservative media outlet.
With the move, Carano has made her belief known that one's vaccination status shouldn't dictate work eligibility.
"Whether someone is vaccinated or not should not determine a person's ability to work in their different professions," Carano told Newsweek, noting that it was shortly after the announcement about her first film White Knuckle with The Daily Wire last summer, film industry unions started debating vaccine mandates for the cast and crew.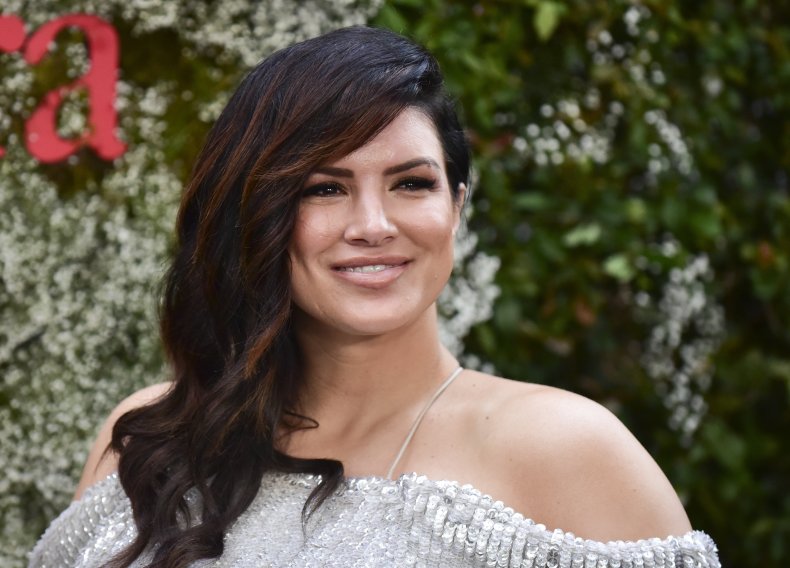 "Corrupt media coverage, censorship and government overreach in the past two years has been damaging and dangerous and are making citizens uneasy and more distrustful of the ones enforcing these mandates by the day and I can't say that I blame them," said Carano. "I wouldn't be surprised if we continue to see more strikes against unions who decide to enforce them."
Now, the former MMA fighter is currently in production on Terror On the Prairie a western being filmed in Montana in which she stars and is producing.
Terror On the Prairie centers on a pioneer family living on the Great Plains of Big Sky Country in a newly-built farm. They come to find themselves fighting for their lives against a gang of vicious outlaws.
Montana resident Michael Polish (Northfork, The Astronaut Farmer) is directing while Dallas Sonnier (Bone Tomahawk, Run Hide Fight) and Amanda Presmyk are producing under their film studio Bonfire Legend.
Character actor Nick Searcy (Justified, The Shape of Water), MMA fighter Donald "Cowboy" Cerrone, stand-up comedian Tyler Fischer, Heath Freeman (Skateland) and Samaire Armstrong (The O.C., Dirty, Sexy Money) co-starring. Searcy recently produced the documentary America, America.
The movie is set to release first exclusively through streaming to DailyWire.com members in spring 2022 with international sales going through distributor Voltage Pictures.
"Gina is our lead and our producing partner on this project. She told us she would rather leave her union than be in a position to discriminate against cast and crew on the basis of vaccine status," Daily Wire Co-CEO Jeremy Boreing told Newsweek. "It's a brave and important stand, and we support her 100 percent."
Boreing confirmed that White Knuckle couldn't be made as a non-union project on short notice so for now, it has been put on hold. The thriller is now scheduled to begin production in the first quarter of 2022.
Sonnier told Deadline Hollywood, "With the precariousness of the current Hollywood landscape and the remarkable overreach by its ruling class, we made the tough, but prudent choice to ride further out into the wild west to make movies on our own terms..."
Like other industries, the question of vaccine mandates has recently made headlines in Hollywood following months of delayed or ceased productions. In the spotlight now is the question about how much leverage industry unions have negotiating the level of power studios have requiring union members to be vaccinated.
For Carano, whether it's in the Star Wars cosmos, the earthly macrocosm of cancel culture or the Wild West, the actress is no stranger to clashes.
It was last February that she was let go from her role as mercenary Cara Dune in the popular and Emmy-nominated Disney Plus Star Wars series. Her dismissal by LucasFilm occurred after the actress sparked controversy on social media when she shared a post from another social media account comparing the experiences of conservatives in the U.S. to that of Jewish people during Nazi-era Germany.
Soon after, she announced the new film project and partnership with The Daily Wire, which was founded by conservative political commentator and media host Ben Shapiro.
Terror On the Prairie is one of multiple film and television projects in development for the media company, which is also making a foray into distribution.
In early 2021, The Daily Wire acquired Kyle Rankin's Run Hide Fight from Bonfire Legend.
Carano, who was dropped by United Talent Agency after the controversy, is now repped by manager Scott Karp and attorney Eric Galen.