Actress Rosario Dawson Accused of Holding Down Trans Employee During Beating, Misgendering Him
Actress Rosario Dawson is being sued by an ex-friend and employee, who has accused her of beating and misgendering him.
Dedrek Finey, who knew Rosario Dawson's family for years and helped renovate the actress' home after her mother encouraged him to move cross-country from California to New York to work for them, has accused Dawson of attacking, harassing, misgendering, beating and punching him.
Finey opened up about his transition to Dawson and her family after he moved to Los Angeles, at which point Finey was repeatedly allegedly misgendered by members of the Dawson family.
Dawson's mother, Isabel, her father, Gregory and her brother Gustavo all refused to use he/him pronouns around Finey and deadnamed him, even though Finey repeatedly corrected them.
When Finey complained to Dawson about the misgendering, she, too allegedly repeatedly misgendered him. When he protested, she replied, "You're a grown woman." When Finey tried to correct her pronoun usage, Dawson allegedly replied "Whatever."
After having his hours reduced and being told to move out of a house on Dawson's property in 2018, where he was living rent-free in exchange for doing the home renovations, he alleges the actress' mother, Isabelle, assaulted him on April 28 when he refused to discuss the matter with her.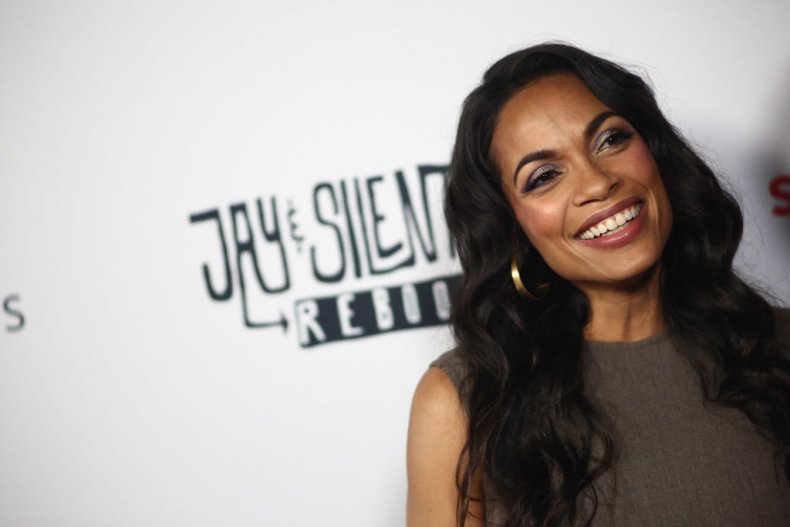 The suit alleges that Isabel threatened to kill his cat, then ripped a window screen out and pulled Finey through the window. She then allegedly began punching Finey, saying "You're not so much of a man now."
At that point Dawson told her mother, "Mom, stop being petty." According to Finey, Dawson then pinned him down so her mother could continue to beat him.
Finey then claims that one of the women took his phone away during the beating, because they knew Finey had a video of Isabel threatening Finey from earlier in the year and to keep him from dialing 911.
Finey eventually escaped, at what point he rushed into Dawson's house and called the police. The police transported Finey to the hospital, and he subsequently received a restraining order against Isabel. He accuses the family of shutting his gas off in September, forcing him to move out of the house and making his living conditions within the guest house uninhabitable.
Finey is suing Rosario Dawson, Isabel Dawson and Dawson's uncle and stepfather for assault, battery, trespass, discrimination, civil rights and labor violations.
Rosario Dawson—of the recently released Jay and Silent Bob Reboot and Zombieland: Double Tap and currently dating presidential hopeful Cory Booker—has yet to comment.