In the midst of Russia's invasion of Ukraine, an actress recorded herself reciting a poem as an open letter to Russian President Vladimir Putin. However, the video was met with some backlash after it was posted.
AnnaLynne McCord, an activist and actress known for her role in Nip/Tuck shared the video on her Twitter account Thursday morning and it has since been viewed more than six million times. Although the clip shared on Twitter cut off after two minutes and 20 seconds, the full video was just more than three and a half minutes long.
"Dear President Vladimir Putin," said, as she opened the video. "I'm so sorry that I was not your mother. If I was your mother, you would have been so loved, held in the arms of joyous light."
McCord continued her poem and recited what she would have done if she were his mother and what may have been different.
"Perhaps, you would hold on dear human life and on this night instead of Mother Russia you would call me, and I would set your mind quite free with the love that only a mother can give," she said. "And only a mother can take away."
On Thursday, Russian forces invaded Ukraine by land, air and sea. This invasion has prompted Ukrainian civilians to flee, and Poland is preparing to help with a potential influx of refugees.
Those who are trying to leave are reported to only be able to do so by ground transportation or by foot.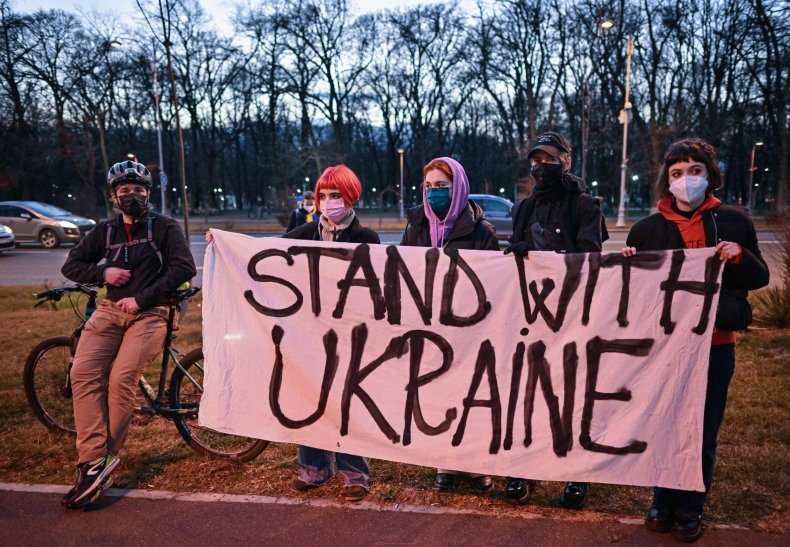 McCord told Newsweek in a phone interview that she woke up in "anguish" and turned to an art form to express her feelings.
"I had to use art because I didn't know what to do," she said. "I feel hopeless and I know a lot of the world felt like that."
Looking back on her own experiences with trauma, McCord, who works to support victims of human trafficking and sexual violence, said the point of her sharing her poem was to get people to address the root of a problem instead of "treating symptoms."
She said that may stop creating "villain characters" in the world.
"When I look at Putin, the first thing I thought of when I woke up was, 'What happened to him?' I know enough about trauma, it looked like a mother issue," McCord said. "There's always a root cause."
Reactions from Twitter users were swift and mixed—while some people wrote that they enjoyed the video and poem, others slammed it.
"A LOT of people don't get it," @riggs685 wrote. "She's saying had she been his mother and had he had a different start, he would not have become this person."
However, many viewers voiced their disapproval.
"No, we get it, it's just stupid and ill-timed self promotion," @HourComeAtLast wrote, replying to @rigs685's tweet.
"I don't even know what to say anymore," @highlghtheaven wrote.
Twitter user @alicialutes wrote that it was not "not the time" for her spoken word poetry.
McCord's video prompted Twitter users to compare it to the video that Wonder Woman actress Gal Gadot shared, which included a group of other celebrities singing a cover of John Lennon's "Imagine" at the start of the coronavirus pandemic.
Newsweek reported that Gadot's video received mixed reviews on Twitter.
One person called the video "cheesy" and "embarrassing," while another asked what the celebrities were doing to help.
Twitter users were quick to compare Gadot's video to McCord's.
"She really woke up and said 'I am going to make Twitter yearn for Gal Gadot to drop a song,'" @ElleRudd_ wrote.
"Did we learn NOTHING from Gal Gadot & Imagine," @Ash_Stewart_ tweeted.
Although the video quickly took off and was viewed more than six million times at the time of publication, McCord said she hasn't looked through responses. And, while she understands and respects viewers' anger and outlook on the poem, she said this was her own personal outlook based on years of treatment.
Looking forward, McCord said she also worries for the children living through war — in Ukraine, as well as the rest of the world—and what that could mean for their futures.
Newsweek reported that anti-war protests have broken out all over the world to call on Putin to put an end to the invasion.