Acupuncturist Inserts Needles Too Deeply, Punctures Patient's Lungs
A New Zealand woman ended up with two punctured lungs after an acupuncturist pushed needles too deeply into her shoulders.
The unnamed patient was seeking relief for a wrist and arm injury in 2018 when, according The New Zealand Herald, her acupuncturist put needles through the "jian jing" acupuncture points, located at the highest points of the shoulders.
According to a report issued Monday from the Health and Disability Commission (HDC), the patient, identified as "Ms. A," immediately experienced sudden chest pain and shortness of breath. The acupuncturist withdrew all needles and provided additional treatment until Ms. A said she felt better, then sent her home and told her to rest up.
But when Ms A got home, she reported feeling pain in the left side of her chest and numbness on the right side. Her husband took her to the emergency room, where she was diagnosed her with a bilateral apical pneumothoraces—when air leaks into the space between the lungs and chest wall, causing them them collapse.
HDC Commissioner Anthony Hill found the acupuncturist failed to advise her patient about the risk to her lungs or to get written consent before carrying out the procedure. He also criticized her for not realizing she had punctured the woman's lungs and sending her home rather than to the hospital.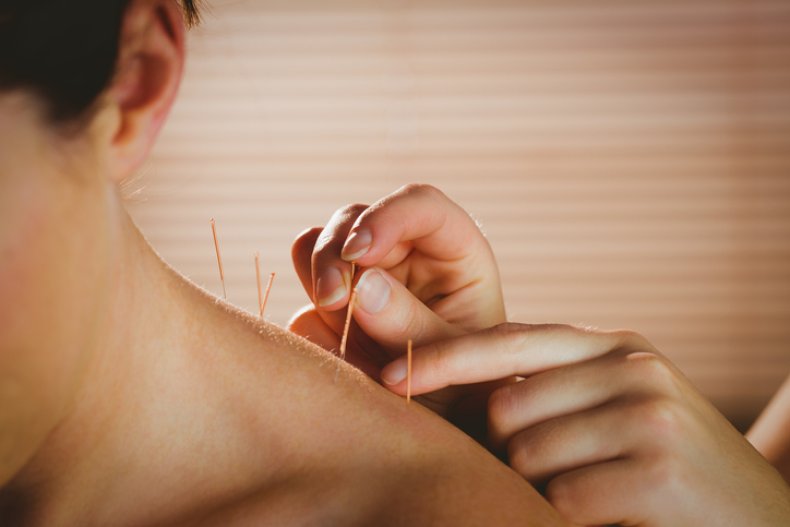 According to the National Institutes of Health, more than 10 million acupuncture treatments are administered every year in the United States alone. Although the science behind it is still debated, studies have demonstrated some benefit for ailments ranging from migraine headaches to and nausea associated with cancer treatments. Medicare is currently exploring the possibility of covering acupuncture for back pain.
In 2013, Danish researchers called attention to the potential of lung injuries through acupuncture in a report published in the Journal of Thoracic Disease . They presented two cases of lung puncture due to needles penetrating too deeply, both of which resulted in hospitalization.
"The overall incidence of acupuncture-related adverse events was 8.6 percent, among which 2.2 percent of the patients required medical treatment," according to their study. The majority of those incidents were minor hematomas caused by needles impacting blood vessels.
An article from the Won Institute of Graduate Studies advises caution when performing jian jang point treatment, recommending that needles be placed at an oblique, rather than perpendicular angle, to limit the possibility of contacting the lung wall.