Acura Teases NSX Type S, Reveals Plans to Close Out Current Sports Car Era
The 2022 Acura NSX Type S will kick the performance and power of the heralded supercar up a notch. Today the company released a teaser video and images of the car ahead of its debut on August 12 during Monterey Car Week.
The car is slated to be the highest performing road-level NSX ever. It will deliver more power, quicker acceleration and sharper handling than the current NSX.
Acura says that the model will uphold the brand's "unyielding commitment to Precision Crafted Performance," a vision of the brand that extends from the redesigned Acura TLX and new TLX Type S and further up the food chain to the new MDX and MDX Type S.
The 2022 NSX Type S will have an enhanced version of the company's twin-turbocharged V6 hybrid engine and standard all-wheel drive.
Though it hasn't yet been fully revealed, Acura is already positioning the NSX Type S as a future classic saying that it will likely be collectible in the same vein as the 1999 NSX Zanardi. The Japanese Domestic Market has had collectible versions of the car including the NSX-R (1992-1995) and NSX Type S-Zero (1997-2001).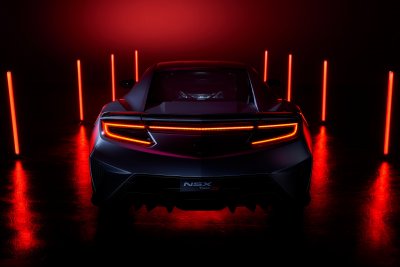 The 2022 model year will mark the first time that an NSX Type S has been sold outside of Japan. The next iteration of the car will be limited to just 350 units worldwide (300 are earmarked for U.S. customers). Each will be produced at the company's Performance Manufacturing Center in Ohio.
Acura will end production of the NSX following the production run of the NSX Type S. However, the company is not ending its association with sports cars.
The premium arm of Honda plans to "pursue sports cars in the electrified era" according to company vice president and Acura brand officer Jon Ikeda.