Ad Titan Martin Sorrell Says Readers Must Pony Up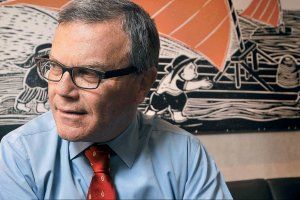 Sir Martin Sorrell has always been a bit of a flamethrower. Today, the British advertising tycoon—who amassed one of the largest ad-agency groups in the world—is in fighting form, as he dissects the media landscape over a lunch of takeout deli in his office.
What about the $315 million AOL–Huffington Post merger, I say: is it a sustainable model for the future? "What do I know?" he says. "But having said that: no." He thinks the price—10 times 2010 revenue—is too high for an aggregator of other people's content.
How about Rupert Murdoch's The Daily, the iPad-only newspaper that charges a subscription fee? "I'm a fan of Rupert's," he answers diplomatically. "I think getting people to pay for content is very important. The tablet, The Daily, is the right way to go." But does The Daily work for him in terms of content and quality? "Maybe in time."
Then there's The New York Times's new paywall, introduced last week. "I certainly hope" it will work, he says. That doesn't sound terribly optimistic. "I'm realistic!" he says. Sorrell just doesn't need the Times as much as he used to, he says. "There are plenty of other newspapers around the world, and even in America, which have sites … which are equally good—or can be less good and still be effective," he says. "We are bombarded with messages all the time. More means less."
Seriously, Sir Martin. Has anyone figured out the new media paradigm? "I don't think there's anybody that's cracked it," he says.
The 66-year-old executive has played the role of provocateur before. When I first met him more than 20 years ago, long before he was the knighted senior statesman he is today, he was a brash financial whiz kid. Immortalized by advertising legend David Ogilvy as "that odious little s--t," he muscled his way into the U.S. with hostile acquisitions of two storied ad agencies, J. Walter Thompson (1987) and Ogilvy & Mather (1989). In a front-page Wall Street Journal piece in 1989 I described him as "the most despised man on Madison Avenue." The headline called him an "ogre."
His may be just one man's opinion, but his WPP Group PLC, with clients like Ford and Procter & Gamble that spend a total of $72 billion worldwide a year, can practically make or break any media operation. From his perch, he has a better handle on the fractured, panicky state of the media business than almost anyone else.
He does see bright spots. He likes The Wall Street Journal and Times iPad apps, as well as the Flipboard aggregator app. He consumes copious amounts of news—on his iPad, on cable, and through email-newsletter blasts. But none of that solves the trick of a dying business model. "The problem with the Internet is there's so much of it. It's highly fragmented, and most of it's for free," he says. "Consumers must pay for content if they value it," he insists.
There's some irony in his recommendation, considering he is a major reason why Web content is free in the first place. Media executives figured that if they gave away their content, they'd draw supersized audiences—and that supersized ad dollars would follow. A concept, by the way, that Sorrell considers lunacy. "Advertising-only models don't work," he says. "There isn't enough advertising to go around. Period."
But Sorrell does have an idea for a solution, and a startling one at that. First, charge for content. Second, merge or close legacy media companies that can't adapt. And third, give government subsidies to make up the rest.
Federal subsidies seem far-fetched, given the Republican outcry over funding NPR and public television. But Sorrell—who points favorably to the BBC and Australia's free-to-air TV and radio stations—insists subsidies are essential for print as well as broadcast. That's because the two traditional revenue streams—subscription and advertising—are no longer sufficient. Of course, subsidies would also give his clients a break, since they'd no longer be shouldering the burden of financing media alone.
"The three things together: paywalls, consolidation, subsidy," he says. "To keep you in business as a journalist, it's probably necessary."