Who Is Ada Hegerberg? First-Ever Female Ballon d'Or Winner Asked to 'Twerk' On Stage by French DJ Martin Solveig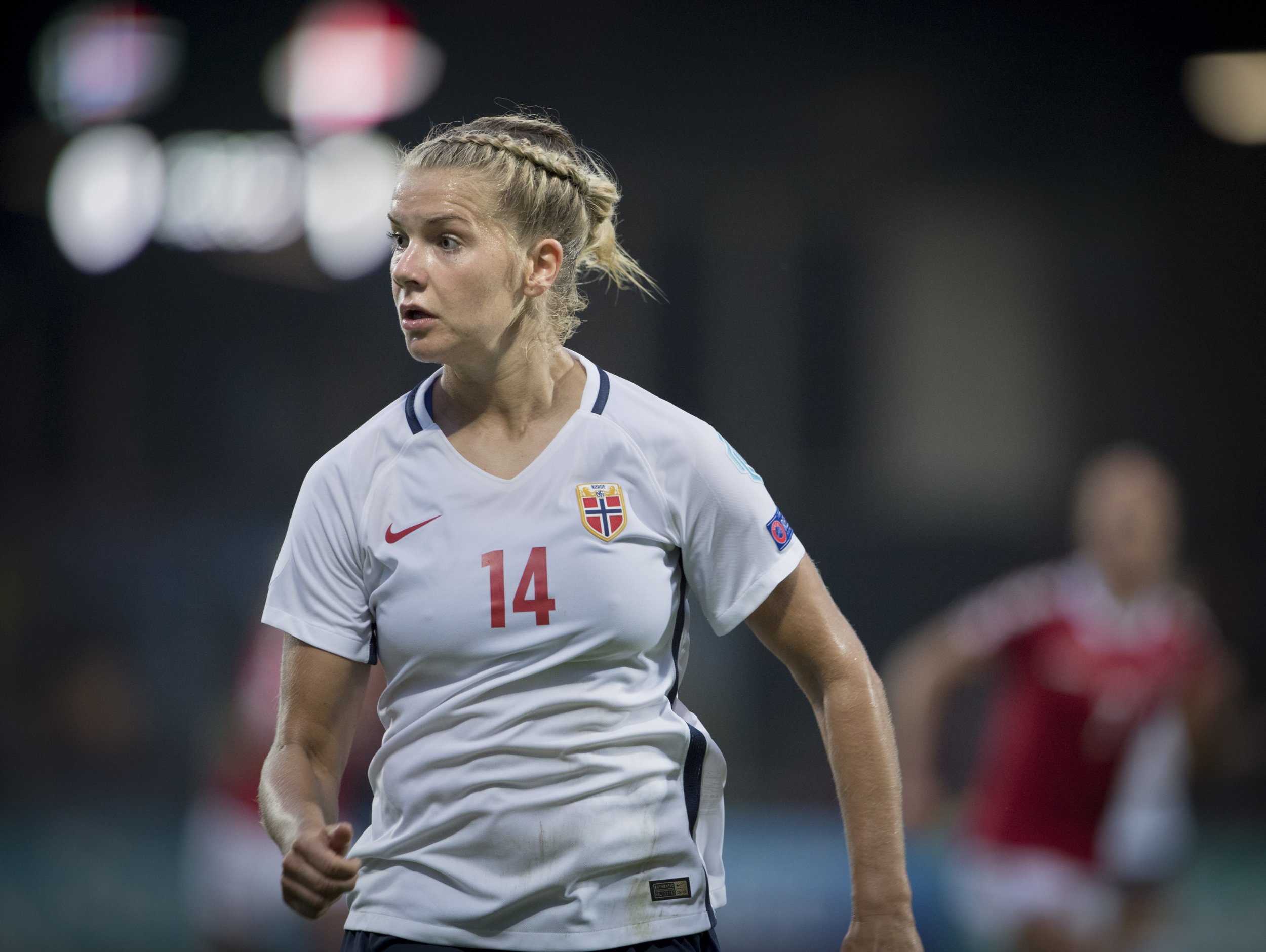 It was a moment to celebrate the contributions of women's soccer on the international stage, only to be smeared by an overt display of sexism.
Ada Hegerberg, a striker for France's Lyon and Norway women's national soccer team, became the first-ever female player to win the Ballon d'Or award, an annual football ceremony presented by France Football magazine and considered one of the most prestigious prizes in the "king of sports." She defeated Wolfsburg and Denmark player Penille Harder and Germany's midfielder Dzsenifer Marozsan who earned the second and third spot, respectively.
"I want to say thanks to my team-mates because this would not have been possible without them, my coach or our president Jean-Michel Aulas," Hegerberg, 23, told the audience in Paris. "I also want to thank France Football. This is a huge step for women's football," she added in reference to the editorial staff of the French publication who compiles the list of nominees.
Hegerberg joined other world-class honorees such as Real Madrid and Croatia midfielder Luka Modric who won this year's Ballon D'or, defeating longtime soccer stars Lionel Messi of Argentina and Portugal's Cristiano Ronaldo.
But once she received the trophy and was ready to make history, French DJ Martin Solveig—who also shared the stage—asked her if she could do a "twerk" performance, to which she adamantly said "no" and left the stage. Even though Solveig reacted to her answer with laughter, the crowd seemed aghast while a camera immediately showed French player Kylian Mbappe startlingly looking at the audience.
Solveig quickly caught flack after his comments. Twitter user A West tweeted that "Martin Solveig really asked Ada Hegerberg, the first ever Ballon D'Or winner, to twerk. The absolute disrespect bruh."
Eurosport reporter Dan Levene also wrote, "Pointless being outraged at the Ballon d'Or result. A popularity contest, monopolized by an electoral college controlled by sponsors & agents. Always will be." He then added in his tweet, "Save your outrage for sexist shitbag Martin Solveig - asking women's winner Ada Hegerberg if she could twerk for him."
One Twitter user pointed out at her accomplishments while acknowledging that the awkward moment could have spoiled the ceremony. "Lyon striker Ada Hegerberg, first female Ballon D'Or winner after scoring over 250 career goals at the age 23, asked to twerk on stage in front of footballing giants and the public watching. Disgusting and really ruined her moment she deserved. Poor."
Shortly afterward, Solveig uploaded a video in which he's seen visibly stressed following the Twitter backlash, offering "sincere apologies to the one [sic] I may have offended." He tweeted, "My point was: I don't invite women to twerk but dance on a Sinatra song. Watch the full sequence People who have followed me for 20 years know how respectful I am especially with women."
Incidents of sexism in soccer have been recently reported, particulary at the FIFA World Cup in Russia last summer. Head of FIFA's diversity program Federico Addiechi told Associated Press in July that he would be speaking with the organization's TV production team to show fewer images of attractive women in stadiums.
During the same tournament, at least three female reporters were sexually harassed on camera, NPR reported in June. The videos that showed men trying to kiss or grope reporters spurred widespread rejection among male and female colleagues, especially in the wake of the #MeToo movement, the radio broadcaster added.
At least 30 million women play soccer across the world, according to data from FIFA. Notwithstanding, only 23 percent of FIFA member countries have staff dedicated to helping these professional players, Australian website Whimm noted. In the U.S., five players from the women's team filed a 2016 lawsuit accusing the U.S. Soccer Federation of wage discrimination, The Atlantic reported, despite being more successful than ther male counterparts.