Adam And Eve Naked Once Again In New Exhibition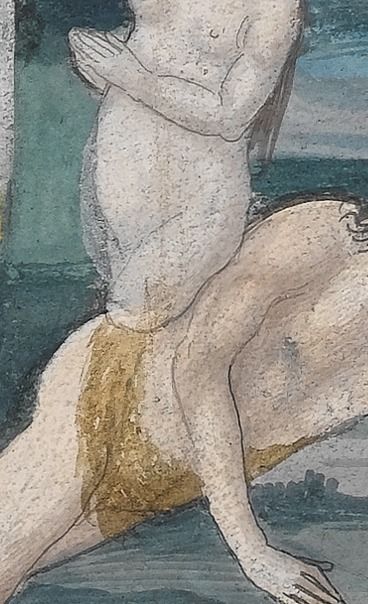 Adam and Eve will be naked once again in a medieval illustrated manuscript on display at the Fitzwilliam Museum in Cambridge, England. An early aristocratic owner of the 16th-century collection of images entitled The Primer of Claude of France decided it would be appropriate to cover up the biblical couple's nude forms. For centuries Adam's loins were wrapped in a grass skirt and Eve was draped in a veil—until now.
Referring to the former owner who was offended by the bare figures, the curator at the Fitzwilliam Museum told The Times: "It is crude, disfiguring and shoddily done. They did not ask an artist to do it. They did not know the Bible story very well and it does suggest a very prudish approach."
Museum officials, with assistance from professors in the Department of Applied Mathematics and Theoretical Physics at Cambridge University used sophisticated digital imaging technology to restore the illustrations to their original appearance.
Infra-red light confirmed the overpainting, once demanded by the unknown owner. Advanced mathematical modelling was then used to digitally remove the previous unwanted additions. Given the pages are 500 years old, the museum was concerned that tampering with the rare and fragile manuscript would ruin it altogether. "We've been aware of the overpainting for some years, but there was nothing we could do about it. Unlike our colleagues in painting, where later overpainting is often removed, we would not touch an original page in good condition," said Panayotova.
However the museum managed to complete the restoration without causing any damage whatsoever. "It has succeeded beyond our imagination," she added, "and without even touching the original page with a gloved hand—it was all done by algorithms."
The manuscript, featuring prayers and images relating to the biblical Creation story, was commissioned in 1505 by Queen Anne of Brittany for Claude, her five-year-old daughter, who would later become Queen of France. In 1808, Viscount Fitzwilliam, a collector of art, books and manuscripts brought it to Britain. When he died in 1816, the primer was amongst the precious artefacts he left behind, alongside a large sum of money to establish a "good, substantial museum."
The Fitzwilliam museum is celebrating its bicentenary this year and the manuscript will be one of 150 on display at the exhibition entitled Colour: The Art & Science of Illuminated Manuscripts, which runs until December 30.