Adam Cole Talks "Stealing the Show" at Takeover: New Orleans and His NXT Journey
It's Aug. 19, 2017. Drew McIntyre just pinned long-time NXT Champion Bobby Roode to capture the title in front of a raucous crowd at Takeover: Brooklyn III. But unbeknownst to the new towering champion, a man in a black suit was about to run into the ring to attack him from behind and usher in a new era.
The man in black was Adam Cole, former Bullet Club member and Ring of Honor champion. Along with friends Kyle O'Reilly and Bobby Fish, the three turned the landscape of NXT upside down as The Undisputed Era.
Since his debut, Cole has gone to war with the likes of Authors of Pain, Sanity, Roderick Strong and Aleister Black, but his work isn't done yet. Cole will battle against five other NXT Superstars at Takeover: New Orleans for the the newly minted NXT North American Championship. Cole will likely have to pull double duty and team with O'Reilly to keep the Tag Team Championships with The Undisputed Era, after an injury to Bobby Fish.
Newsweek spoke with Cole about his journey in NXT, what sets it apart from other promotions and his upcoming ladder match at Takeover: New Orleans.
Editor's note: This interview was conducted prior to Bobby Fish's injury. This interview was lightly edited for length and clarity.
You've wrestled all over the world. Why was last year the right time to sign with WWE?
Ever since I got into pro wrestling, it was always in the back of my mind. My end game was to end up here. I just felt at that point, I traveled all over the world, I got to wrestle some really, really talented people, I built up a decent fan base for myself. At that point it was time for me to try really make an impact in WWE, specifically in NXT. I definitely felt like the time was right.
Was it a long process to get into NXT?
There's definitely a long process, especially considering I had my first tryout with WWE when I was 19. There's always relationships you start, people you talk to and goals you have and obviously with other promotions there's contracts you sign. There's so many different aspects to this job: where you want to get, where you want to go. In the back of my mind the whole time, although the process did take a little bit, the goal was always to end up here. The cool thing was being in a situation where you get to wrestle and learn from a bunch of different people from all over the world. It really puts you in a spot when you come into WWE, you feel prepared and ready, and that was very important to me. To be able to be ready for the task at hand of being a part of this company, because it is, without question, the biggest wrestling company in the world. But I wanted to make sure I was on my A-game.
Were you a frequent viewer of NXT before you were signed?
Absolutely, a lot of my buddies had worked for NXT. But that wasn't the only reason. I will say initially it was the reason, but what kept me watching was the show. It's a fantastic show, you've got great action and the fans took on a life of their own. It's like a brand all on its own. It feels different, it feels special, it reminded me of why I loved wrestling so much. Seeing Sami Zayn wrestle Neville and Kevin Owens come in and Nakamura come in, Samoa Joe. There's just so many talented guys that had really great matches.
Some guys are brought in to NXT before moving up to the main card and some go straight to RAW or SmackDown. Was it your idea to start at NXT?
No they put me in NXT, but I also wanted to be in NXT. I remember I did a podcast interview with Steve Austin and he asked me, "In a perfect world, what would you want to do?" And I told him, for sure, go to NXT. And the big reason, again, is those fans and the talent that's down there. If I were to go right to RAW or SmackDown, I would miss out on something really special. I think the guys who have been on NXT and got to go to RAW or SmackDown got the full experience. That's what I want.
NXT is not overlooked now. For a long time NXT was seen as developmental. NXT is absolutely a third brand now. If you get to be a part of NXT and a part of something special, these shows that are so cool, and the relationship I'm building with the fans there will absolutely transition into RAW or SmackDown. So NXT was something I wanted to be a part of right out of the gate.
You talk about the fans and the crowd, but you're a heel. Is it difficult to be a heel when the crowd loves you?
It can be. But I do feel in 2018 that pro wrestling has gone in such a different direction. Before things were so black and white, now it's shades of grey. It's not so much good guys and bad guys, there are people who are put in situations who do the right or wrong things, but people react to them like they are stars. And I feel that creates a really cool wrestling show.
For me, for example, I'm aware lots of times when I go out to perform initially when I come through the curtain, I might get a very positive response, or when I do the "Adam Cole Bay Bay." But lots of times during the matches and the performance is unfolding in front of you, lots of times the crowd will boo me and cheer the guy who is the hero. Lots of times they will go along for that ride with you, but the initial excitement and respect they have for getting to see you or liking what you do. I've come to terms with the fans being appreciative of what I've done over these past 10 years and I'm grateful to them for that, but they also know when I'm being a big ol' jerk. They'll let me know it too [laughs].
When you arrived to NXT you had guys you worked with in Ring of Honor, like Fish and O'Reilly. Did that make the transition easier for you?
Oh for sure. To be able to show up to work and have familiar faces there, it helps a ton, especially in a new environment or with new pressures you may have to be able to be surrounded with guys who are close personal friends. That's the other thing too. With me, Bobby Fish and Kyle O'Reilly, I know on-screen we are these brothers whose bond can't be broken and we are this faction. I promise you, it's very real behind the scenes too. I've known those guys for years, we travel together all the time we talk every single day. Those guys are my brothers. So to be able to start there with them, and to share all the new experiences and excitement, and fun that NXT brings is awesome. I've said this a million times, but I don't mind saying it again. The only thing cooler than having a dream and accomplishing that dream is getting to do it with your buddies.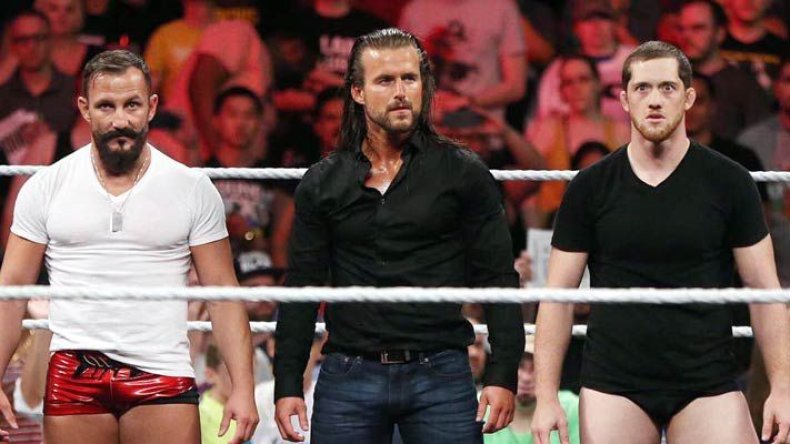 You're getting the WWE treatment down in NXT. Is there a "WWE style" that you had to get accustomed to?
I don't think so, per se. Don't get me wrong, wrestling promotions all over the world, certain fans like different things, certain promoters like different things, there's certain expectations they have. But as for as the "WWE style," there's just so many things WWE does so well. It really showcases certain talents to the best of their ability.
For example, the entire process of WWE—whether it's the camera work, or the commentary team, or storytelling—my matches are not much different. I'm wrestling in a very similar style that I did elsewhere, it's just the story and the way it's being projected to the audience comes off so much bigger, it's so much larger than life. That's the one thing that I've been able to take away from. Superstars look like Superstars and it's the biggest thing that I've noticed, the way my matches are shot or the way they are talked about. I've been pretty similar to what I was doing before, I've gotten better in certain things, which is very cool. But as far as me having to adopt a totally new style, I don't think so.
There's something I've wanted to know: the War Games match when you took that suplex. What was it like? Were you as scared as I was watching it?
Oh man, it was scary. I'm not a heights guy either. I'm not the type of kid where we all climb the water tower, I'd be the one who make it halfway up and say, "It's way too high, I'm going back down." I was always timid about heights, so climbing on top of that cage... That's the thing too, the cage looks huge on TV but once you get up there it's even crazier. But to be able to look out and see all the people and know we were in that moment, the way to get through it is the fans, they can get you through anything. But secondly, we knew were making a moment and that makes me happy that people are still talking about it. The whole point was to get people to say, "Hey, remember that War Games match? Remember that guy who got suplexed off the cage?" A moment was created, it was a very scary, horrifying moment, but it was a moment nonetheless [laughs].
Did it help that it was Roderick Strong doing the move?
I think so, subconsciously. But Roderick Strong can be a beast in that ring too, you don't know how hard he's going to chuck you, or how far he's going to throw you. It was both reassuring and horrifying at the same time [laughs].
You've definitely had a lot of destructive matches in NXT, like the War Games and the No DQ match with Aleister Black. Do you ever get used to taking that sort of punishment?
'Used to it' is probably not the right word, but you definitely get familiar with it. I've been in a lot of situations both in and out of WWE where I've been in pretty barbaric matches. It's not my first time in these types of matches, but it never gets easier. It's always as painful as it looks, they can be very, very brutal. But sometimes that's what's called for, and sometimes you create some really cool and exciting matches with some amazing people. But no, it doesn't get any easier.
The six-man ladder match was announced for NXT Takeover New Orleans, and it's a stacked card, how does it feel to be a part of that?
It's amazing. First, it's my first WrestleMania weekend and to be involved in that is awesome. And Takeover: New Orleans, the card is stacked and that match specifically is so crazy that we get to introduce a new championship. The six-man ladder match has six guys that many people feel can win it. Which creates a very cool, exciting match for everybody. If you follow any of the six of us, you know when a ladder is involved, we're going to get the best entertainment we possibly can. The match is going to be special, we're going in there with the intention to steal the show, if not the weekend. We're confident that this ladder match is something that's going to be really, really special. The best part is, everyone on Takeover has the same mentality we do. They want to have the best, most exciting match that they can, and certainly at WrestleMania they have that mentality, so the real winners are the fans. It's going to be the best weekend for sports entertainment and pro wrestling. It's going to be great. I'm super jazzed to be a part of it, I can't wait.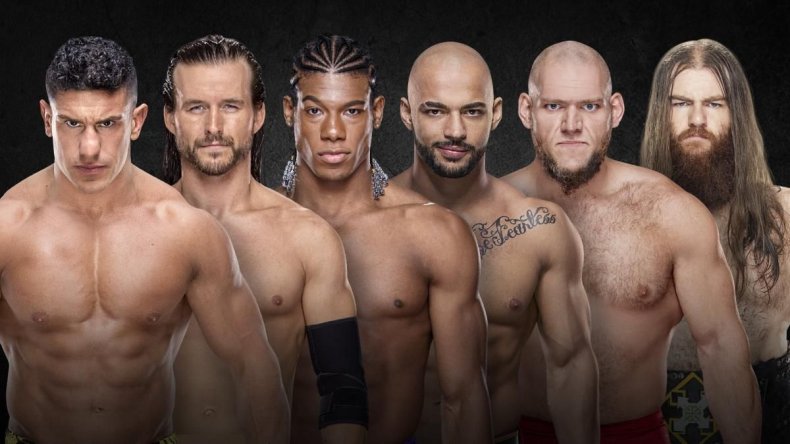 How badly do you want to be the first NXT North American Champion?
Very badly. I feel like when I debuted at NXT I was standing over Drew McIntyre, who was the then-champion and I was milking in the moment, going into War Games, going to war with Aleister Black. Getting to debut at the Royal Rumble, I feel if I were to win the NXT North American Championship this will just continue this crazy ride that I'm in now, and I feel I'm just getting started, I'm just scratching the surface. Let me tell you this, as much as I want to win, everyone else in that match wants to as well, but I feel everyone should be rooting for Adam Cole.
So if you win the North American Championship, you'll still have your eyes on the NXT Championship?
Of course, but I'm a guy who succeeds the most when I focus on the task at hand, and currently that's capturing the NXT North American championship. If i'm able to capture that, you can rest assured that I'm going to be focused on the NXT Championship.
You mentioned the Royal Rumble appearance, which was your first taste of the main roster. What was that like?
That was surreal. Not only because it was the Royal Rumble, it's when WrestleMania season really starts. The fans are a bit more excited, the performers are a little more on edge. I love that environment.
On top of that, because it was in Philadelphia I used to go to all the shows when it was called the First Union Center and I used to go and watch Monday Night RAW, SmackDown and the pay-per-views. I would drive or get my mother to drive me, an hour and a half to two hours, to watch these shows. That place was so special to me, I had so many positive memories as a child there. So for the Royal Rumble debut to happen by circumstance in Philadelphia, I don't know—it was like a book, or a movie. I was so excited and happy. If we were to talk about top three moments, that's in there for me.
Now that you've had a taste of the main roster, is do you have a preference to which brand you would want to go to?
Not necessarily. I see so many cool things going on in both brands that I can sink my teeth into. Obviously, going to SmackDown where Kevin Owens and Sami Zayn are. AJ Styles, Shinsuke Nakamura, Randy Orton, Bobby Roode... the list goes on, there's so many talented guys. They have them on RAW too. That's the coolest thing about the two shows right now, they offer something different, but no one is really better than the other, they have their things and their strengths and things that make you want to watch the show. I look at the performers on RAW or SmackDown and I see where I can fit in, and I feel I can fit in a lot of situations on RAW and SmackDown so I don't know, it'll be tough for me to pick one.
If you were to be on this year's WrestleMania card, where would you want to be?
I'll tell you what, I would want Shinsuke Nakamura's spot to wrestle AJ Styles for the WWE Championship. But if I couldn't take his spot, I would want it to be a three-way dance between AJ Styles vs Shinsuke Nakamura vs Adam Cole, baby. That would be my dream scenario.
What about tagging with Daniel Bryan against Kevin Owens and Sami Zayn?
Tagging with Daniel Bryan is also not a bad idea. It'll be tough to go in there and wrestle some good buddies of mine. But to be able to stand beside Daniel Bryan and go toe-to-toe against Kevin Owens and Sami Zayn on the biggest stage of them all? That's not a bad gig either.
NXT TakeOver: New Orlean s will stream live around the world Saturday, April 7 at 8 p.m. EDT on WWE Network.