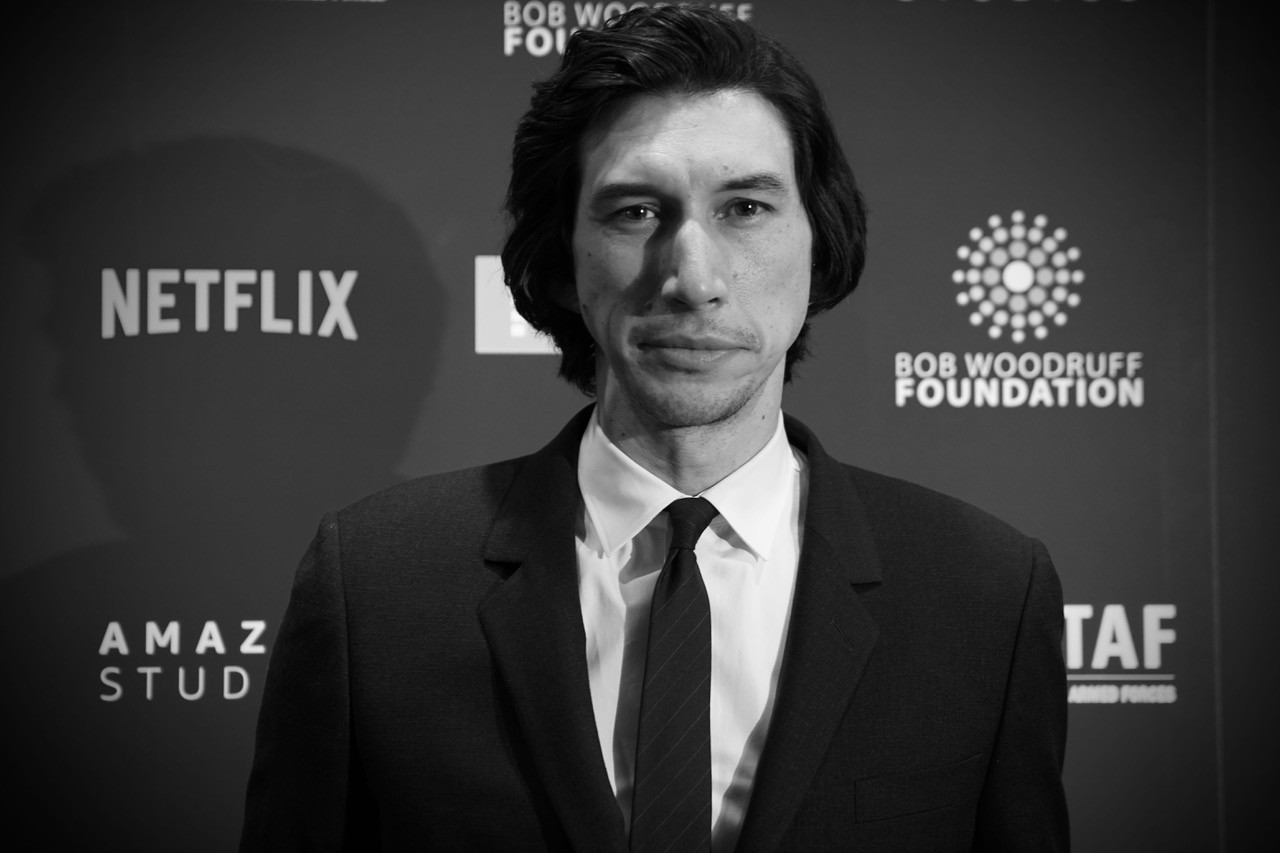 For the eleventh time since its founding, Arts in the Armed Forces, a non-profit organization founded by Academy Award-nominated actor and former U.S. Marine Adam Driver, and his wife, the actress Joanne Tucker, brought high-quality theater to active duty service members, veterans and their families on Broadway.
The play, A Raisin in the Sun, by the playwright Lorraine Hansberry was once considered a 'risky investment' to produce given the prominently all-black cast and racial subject matter as it premiered at a time when the Jim Crow South continued to disenfranchise Americans of color, per Academy Award winner and U.S. Army veteran Sidney Poitier, who starred in the original performance at the Ethel Barrymore Theatre back in 1959.
But 60-years later since it first debuted less than a mile down the road, Driver believes the play and prose of race and poverty—completely void of military subject matter—can bridge a gap of understanding between the military and civilian communities, and even more so, within the veteran's own experiences from service and war.
"Our readings are minimal by design...we throw away sets, costumes, lights...we just read a great play with great actors and have a conversation afterward," Driver told the Veterans Day audience at the American Airlines Theater. "I know it's a common adage in acting to say 'we're not saving lives,' but I think art does save lives. It just brings people out of the dark."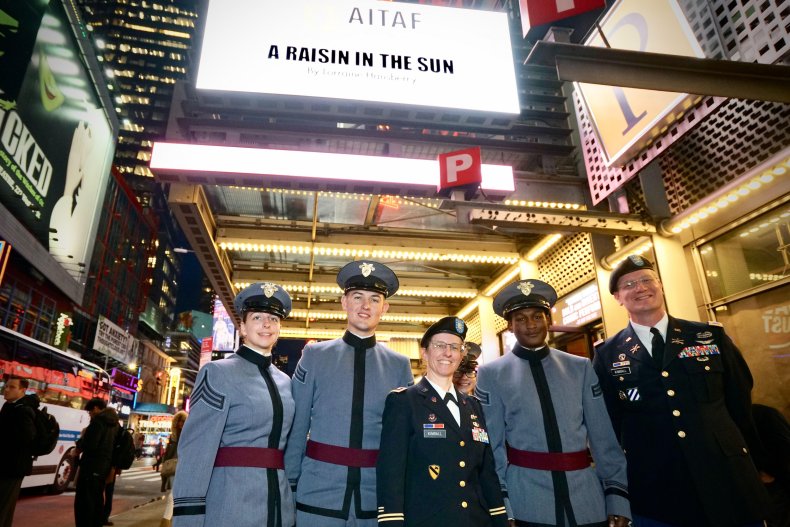 So amid the cold and the Broadway lights and the sounds of New York City reverberating off its own skyscrapers, a small and often overlooked class of Americans—military veterans and their families—gathered at the American Airlines Theatre to hear the prose of a play for one night only.
Current and former military service members traveled from across the country to the heart of Broadway for the free performance. The old breed of soldiers—some wearing World War II and Vietnam veteran baseball caps—came undeterred by age or faltering health. They mingled in seamlessly with those veterans who hold the rawness and grief of more recent conflict in Iraq and Afghanistan.
The play is the culmination of a year's worth of performing for U.S. troops throughout the United States and abroad. In the past year, the actors performed for U.S. Navy sailors on the mess deck of the aircraft carrier U.S.S. Carl Vinson, while at sea. They performed for incarcerated veterans in Fort Leavenworth, Kansas. For cadets at the U.S. Military Academy at West Point and for U.S. Marines at the Mountain Warfare Training Center in Bridgeport, California.
"In a few weeks, thanks to a generous sponsorship from Netflix, our team will be boarding a plane to Djibouti, Africa to perform," at Camp Lemonnier, the primary base of operations for U.S. Africa Command in the Horn of Africa, said Lindsay Miserandino, the executive director of Arts in the Armed Forces.
Among the rank-and-file veterans, Hollywood celebrities such as Academy Award-nominated actress Laura Dern and Emmy and Tony-nominated actor Dylan Baker, who also stars in the play. But to the casual observer, you would never know they were there as the proverbial script was flipped as the men and women of the U.S. armed forces were the stars of the evening among the stars of film and stage.
"[These] are my brothers and my sisters...and the military population makes up less than one percent of our country," Driver told the packed house last week." [They're] asked to bear the responsibility of a hundred percent of [the country's] safety. What better community to arm with the new means of self-expression than the men and women of our armed forces and the family that supports them?"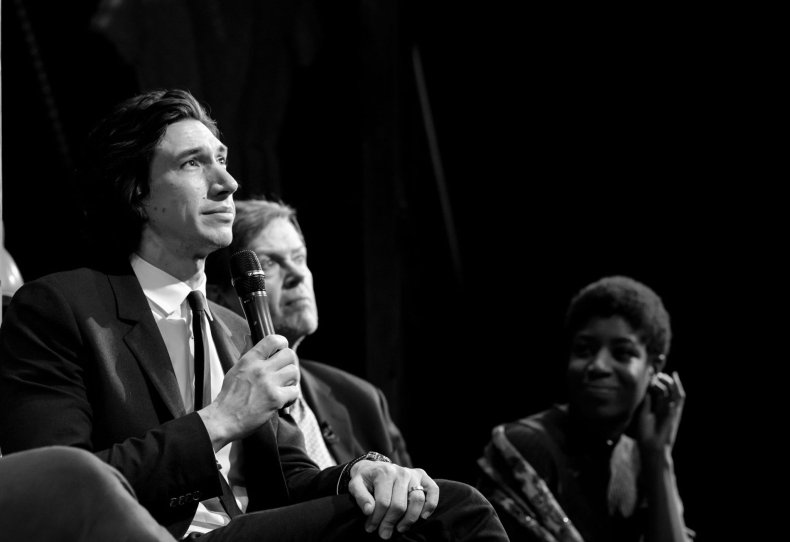 A Raisin in the Sun is set in the post-World War II era on Chicago's South Side and centers on the dreams and conflicts within three generations of the Younger household, an African-American family navigating the racial tensions of the day and their own poverty-stricken social-economic status.
The play's subject matter is not centered on U.S. military service or even experiences from war—a conscious choice made by the organization to connect with a diverse audience.
"I think [art] takes what you think is private and singular to you and connects to a community that you didn't know existed," said Driver.
One of those singular but connecting moments for veterans in the audience came through one of the play's central characters, Walter Lee Younger, played by Colman Domingo, a Tony-nominated actor and playwright best known for performances in 2012's Lincoln and 2014's Selma.
Walter is not a likable character. He's nasty and comes off as arrogant and selfish. He demeans his family and one can imagine him going all 'Cats in the Cradle' with his son Travis, played by Asante Blackk of NBC's This is Us.
But as the play progresses, the audience begins to learn that Walter's outward behavior stems from an underlying pain in his own life. He feels less than a man and has no purpose—a feeling exacerbated by barely being able to provide for his family coupled with fruitless dreams and working in a dead-end job as a chauffeur for a rich white man.
For many service members transitioning out of military, Walter's plight is sometimes their own. Veterans of the post 9/11 wars are more likely than previous generations of troops to report problems of readjusting into civilian life, according to a recent survey from the Pew Research Center. One-third of veterans reported experiencing trouble paying bills after leaving the military. Three out of ten veterans said they received unemployment compensation, while one in five reported struggling with alcohol or substance abuse—as Walter does in the play.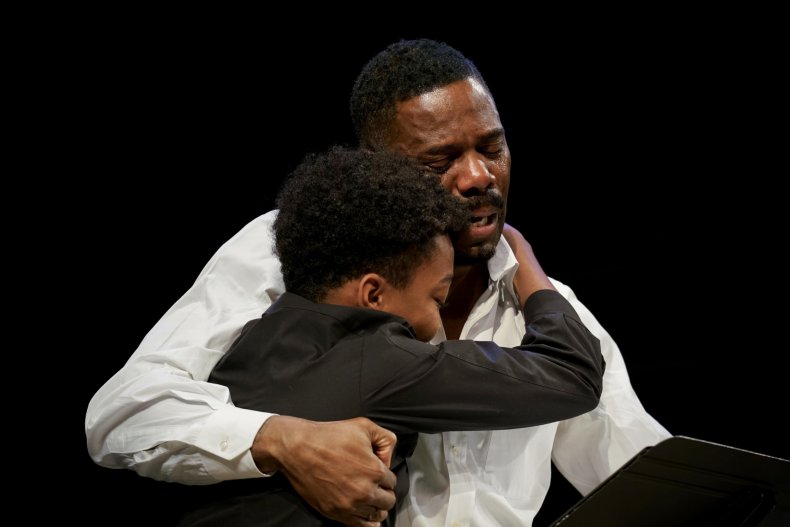 During a question and answer segment following the play, the actors heard from veterans in the audience struggling with memories of war from Fallujah, Iraq in 2004. They heard from kids of service members moving from base-to-base as they came of age on military installations within the United States and abroad.
The subtext was more than just audience members receiving the opportunity to chat with famed actors—in fact, not one typical Hollywood question was asked. Instead, a community of people came together to lament past trauma and inquire about methods of coping and learning what resources are available for those longing to tell the stories that have been locked away within the mind, and for some, buried under survivor's guilt from war.
The evening was best summed up by the play's director, Patricia McGregor: "I think we tend to think we've got to have the solution but the medicine is listening. You know, he [Walter] says in the play so much, why can't someone listen to me?...I think finding people that can listen to each other and bear each other's story might be one way of trying to address what we try not to articulate."