Adam Johnson Wins National Book Award in Fiction, Ta-Nehisi Coates in Nonfiction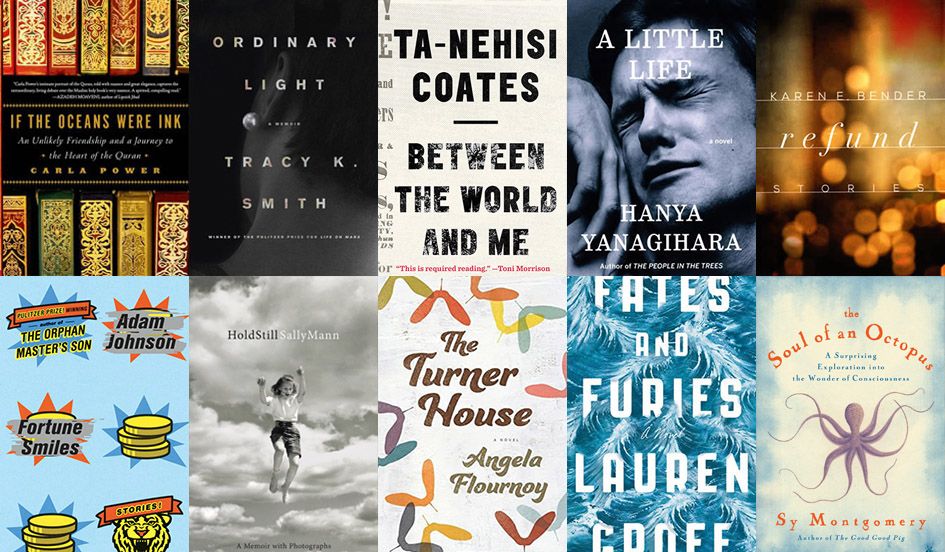 The National Book Foundation honored a Pulitzer Prize-winning Stanford professor, a journalist and recently named MacArthur "genius," a poet for her first published collection and a best-selling author of books for children, on Wednesday at the 2015 National Book Awards in fiction, nonfiction, poetry and young people's literature, respectively.
"Ladies and gentlemen, before we begin, let's have a big round of applause for the National Book Foundation," said the evening's host, Andy Borowitz, when he took the stage to kick off the evening's festivities. Borowitz, who created the 1990s sitcom The Fresh Prince of Bel-Air, also started the satirical news column "The Borowitz Report" (now part of The New Yorker). "No, no, much more," he said, listening, it seemed, to his internal clap-o-meter.
"I am so honored to be your host," Borowitz said. "We are all here for the same reason. Everybody in this room loves books, right?"
The readers and writers in the room included winners of the Pulitzer Prize, the National Book Critics Circle Award, and the MacArthur Fellowship, or "genius" grant, as well as previous recipients of the National Book Awards. On Wednesday, the foundation honored Adam Johnson, who took home this year's prize in fiction for his short story collection Fortune Smiles; Ta-Nehisi Coates, who won in nonfiction for Between the World and Me; Robin Coste Lewis, who nabbed the poetry award for Voyage of the Sable Venus; and Neal Shusterman, whose Challenger Deep was declared winner in young people's literature.
"I finally achieved my father's dream for me, to be an NBA star," joked this last winner as he stepped up to the podium to accept his award. Shusterman went on to describe the inspiration for Challenger Deep, a book whose title came out of his son's second grade ocean report and whose story was inspired by that same son's struggle with mental illness years later.
Long before there were four winners of the 2015 National Book Awards, there were 1,428 submissions from publishers, including 419 entries in fiction, 494 in nonfiction, 221 in poetry, and 294 in young people's literature. The National Book Foundation announced its long lists of ten titles in each of the four categories over the course of a week in mid-September, beginning with young people's literature and followed by poetry, nonfiction and fiction. Roughly a month later, it announced the five finalists in each group, from which Wednesday's winners were selected.
The ceremony was the culmination of a string of events that lead up to the announcement of the National Book Awards winners. Monday saw a celebration of this year's "5 Under 35," which honored Colin Barrett, author of Young Skins; Angela Flournoy, author of The Turner House (which was also a finalist for the award in fiction); Megan Kruse, author of Call Me Home; Tracy O'Neill, author of The Hopeful; and Azareen Van der Vliet Oloomi, author of Fra Keeler.
On Tuesday morning, students in New York City had the chance to ask questions of the National Book Awards finalists in young people's literature. That evening, the foundation held its annual private medal ceremony, at which each finalist receives $1,000, a bronze medal and a citation. It was followed by the traditional finalists' reading, during which each of the finalists read an excerpt from his or her nominated book. These last two events, like the final awards ceremony, were livestreamed and can be replayed.
The ceremony, held at Cipriani Wall Street in Manhattan, also honored James Patterson with this year's Literarian Award for Outstanding Service to the American Literary Community—the foundation's executive director Harold Augenbraum reminded the audience that a literarian is a person who dedicates his or her life to the study or enjoyment of literature—and Don DeLillo with the Medal for Distinguished Contribution to American Letters.
"Let's find a way to make sure there's another generation of readers out there," Patterson said in his acceptance speech, "and bookstores, and libraries, and healthy flourishing publishers."