Adam Kinzinger Blasts 'Cold-Hearted' Laura Ingraham Over 1/6 Committee Remarks
Representative Adam Kinzinger has blasted Fox News host Laura Ingraham as "cold-hearted" after she mocked him for tearing up during the first hearing of the House select committee investigating the January 6 insurrection at the U.S. Capitol.
During an emotional hearing on Tuesday, four police officers recalled the violence and racial slurs they endured as they sought to defend the Capitol from a mob of Donald Trump's supporters who attempted to stop the certification of President Joe Biden's electoral victory.
Kinzinger, a Republican, choked up as he addressed the officers during the hearing, telling them they "won." "Democracies are not defined by our bad days, we're defined by how we come back from bad days," he added.
On Fox News that evening, Ingraham mocked the testimony of the officers and claimed "the theatrics were intended to produce an emotional reaction, logic and facts be damned."
She also gave those involved in the hearing fake awards for their "performances," including one for "best use of tears and dramatic pauses in a leading role" to Kinzinger and Rep. Adam Schiff.
During Kinzinger's appearance on CNN's The Situation Room on Wednesday, host Wolf Blitzer asked him about Ingraham's remarks without mentioning her by name.
"It was really obnoxious and disgusting, one personality on Fox actually mocked you, calling those tears of yours a performance. How do you respond to that?" Blitzer asked
"Well, that personality on that television show I don't think has ever served in uniform a day in his life," Kinzinger said. Blitzer later corrected him, saying it should be "her."
Kinzinger added: "I would argue that that is a very cold-hearted thing or it's just simply driven on expanding your cold-hearted personality for ratings."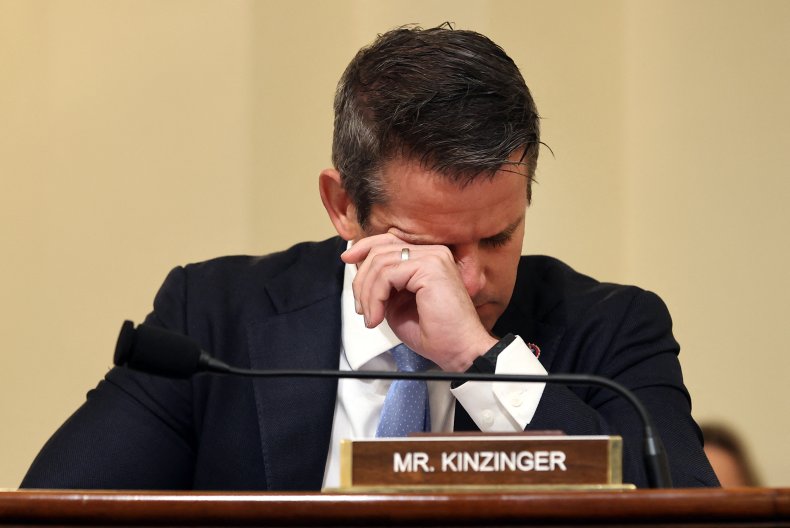 He continued: "The reason that hit me so strongly, I was sitting there getting ready to ask my questions and I realized, it's important for people to see the humanity of these officers... it is important for them to hear and be remembered that they did actually win that day. It took a tragic human toll, hundreds of officers were injured, some seriously injured."
Kinzinger went on to say that he was touched by how the police officers were "willing to show their vulnerability to 350 million Americans."
"It caught me off guard," he said, "but I think it's important just to show people that these are human beings, and I think yesterday did a good job of showing the humanity of it outside of the cold political calculations that everybody takes every day out here."
Newsweek has contacted Fox News for comment.