Adam Kinzinger Blasts Marjorie Taylor Greene for Attacking GOP Colleague Over Trial Witnesses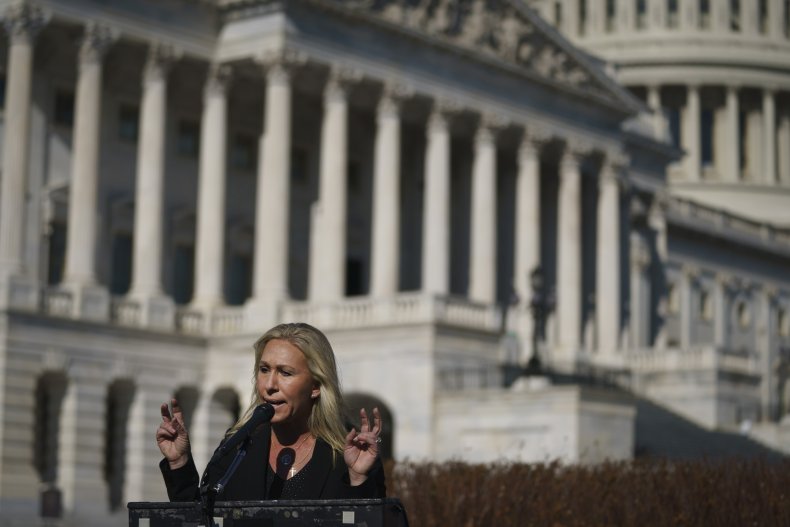 Congressman Adam Kinzinger (R-Ill.) defended Congresswoman Jaime Herrera Beutler (R-Wash.) on Saturday, after Congresswoman Marjorie Taylor Greene (R-GA) attacked Herrera Beutler's earlier call for witnesses in former President Donald Trump's second impeachment trial.
Later, following an agreement, both the House prosecution and Trump's defense team opted not to bring in witnesses.
"[Herrera Beutler] has about 40 times the honor of you," Kinzinger addressed Greene in a tweet.
The rebuke comes after Greene, who is a vocal supporter of the conspiracy theory QAnon, accused Herrera Beutler of "throwing" House Minority Leader Kevin McCarthy "under the bus" by confirming potential evidence of Trump's incitement of insurrection.
On Friday, Herrera Beutler tweeted confirmation that a phone conversation occurred between Trump and McCarthy on January 6—the day a violent insurrection took place at the U.S. Capitol building.
According to Herrera Beutler, McCarthy called Trump and plead for him to call his supporters away from the Capitol, where a joint session of Congress was meeting to certify the election of President Joe Biden. Trump grew irate and incorrectly claimed antifa, not his own supporters, had invaded the Capitol, according to the statement. Trump then said the Capitol rioters were "more upset" about the election than McCarthy himself.
"To the patriots who were standing next to the former president as these conversations were happening, or even to the former vice president: if you have something to add here, now would be the time," Herrera Beutler wrote, calling on GOP members to come forward with any evidence they may have against Trump.
CNN first reported about the phone call on Friday, stirring a last-minute debate over whether or not the Senate should call witnesses to testify against Trump. The House impeachment procedure did not call witnesses to speak on behalf of Trump's actions.
After a delay, an agreement was reached Saturday not to bring in witnesses before reaching a verdict in the trial.
"The gift that keeps on giving to the Democrats," Greene earlier tweeted in response to Herrera Beutler on Saturday. "First voting to impeach innocent President Trump, then yapping to the press and throwing @GOPLeader under the bus, and now a tool as a witness for the Democrats running the circus trial."
Greene, who has remained loyal to the former president, then warned Herrera Butler "the Trump loyal 75 million are watching."
Kinzinger then replied to Greene: "Maybe you're more famous though, which is all you want. Also 'yapping to the press' is telling truth, something you should try to your loyal Q base."
Kinzinger and Herrera Beutler are two of the 10 House Republicans who voted in favor of impeaching Trump on account of incitement of insurrection.
In the statement she tweeted Friday, Herrera Beutler cited that she'd previously referenced the McCarthy-Trump phone call on January 12 when she spoke in support of impeachment. She added she had also shared the details of the phone call during "countless conversations" with the media, constituents and congressional colleagues.
Greene has also falsely claimed on Tuesday the Capitol rioters were not even Trump supporters, but an anti-government mob: "Trump is the victim of the never ending hate fueled witch hunt," she tweeted.
Greene had not yet replied to Kinzinger's rebuttal by the publication of this report.
Senate Minority Leader Mitch McConnell has reportedly planned to acquit Trump, and the upper chamber intends to reach a verdict by the end of the day Saturday.
Newsweek has reached out to the offices of Kinzinger, Greene and Herrera Beutler for comment.