Adam Kinzinger Blasts Nikki Haley, Says She Can't Play Both Sides, After She Breaks With Trump
Illinois Republican Congressman Adam Kinzinger criticized Nikki Haley, the former GOP South Carolina governor and U.S. ambassador to the United Nations, saying that she can't have it both ways after publicly breaking with former President Donald Trump.
"You can't play both sides anymore Governor. Pick Country First or Trump First," Kinzinger wrote in a Friday tweet.
The tweet from Kinzinger came in response to a recent interview conducted by Politico with Haley, who previously served her ambassador role under Trump. She spoke about Trump and his role in the deadly January 6 riot at the U.S. Capitol, when the then-president's supporters breached the building in protest of Congress certifying the results of the 2020 election.
"We need to acknowledge he let us down," Haley said. "He went down a path he shouldn't have, and we shouldn't have followed him, and we shouldn't have listened to him. And we can't let that ever happen again."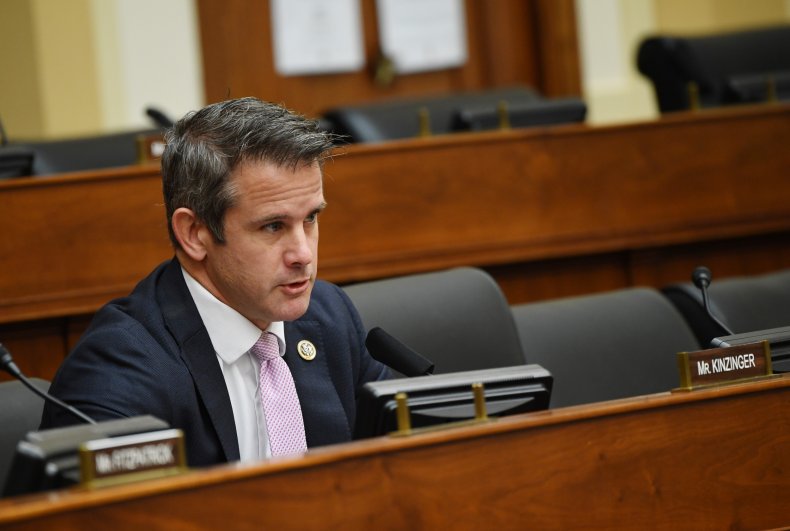 The former Republican South Carolina governor told Politico that she had not spoken with Trump since the insurrection and responded to the criticism former Vice President Mike Pence faced from Trump. On January 6, Trump attacked Pence via Twitter, saying that he "didn't have the courage" to overturn the results of the election, despite Pence not having the authority to do so.
"When I tell you I'm angry, it's an understatement," Haley said. "Mike has been nothing but loyal to that man. He's been nothing but a good friend of that man. ... I am so disappointed in the fact that [despite] the loyalty and friendship he had with Mike Pence, that he would do that to him. Like, I'm disgusted by it."
Haley also noted that Trump "went down a path he shouldn't have, and we shouldn't have followed him, and we shouldn't have listened to him. And we can't let that ever happen again."
"Nor do I think the Republican Party is going to go back to the way it was before Donald Trump. I don't think it should. I think what we need to do is take the good that he built, leave the bad that he did, and get back to a place where we can be a good, valuable, effective party," she added.
Haley departed from the Trump administration in 2018 and vowed to support Trump in the 2020 election, but has continued to distance herself from him. A day after the Capitol riot, she spoke at the Republican National Committee's winter meeting in Florida and issued criticism at the then-president for his actions in response to the incident.
"President Trump has not always chosen the right words. He was wrong with his words in Charlottesville, and I told him so at the time," Haley told the RNC audience. "He was badly wrong with his words yesterday."
Newsweek reached out to the Stand for America PAC founded by Haley for comment, but did not receive a response in time for publication.
When reached for a response, Kinzinger's office directed Newsweek to the congressman's tweet and suggested that he believes that now is a time for choosing. Kinzinger has been an outspoken critic of Trump and was one of the few Republican House members to vote in favor of impeaching the former president for "incitement of insurrection."
Trump's second Senate impeachment trial is currently ongoing, and his legal team is scheduled to present its defense of the former president on Friday.