Illinois GOP congressman Adam Kinzinger mocked fellow Republicans for suggesting the Biden administration created a door-to-door COVID vaccination drive as a means of "intimidating" Americans through a "socialist" public health campaign.
Several GOP lawmakers, including Andy Biggs of Arizona and Marjorie Taylor Greene of Georgia, penned a letter to President Joe Biden yesterday that accused him of "a deeply disturbing" violation of Americans' privacy. The letter responded to Biden's calls to "go community by community, neighborhood by neighborhood and often times door-to-door" to make sure every American has at least had the opportunity to receive the vaccine.
North Carolina GOP Rep. Madison Cawthorn on Saturday even suggested the door-to-door vaccine outreach program, or the mechanism behind it, could eventually be used to "take your guns, take your Bibles."
Kinzinger, who has largely broken from the GOP over many members' fanatical support of former President Donald Trump, ridiculed the Republicans for not viewing the Biden push as a means of improving public health for low-income or isolated areas of the country.
He tweeted Saturday morning: "Republican Outrage of the week- 'door to door' vaccines. OH NO. All these 'tough guy' politicians pretending this is a real threat, all do door to door campaigning. It's so nice to live so comfortably that this is what consumes us and not real problems. Get vaccinated."
Texas Republican Senator Ted Cruz joined in on the door-to-door vaccine fear-mongering on Thursday and used the opportunity to tout his own bill opposing so-called "federal vaccine passports."
Kinzinger, sharing a portion of that bill, knocked the Texas lawmaker in another Saturday tweet:
"Nothing is a bigger wake up call that we are on the verge of communism than an increase of convenient options to get vaccinated. Ted maybe just focus on recommending vaccinations and not spewing outrage," Kinzinger wrote, drawing the ire of many conservatives who asked why he isn't more critical of the Biden administration.
Biggs touted his Friday letter to the White House alongside several GOP lawmakers who condemned the vaccination program and said "Americans must be free to make their own personal health choices."
"I just sent a letter to Biden demanding answers on his door-to-door vaccine checks. The fed gov has no right to track the private health information of Americans or to intimidate people into getting the vaccine," Biggs tweeted Friday, prompting shares from fellow House Republicans including Texas' Louie Gohmert.
Cawthorn, speaking at Saturday's Conservative Political Action Conference in Dallas, looked to spark even more fears about the program: "And now they're sort of talking about going door-to-door, to be able to take vaccines to the people," Cawthorn told attendees. "Think about the mechanisms they'd have to build to be able to actually execute that massive of a thing. And then think about what those mechanisms could be used for. They could go door-to-door to take your guns. They could go door-to-door to take your Bibles."
"When the Biden admin calls for 'targeted 'door-to-door outreach' to get people vaccinated, it comes across as a g-man saying: 'We know you're unvaccinated, let's talk, comrade,'" Cruz tweeted Thursday, referencing shady Prohibition-era federal agents.
In late May, Cruz joined GOP senators Mike Braun of Indiana and Cynthia Lummis of Wyoming in introducing a bill to ban federal "vaccine passports." The bill would create a five-year prohibition on any government vaccine mandate for vaccines first authorized by the FDA through an Emergency Use Authorization.
Newsweek reached out to the offices of Cawthorn, Cruz and Kinzinger Saturday morning for any additional remarks.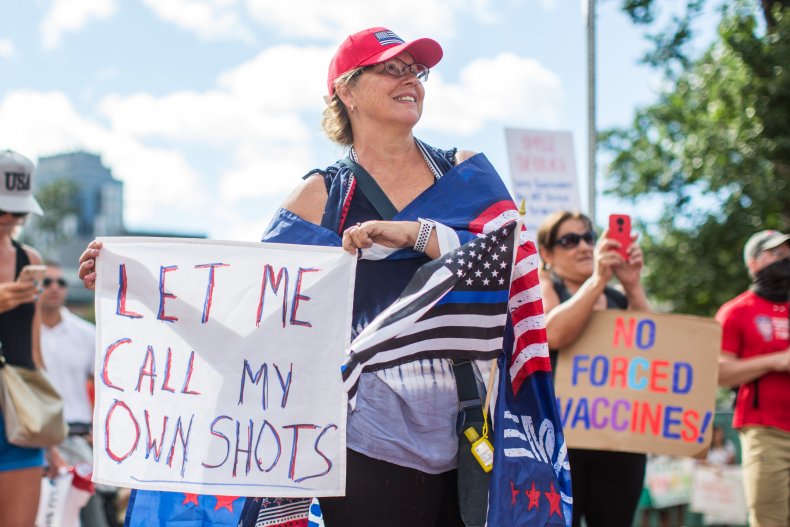 Uncommon Knowledge
Newsweek is committed to challenging conventional wisdom and finding connections in the search for common ground.
Newsweek is committed to challenging conventional wisdom and finding connections in the search for common ground.
About the writer
Benjamin Fearnow is a reporter based out of Newsweek's New York City offices. He was previously at CBS and Mediaite after working as a news curator at Facebook. Fearnow has pieces published in The Atlantic as well as stories published about him in Wired and The New York Times. He attended the Columbia University School of Journalism after graduating from Indiana University-Bloomington. Email: b.fearnow @ newsweek [dot] com.