Adam Kinzinger Praises Liz Cheney, Calls on GOP to 'Stand for Truth' Not Conspiracies
While the future of the GOP remains in limbo, Illinois Republican Representative Adam Kinzinger has picked his side and is encouraging his party to do the same.
On Wednesday night, House Republicans voted overwhelmingly to keep Wyoming Representative Liz Cheney as the Number 3 Republican after she voted to impeach former President Donald Trump.
However, in the same meeting, House Minority Leader Kevin McCarthy refused to bring a vote on the removal of Representative Marjorie Taylor Greene from her committee assignments. The Georgia congresswoman has recently been subject to widespread criticism after old social media posts resurfaced, showing Greene embracing a series of conspiracy theories.
"While I will not go into too many details regarding the GOP House Conference meeting yesterday, I will say I proudly voted to keep Liz Cheney as our House Conference Leader and was glad to see such a strong vote by my colleagues. The vote was important, to remind our caucus where we stand," Kinzinger said in a statement.
After talks that Cheney could be ousted from her House leadership position, 145 Republicans voted against the resolution calling on her to step down and 61 voted for it. The secret vote has signaled that while many lawmakers have criticized Cheney in public, the silent majority supported her when there was no fear of repercussion.
Kinzinger joined Cheney and eight other Republicans earlier last month in voting to impeach Trump.
"Representative Liz Cheney voted her conscience and leads with conviction—and as a result, she won big last night, which shows me that there is hope for our party," Kinzinger said. "We need leadership like Liz Cheney, and we need to tell the truth to the American people."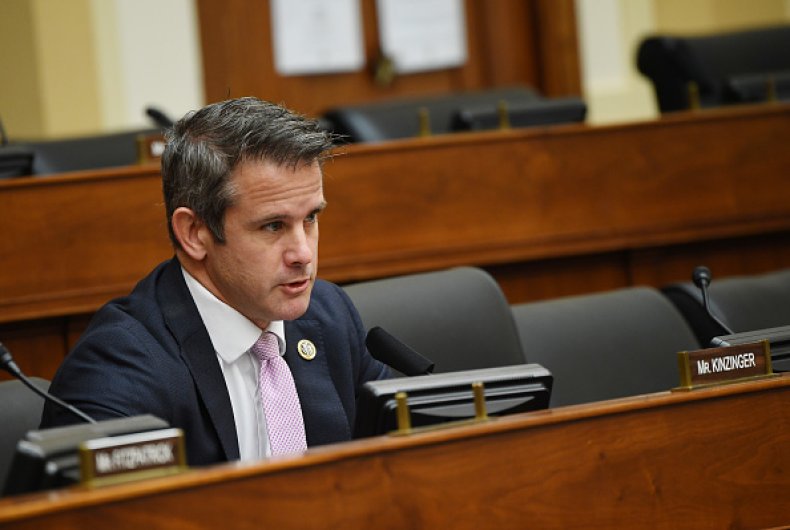 "As a party, we must stand for truth, not conspiracy theories and lies," he added. "We must be the party of ideas, not rabble-rousers and personality politics. We must be the party of hope and optimism, not anger and negativity. I'm committed to restoring our party and look forward to what we achieve."
Although Kinzinger did not specifically name Greene in his statement, the Illinois Republican sent a clear message to the GOP as to where he stands ahead of Thursday's floor vote.
On Thursday, the House will vote on whether Greene keeps her seat on the Education & Labor Committee and the Budget Committee, a resolution brought forward by Democrats who know they have the votes to strip her of her assignments.
In a Thursday morning interview with CNN's New Day, Kinzinger said he would vote to remove Greene unless she publicly disavows QAnon and other conspiracy theories.
"On the Marjorie Taylor Greene stuff, obviously I won't go into a lot of details, but she did address the issue and I didn't hear an apology," he said.
When asked if he would vote for her removal, Kinzinger said: "I intend to vote for it. The only thing that could change is if today she comes out and publicly shows that she has moved on."
"If she came out again, publicly, and was very contrite and remorseful, that's very different than doing it just in front of your colleagues, but then going out and tweeting whatever you want because your base shouldn't know what you really said in there," he added.
Newsweek reached out to Greene for comment, but did not hear back before publication.