Adam Kinzinger Says He Warned Kevin McCarthy of January 6 Violence in Advance
House Minority Leader Kevin McCarthy was warned about the potential violence on January 6 ahead of time, according to Republican Representative Adam Kinzinger.
The Illinois congressman wrote on Twitter Monday that he forewarned the GOP to no avail during a conference call just days before the "Save America" march and the U.S. Capitol riot.
"A few days before Jan 6, our GOP members had a conference call," Kinzinger wrote. "I told Kevin that his words and our party's actions would lead to violence on January 6th. Kevin dismissively responded with 'ok Adam, operator next question.' And we got violence."
Thousands of Donald Trump supporters gathered in Washington, D.C., on January 6 to protest the congressional certification of President Joe Biden's victory in the Electoral College. A mob of the supporters clashed with law enforcement before breaching the Capitol building and making their way inside and through lawmakers' offices.
Five people died during or shortly after the attack, including Capitol Police officer Brian Sicknick, and dozens more were injured. Two officers who clashed with protesters later died from suicide. They were identified as Howard Liebengood, 51, and Jeffrey Smith, 35.
Kinzinger was one of the first Republican lawmakers to speak out against baseless claims from Trump and others that the 2020 election was stolen. He was also one of the 10 House GOP members who voted to impeach Trump on the charge of incitement of insurrection.
Since then, he's pushed the GOP to distance itself from Trump. On Sunday, Kinzinger went so far as to compare the party to the Titanic.
"We're like, you know, in the middle of this slow sink," Kinzinger told CBS's Face the Nation. "We have a band playing on the deck telling everybody it's fine. And meanwhile, as I've said, you know, Donald Trump's running around trying to find women's clothing and get on the first lifeboat."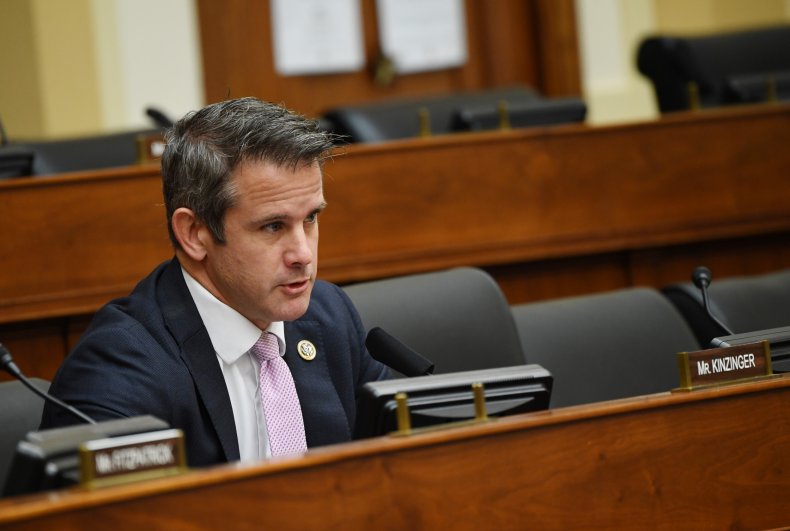 McCarthy condemned Trump in the immediate aftermath of the events on January 6, saying that he bore responsibility. But he has since changed his tune.
McCarthy did not vote in favor of impeaching Trump. Then, in February, the House leader traveled to Florida to meet with the former president. During that meeting, the two discussed teaming up to help Republicans win back majority control of the House in the 2022 elections.
During Sunday's appearance on Face the Nation, Kinzinger also criticized McCarthy for pushing to remove GOP Representative Liz Cheney from her House leadership role because of her criticisms of Trump.
"Look, it's incredible. So Liz Cheney is saying exactly what Kevin McCarthy said the day of the insurrection. She's just consistently been saying it. And a few weeks later, Kevin McCarthy changed to attacking other people," Kinzinger said.
Newsweek reached out to McCarthy's office for comment on Kinzinger's Twitter statement but did not receive a response before publication.