Adam Kinzinger Slams Fellow Republicans' Claims About Capitol Riot as 'Something Out of North Korea'
Representative Adam Kinzinger slammed his fellow Republicans' claims about the Capitol riot, calling their remarks "something out of North Korea."
"When I saw my colleagues speak, it feels like it's in the Nineteen Eighty-Four novel or something you see out of North Korea, where it's like we're just going to state whatever we want the reality to be," Kinzinger said in a Friday appearance on ABC's The View.
"I was there on January 6. This was a real insurrection," he added. "This was an insurrection of people that thought they were doing Trump's bidding at the behest of Trump, not just on that day, but on days leading that up to that with the narrative of a stolen election."
Kinzinger's remarks come days after his fellow Republican, Representative Andrew Clyde, disputed the events that took place on January 6.
As a joint session of Congress assembled to formalize President Joe Biden's win in January, a pro-Trump mob attempted to overturn the 2020 presidential election by storming the Capitol in a deadly attack.
"Let's be honest with the American people," Clyde said during a House oversight hearing. "It was not an insurrection. And we cannot call it that and be truthful."
Since the Capitol riot, the GOP has been divided by Republicans who continue to promote former President Donald Trump's false election claims and Republicans who have rallied against Trump and called him out for his role on January 6.
Among the latter are Kinzinger and Representative Liz Cheney, who was ousted from her leadership position on Wednesday for pushing back against Trump's claims of election fraud. Cheney and Kinzinger were among 10 House Republicans who voted for Trump's second impeachment.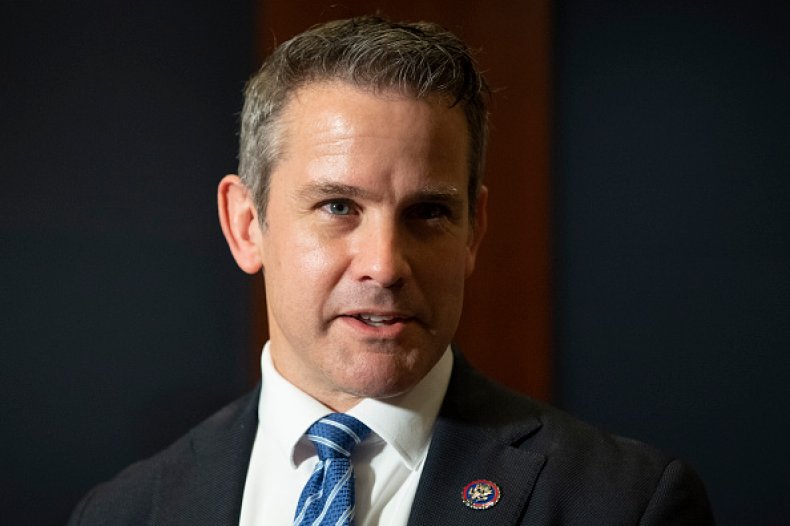 Kinzinger has continued to defend Cheney as the former highest-ranking Republican woman in Congress fielded criticisms from her party. Instead of silencing Cheney, Kinzinger said lawmakers who voted to remove her have "actually given her a massive platform."
"Now she's basically out there independently saying what needs to be said, finding whatever media outlet she wants to go on, and I think telling the truth," he said. "I think they actually created their worst enemy in creating her—in deplatforming her."
The Illinois Republican said he's also become close with Capitol police officer Michael Fanone, who was attacked while defending the Capitol on January 6, and that "the party that claims they support law enforcement is ignoring him."
Kinzinger said Fanone has asked House Minority Leader Kevin McCarthy to talk to him about the Capitol riot but that McCarthy hasn't responded to those requests.
"Why? What [is McCarthy] afraid of?" Kinzinger asked.
"January 6 was real, and as a party, we have to take ownership of that, recognize what led to that, so that we don't do that again," the congressman continued. "This isn't 10 years ago. This was four months ago. So the idea of, 'Oh let's move on,'—I agree. Let's move on after we take a full accounting of how we got here and how never to get to this position again."
Newsweek reached out McCarthy for comment but did not hear back before publication.