Adam Kinzinger Slams GOP Criticism of Biden: 'Feeds Into Putin's Narrative'
Illinois Representative Adam Kinzinger on Tuesday denounced a tweet issued by his fellow House Republicans that criticized U.S. President Joe Biden's response to the Russia-Ukraine crisis, saying their message "feeds into [Russian President Vladimir] Putin's narrative."
The official Twitter account for House Republicans posted a tweet Tuesday following Biden's remarks that same day on actions taken against Russia. It read, "This is what weakness on the world stage looks like," and included a photo of Biden walking away from a podium.
Kinzinger called the tweet "damn awful."
"As still 'technically' a member of house Republicans, let me, with all my might, condemn this damn awful tweet during this crisis," the Republican tweeted on Tuesday as a response to the House Republicans' post. "You can criticize policy but this is insane and feeds into Putin's narrative. But hey, retweets amirite?"
As a response to Russia's actions toward Ukraine, Biden announced on Tuesday sanctions against Russian elites and their families, sovereign debt and two financial institutions. The president also authorized more U.S. troops to join NATO forces in Estonia, Latvia and Lithuania.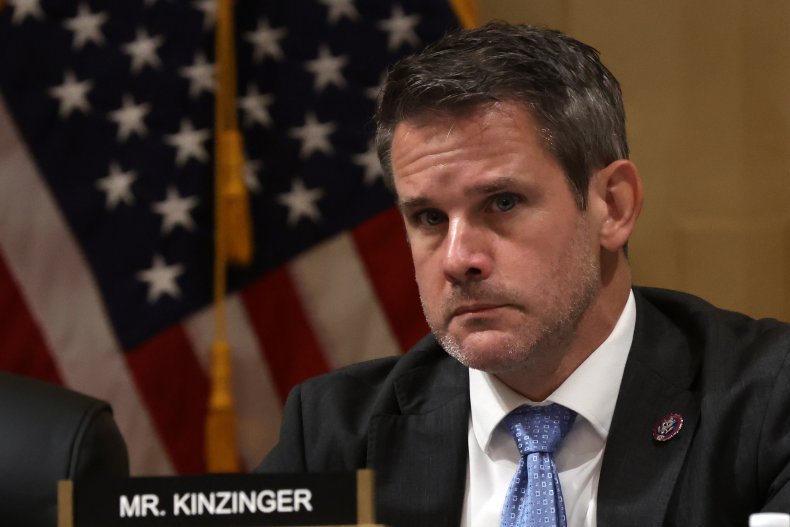 The latest condemnation from Kinzinger comes after other high-profile clashes the Republican lawmaker has had with the GOP.
In early February, the Republican National Committee formally censured Kinzinger and Wyoming Representative Liz Cheney. The censure resolution claimed the two GOP congresspersons were "participating in a Democrat-led persecution of ordinary citizens engaged in legitimate political discourse" while serving on the House select committee investigating the Capitol riots of January 6, 2021.
Other Republican members of Congress have stated Biden's actions against Russia were insufficient since Putin has already placed an estimated 150,000 to 190,000 soldiers surrounding Ukraine.
House Minority Leader Kevin McCarthy, Congresswoman and Republican Conference Chairwoman Elise Stefanik, and other House Republicans issued a statement that said Biden had "consistently chose appeasement and his tough talk on Russia was never followed by strong action."
The statement called for more actions from the president, such as placing sanctions on more Russian financial institutions and imposing "crippling penalties on the industries which the Russian military relies on to make war."
Senator Ben Sasse, a Republican from Nebraska, called Biden's sanctions "too little too late" in a statement.
"First, these sanctions should have happened before Putin further invaded Ukraine—not after," Sasse wrote. "Second, economic sanctions now need to more aggressively target Putin's oligarchs to make sure they feel real pain. Third, we shouldn't fool ourselves into thinking that today's incremental sanctions will deter Putin from trying to install a puppet government in Kyiv."
Former President Donald Trump also took issue with Biden's handling of the Russian-Ukrainian conflict. During a Tuesday appearance on The Clay Travis & Buck Sexton Show, Trump told the radio hosts that the Russian invasion "never would have happened" if he had been reelected.
"You know what the response was from Biden?" Trump said. "He didn't have a response."
Trump also credited Putin for being "pretty savvy" with his military strategy, which prompted criticism from Cheney.
"Former President Trump's adulation of Putin today—including calling him a 'genius'— aids our enemies," the Wyoming GOP congresswoman tweeted. "Trump's interests don't seem to align with the interests of the United States of America."
Newsweek reached out to Kevin McCarthy's office for comment on Kinzinger's tweet.