Adam Kinzinger Suggests Former Military 'More Apt to Be Radicalized'
Watch the full interviews on ASP

Representative Adam Kinzinger of Illinois suggested former members of the military may be "more apt to be radicalized" during a discussion about domestic terrorism with actors Chris Evans and Mark Kassen for A Starting Point.
The Republican congressman was responding to a question posed by Kassen regarding a recent study that found about 20 percent of individuals who have been charged in connection with the riot at the U.S. Capitol on January 6 had served in the military. Kinzinger, who currently serves as a pilot in the Air National Guard, has spoken out strongly against those who participated in the violent riot, which forced members of Congress into lockdown and resulted in the deaths of four civilians and one Capitol Police officer.
Kassen asked Kinzinger whether the study's findings implied a wider problem with extremism in the military ranks.
"Part of the problem is, when somebody gets out of the military, you're kind of searching for a mission and a purpose. And it's part of the reason that reintegrating people, especially after war, is so important," Kinzinger said. The rate of suicide among former military members is also relevant to that search for a new purpose after serving, he added.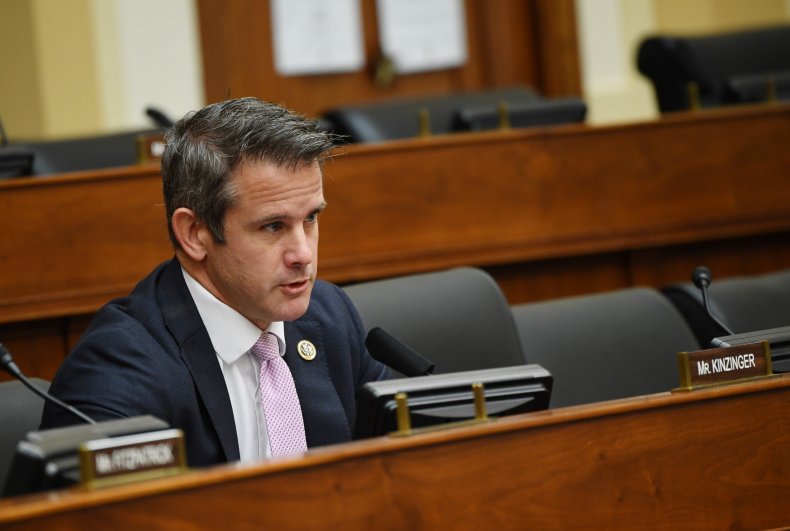 "You kind of go from reaching almost an apex of a moment when you're 18, 19, 20 years old, when you're at war and you're trying to find some sense of purpose that's equivalent to that," Kinzinger said. "I think that allows some people to be more apt to be radicalized, especially if you're looking on the internet and you see this QAnon stuff, and you get pulled down that rabbit hole. And now you consider it your duty to defend the country like you have before."
Kinzinger suggested the military be "more aggressive" in discouraging engagement with those kinds of pursuits. Before joining the military himself, Kinzinger said he had to declare that he had never been part of a communist organization while filling out the Standard Form 86, a questionnaire that assists government officials in conducting background checks for new employees. He suggested the government consider adding questions to the form about alliances with groups like QAnon.
"QAnon and conspiracists seek to overthrow the government that you're trying to defend. So I think the first step is to make people aware that that's what it is, and that you can't be in the military and also subscribe to that," he said. "If you are buying QAnon and Pizzagate and some of that, you probably should not be the one charged with defending the constitution of the United States."
Kinzinger suggested former President Donald Trump's rhetoric and the prevalence of social media contributed to the rise of extremism in the U.S., with the Capitol riot serving as a moment of culmination.
"When a leader begins to reflect darkness back to people—everybody, you know, in your heart it's always a battle of dark versus light every day, sometimes dark wins out. But when a leader speaks that darkness to you, it gives it permission to overtake you," Kinzinger said. "And I think it's that combined with this advent of social media, where people now can find their own echo chambers and find their own conspiracies and come together."
Newsweek reached out to the Department of Defense for comment but did not receive a response in time for publication.