Adam Kinzinger Thinks Republican Party Is 'in a Battle' Over Post-Trump Future
Representative Adam Kinzinger told CNN host Jim Sciutto on Monday that Republicans have a choice to make over what their party stands for after Donald Trump's presidency.
During an appearance on CNN Newsroom, Sciutto asked the Illinois Republican if the GOP is still the "party of Trump" even after his loss in the 2020 election and the party's loss of majority control in the Senate.
"In a few months, we're going to know. It's hard to see it in the fog we are in now," Kinzinger responded. He added, "Every day that goes by, there are less and less people who would consider themselves Trump Republicans, you know, as the emotions wear off."
He went on, "But this is the whole point. I do think we are in a battle, maybe a battle that really needs to happen, for our party to say what it is we stand for. Not when it comes to policy, but as much as anything: Are we aspirational or are we a party that feeds on fear and division?"
Kinzinger, a former Air Force pilot who flew missions in Iraq and Afghanistan, was one of the first Republicans to blame Trump for the deadly riot at the U.S. Capitol on January 6. He was also one of 10 GOP members of Congress to vote in favor of his impeachment over the insurrection.
The lawmaker has become a prominent voice in questioning the party's messaging over the outcome of the presidential race and has called out colleagues who spread falsehoods about election fraud.
"We have to as a party come to real terms with what was our role," Kinzinger said when asked who should bear responsibility for the Capitol attack.
On January 6, thousands of Trump supporters gathered in Washington to protest the congressional certification of President Joe Biden's victory. Trump addressed his supporters at a "Stop the Steal" rally before the violence erupted. He continued to make baseless accusations that the election was stolen and told the crowd members that they would have to "fight much harder." Five people died in the riot, including one police officer.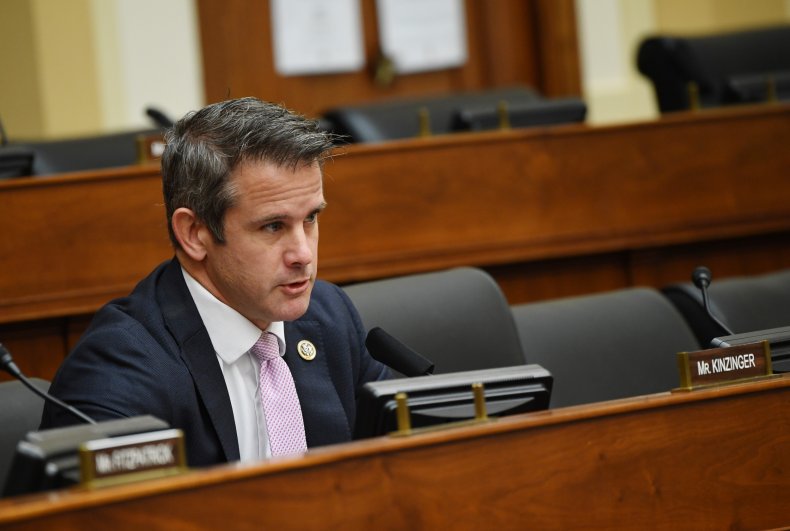 Kinzinger suggested that the party reevaluate its priorities in the immediate future, including a "top-down" discussion of who belongs in leadership positions. He also defended Representative Liz Cheney, who is facing calls to be removed from her role as conference chair over her vote to impeach Trump for inciting the mob to storm the Capitol. Kinzinger said he believed the Wyoming Republican has enough votes to keep her post.
"If you're a leader of the Republican Party right now, you need to be focused on one thing—not winning another election, that's not what we should be focused on right now. What we should be focused on is restoring the integrity of this party," Kinzinger said, adding, "We need cool, calm, steady leadership to get through this crisis."
Kinzinger also told Sciutto that the Republican Party today isn't the same one he "fell in love with" and that he's uncertain of his future within the GOP if it remains loyal to the president.
"I'm going to fight like hell to bring it back to the party I believe in," Kinzinger said. "[If] we stay an angry, divisive party, it will be hard to consider the Republican Party home. But my values won't have changed, it will have been the party's values."
Newsweek contacted Kinzinger's office for additional comment but did not hear back before publication.