Adam Levine's Alleged DMs Suggest He Tried to Name Baby After a Mistress
An influencer and model has recently gone viral on TikTok for sharing that she had an affair with Maroon 5's Adam Levine, and the singer reportedly wanted to name his third child after her.
On Friday, Levine's wife, Victoria's Secret model Behati Prinsloo, shared photos on Instagram announcing that the couple is expecting their third child together.
The influencer, Sumner Stroh, posted a video on TikTok on Monday that has amassed 1.7 million views at the time of publication, in which she opened with a disclaimer that she just wants to "rip the bandaid off."
"Essentially," she starts, "I was having an affair with a man who's married to a Victoria's Secret model. At the time, I was young, I was naive, and, I mean quite frankly, I feel exploited."
She added that she was "easily manipulated" before revealing screenshots of direct messages from Levine, in which it appears the two flirted back and forth over text.
"Adam and I were seeing each other for about a year," she said. "After I stopped talking to him for a period of months, this is how he came back into my life."
She then showed another screenshot from an Instagram direct message reportedly from Levine that read, "Ok serious question. I'm having another baby and if it's [a] boy I really wanna name it Sumner. You ok with that? DEAD serious."
"I never wanted to come forward because obviously I know the implications that come with doing what I do, making money the way I do and being an Instagram model," Stroh said. "So being tied to a story like this... I know the stereotypes."
She added that she sent screenshots of the messages to a few of her friends, and one of them attempted to sell the photos to a media source. "So here I am," she concluded.
On a follow up post to her Instagram story after the TikTok, Stroh wrote, "Aware people are going to try to fill in the gaps with many false assumptions. I don't feel like I'm doing any favors considering the manner this had to go about. It's a lot to digest but hopefully, at the very least, the truth being out can do some good."
Neither Levine nor Prinsloo has commented on the allegations. The pair began dating in 2012 and were married in 2014, and have two children—Dusty Rose and Gio Grace—who are 5 and 4.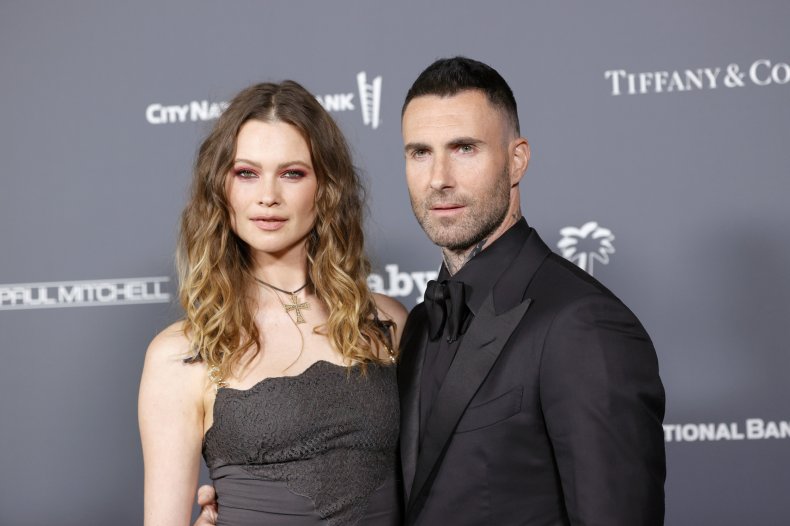 The internet was taken aback by the news on Monday, and many on Twitter slammed the "Payphone" singer for wanting to name his baby after Stroh.
"Not only did Adam Levine have an affair but he tried to name the baby he's having with his WIFE after the MISTRESS???" one user on Twitter wrote. "Hell is too kind for this man."
"The 'Adam Levine' wants to name his baby after the woman he cheated with' allegations are wild. Also wild? Why did he send a 🤷‍♂️emoji 3 mins after sending the most bonkers message i've ever seen in my life," another tweeted.
Another wrote, "Adam Levine is dead wrong for what he did, but this girl needs to take accountability. One google search would've shown he was married, so I don't understand how he manipulated you into an affair for a year? Only victim is the wife and children. Life bffr."
Newsweek reached out to a representative for Levine and Prinsloo and Stroh for additional comment.