Where Is 'The Adam Project' Filmed and Where Is It Set?
The Adam Project is the new sci-fi Netflix movie you do not want to miss. Starring Ryan Reynolds, Mark Ruffalo, Jennifer Garner, Zoe Saldaña, Catherine Keener, and Alex Mallari Jr., it sees Reynolds travel from the year 2050 back in time to the present day and 2018. Along the way, not only does he meet his younger self but also his father. Ever since The Adam Project premiered on Netflix on March 11, 2022, fans have been wanting to know everything about the movie, including its stunning locations.
Newsweek has everything you need to know about where The Adam Project was filmed and set.
Where Is The Adam Project Set?
The Adam Project is set in the years 2050, 2022, and 2018. At the beginning of the movie, audiences meet time-traveling pilot Adam Reed (Reynolds), who accidentally crash lands in the year 2022.
There, he meets his younger self (Walker Scobell), and together, they team up to save the world by stopping the invention of time travel, which had been invented by his late father (Ruffalo).
The exact location of the film is not confirmed, but audiences throughout the film are treated to beautiful landscapes, a whole load of greenery, and star-filled galaxies, far, far away. Some may have even spotted the Seattle Space Needle in several background shots, but it is never explicitly confirmed the movie is set in Seattle.
Speaking to Netflix, Reynolds shared he had a strong personal connection to The Adam Project for many reasons, particularly regarding the storyline of Adam being reunited with his father. Reynolds' own father died when he was a teenager.
Reynolds explained: "I have not done a lot of movies that really reflected my own personal life the way Adam Project does. Our past is complicated. I find that we tell ourselves stories. I have stories that I tell myself about my father that sort of helped make sense of my own deficiencies or my own shortcomings."
He continued: "I have a very, very complicated relationship with my father, who is dead. I would love to have a conversation with my dad when he was my age and really look him in the eye and see him as the human being that he was, with all of his flaws and all of the things that made him wonderful as well."
"For me, this is really a story about a son and a father connecting, albeit across the space-time continuum. I think for a lot of people who've lost a parent, getting to say goodbye in the place you are now—as opposed to the place you were when they left — is the ultimate wish fulfillment.
"I felt like I got to make peace with some stuff that I still carry around every day, like a little bag of rocks."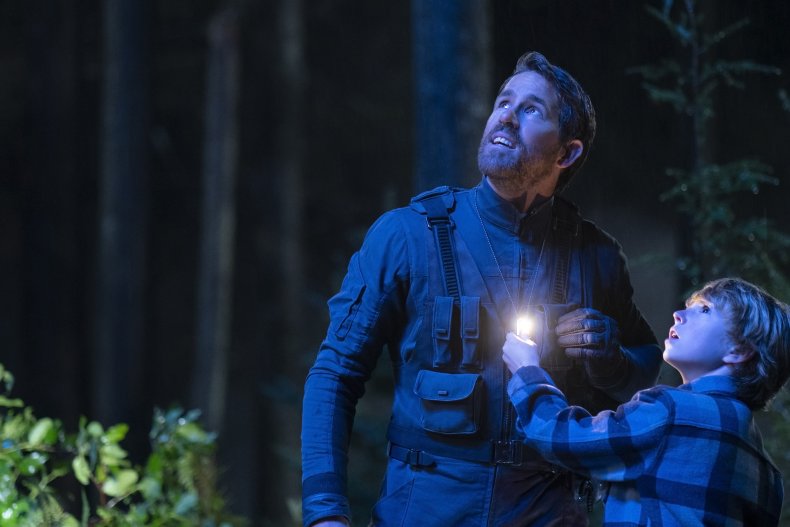 Where Is The Adam Project Filmed?
If The Adam Project was not already personally tied to Reynolds enough, most of the filming took place in his hometown of Vancouver, British Columbia.
Notable locations include Jack Poole Plaza, Park Royal Shopping Mall, and Marine Way Market Crossing in the city of Burnaby.
Filming also took place at Vancouver Convention Centre, The University of British Columbia, H.R. MacMillan Space Centre, Lynn Valley, and at The Beach House Restaurant in West Vancouver.
The emotional scene where the adult Adam visits his mom Ellie (Garner) to tell her how much her son loves her was filmed at the Blarney Stone Irish Pub in Vancouver's Gastown.
Audiences from Vancouver may also recognize the location of Laura's (Saldaña) cabin, which was located in the North Beach area of Alouette Lake at Golden Ears Provincial Park near Maple Ridge.
However, the cozy wooden cabin-style home where the Reeds live in 2022 is not a real house and was built on a soundstage.
Speaking to Netflix, production designer Claude Paré said the interior of the house had to feel "realistic for a university professor's family" and to do so, they purchased a lot of items from Craigslist, Etsy and Facebook Marketplace.
When filming wrapped on The Adam Project back in March 2021, Reynolds paid a touching tribute to his fellow castmates as well as his "beautiful hometown."
Alongside a selection of behind-the-scenes photos, Reynolds posted on Instagram: "Gamora, Elektra, The Hulk, Deadpool, and the kid who'll eventually play Deadpool when I crawl into a box and turn into a skeleton. If #TheAdamProject is a fraction as beautiful and funny and wild as it was to shoot, then I guess we really pulled something off.
"Thank you @netflix @skydance and my spiritual, cinematic soulmate @slevydirect - Also, a lingering, uncomfortably indulgent hug to my beautiful hometown of #Vancouver. And in particular, the entire crew of #TheAdamProject who brought the ship to port four days ahead of schedule!"
The Adam Project is streaming on Netflix now.