Ryan Reynolds' 'The Adam Project' Netflix Release Date, Cast, Trailer, Plot
Ryan Reynolds is back with a brand new sci-fi movie, titled The Adam Project on Netflix. The movie, filled with time-traveling and jaw-dropping twists and turns is directed by Stranger Things director Shawn Levy, who also worked with Reynolds on his most recent movie, Free Guy.
Newsweek has everything you need to know about The Adam Project including release date, cast, trailer, plot and more.
When Is 'The Adam Project' Out on Netflix?
The wait for Ryan Reynolds' The Adam Project is almost over and if you are a fan of movies such as E.T., Back to the Future or The Goonies, you will not want to miss it.
The highly anticipated film will premiere on Netflix on Friday, March 11, just in time for the weekend.
To watch The Adam Project, you can subscribe to Netflix now for $8.99 per month.
What Is 'The Adam Project' About on Netflix?
The Adam Project is a time-traveling sci-fi movie that sees grown adult, Adam Reed (played by Ryan Reynolds) travel back in time to meet his younger self.
Reed, a fighter pilot from the year 2050 accidentally crash-lands in the year 2022. There he meets the 13-year-old version of himself.
Adult Adam's goal, with the help of his younger self (Walker Scobell) and his father (Mark Ruffalo) is to save the future and end the ability to time-travel.
However revisiting his past will force adult Adam to confront his best and worst memories growing up, as well as the relationship with his father. To make matters worse, older Adam and younger Adam do not always see eye to eye, making their mission particularly challenging.
Who Stars in 'The Adam Project' on Netflix?
The Adam Project features a star-studded cast, led by Canadian actor and producer Ryan Reynolds as older Adam Reed.
Speaking to Netflix, Reynolds shared that he drew upon his own personal experiences of losing his father for the role.
He said: "For me, this is really a story about a son and a father connecting albeit across the space-time continuum. I think for a lot of people who've lost a parent, getting to say goodbye in the place you are now, as opposed to the place you were when they left, is the ultimate wish fulfillment.
"Everything about this story rang true for me personally, and it brought out something completely different in terms of my own performance, as well. I've tended to veer away from vulnerability, but this story felt grounded in a way that really made me lean into it. And through this movie, I felt like I got to go make peace with some stuff that I still carry around every day, like a little bag of rocks."
Audiences will most likely recognize Reynolds from his roles as Deadpool, Guy in Free Guy, and Nolan in Red Notice.
Newcomer Walker Scobell stars as a younger Adam.
13 Going on 30 stars Mark Ruffalo and Jennifer Garner reunite in The Adam Project as Louis Reed and Ellie Reed, the parents to younger Adam.
Avatar's Zoe Saldana takes on the role of Laura and Ginny & Georgia's Alex Mallari Jr. plays Christos.
Being John Malkovich and The 40-Year-Old Virgin actress Catherine Keener also stars the film in a currently undisclosed role.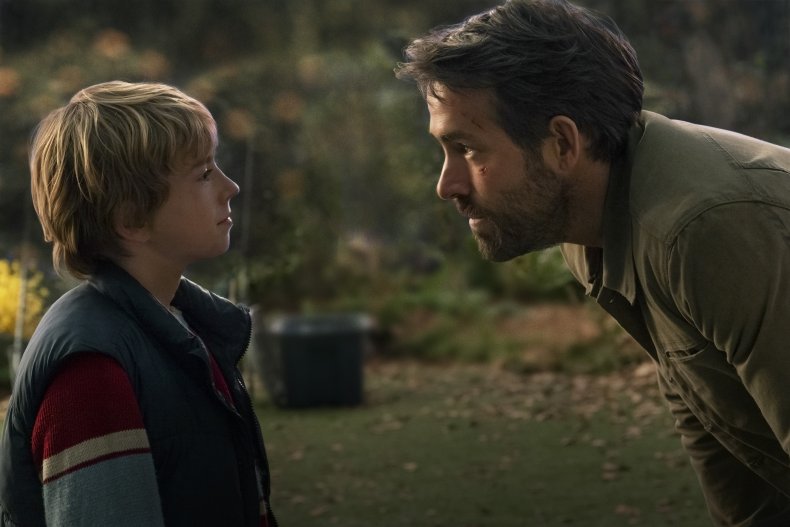 Is There a Trailer for 'The Adam Project'?
Yes, there is a trailer for The Adam Project to keep audiences in suspense.
The trailer begins with an older Adam crashing into the year 2050 and being discovered by a younger Adam, who notices all of their similarities from the way older Adam closes the fridge door to the matching watch they wear on their wrist.
As the trailer progresses, an older Adam explains to younger Adam the concept of time travel and his mission to stop it in order to save the future.
As part of his quest, older Adam reunites with his late father as younger Adam watches on.
After some serious battle scenes, including what looks like to be some sort of aliens being killed, the trailer concludes: "Our greatest journeys bring us back."
The Adam Project premieres Friday, March 11 on Netflix worldwide.