Noah Baumbach on 'The Meyerowitz Stories,' Netflix and the Surprising 'Depth of Sensitivity' of Adam Sandler
One day in 2015, the filmmaker Noah Baumbach had lunch with Adam Sandler and Ben Stiller. The three men knew that they wanted to work on a film together. They just didn't know what it would be about. By the end of the meal, they had settled on one major detail: Sandler and Stiller would get into a physical fight on-screen.
"It was something we thought would be funny," says Baumbach, the 48-year-old writer/director of The Squid and the Whale and Mistress America, among other freakishly incisive indie comedy/dramas, during a recent interview at the Mandarin Oriental hotel in Manhattan. "I thought, I gotta find some way for that to be in the movie." Stiller, who played the titular sad sack in 2010's Greenberg and a struggling documentary filmmaker in 2015's While We're Young, was becoming a regular in Baumbach's movies. Sandler, whose crass, sophomoric brand of humor is arguably the opposite of Baumbach's literary-class satires, was a newcomer, but he had reached out to the director about working together.
Related: Mistress America review: Noah Baumbach's wry, charming sister comedy
This starting point—two middle-aged comedy stars beating the crap out of each other—is an improbable recipe for a funny-sad meditation on family, aging and art-world anxiety. But Baumbach is an unusual talent, and the film that arose from that discussion, The Meyerowitz Stories (New and Selected), is a moving yarn about the resentments that gnaw away at families of grown children until they snap. The film, acquired by Netflix, is filled with the neurotic humor that characterizes Baumbach's best work, and a lot of vulnerability, too.
The patriarch of this troubled family is Harold Meyerowitz, an aging sculptor of some renown and much bitterness, played by a frail, bearded Dustin Hoffman. Harold has been married four times, currently to a recovering alcoholic named Maureen (Emma Thompson). He is the sort of inveterate snob who scoffs that his more successful friend is "a popular but minor artist" and leaves the guy's opening in a huff because the spotlight isn't on himself. "He so fears not being good," Baumbach says of the character he wrote, "but he can't admit he's afraid he's not good. I think he's tortured. I have a lot of sympathy for him."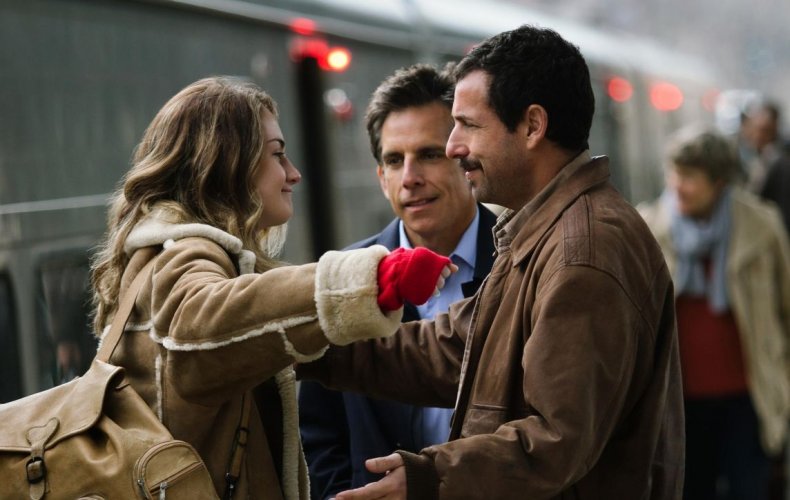 It's tough to be Harold, tougher to have him as a dad. Harold's three adult children—Danny (Sandler), Matthew (Stiller) and Jean Meyerowitz (Elizabeth Marvel)—have drifted, geographically and emotionally. Each resents the father in his own bittersweet way. Danny, an unemployed stay-at-home dad going through a divorce, resents being the family disappointment. He knows that Harold favors his half-brother, Matthew (they have different mothers). Matthew, portrayed with a harsh workaholic edge by Stiller, is a high-powered financial adviser with his own gripes: Harold didn't come to his wedding, Harold doesn't respect his career success, and so on. He stews, trying not to be infected by Harold's "anger at the world." Then there is Jean, introverted and odd, with an unspoken trauma of her own.
Baumbach's films are populated with neurotics: writers, failed artists, music snobs, all manner of self-loathing specimen. He was raised by writer parents—novelist/critic Jonathan Baumbach and longtime Village Voice scribe Georgia Brown—whose divorce partly inspired the plot of 2005's Squid and the Whale, a sardonic gem about coming of age while your literary mom and dad's marriage disintegrates. He returned to the theme of family squabbles, less successfully, in his next film, Margot at the Wedding (2008). Critics have charged that his films were sour or full of contempt for their own characters. (A New Yorker profile claims that Greenberg unnerved moviegoers so much that one movie theater had to post a sign limiting refunds.) But the tone brightened considerably with 2013's Frances Ha and 2015's Mistress America, both starring and co-written by his girlfriend, Greta Gerwig.
Baumbach sometimes seems fascinated by stories about dysfunctional families. But what is a healthy family, anyway?
"I don't distinguish between what people refer to as dysfunctional in my movies and [normal families]," Baumback says. "I just think, these are characters that I'm interested in. When people say 'dysfunctional families,' I feel like they're marginalizing what is just family."
Many of Baumbach's films are about growing up—or, in the case of his debut Kicking and Screaming, trying and failing to grow up. This one is more preoccupied with growing old. In The Meyerowitz Stories, the drama unfolds when both a health crisis and a show opening at Bard College force the Meyerowitz siblings together. A highly charged portion of the film takes place at a grim hospital in Massachusetts, where Harold is treated for an emergency brain hemorrhage. "I wanted to write about my experience [of] what it's like being in a hospital: the personal and the institutional coming together," Baumbach says. (The Big Sick recently confronted a similar nightmare.)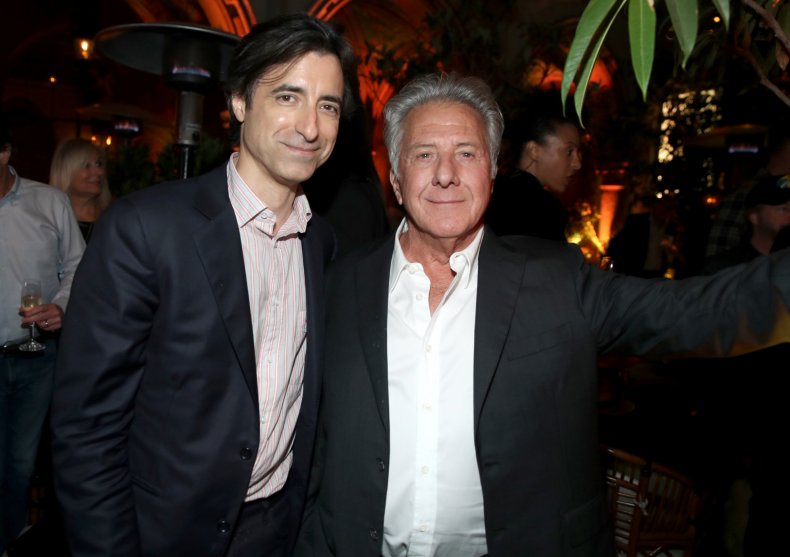 Despite playing another slacker-type, Sandler's performance is full of genuine pathos; it was a surprise to critics at the Cannes Film Festival, who were delighted to see the actor give such an unexpectedly great performance and awarded it with a four-minute standing ovation.
Film critics have been debating whether Sandler can act for 15 years—at least since he starred in Paul Thomas Anderson's Punch-Drunk Love in 2002. "I don't feel any relationship to that debate," Baumbach says. "I've always really liked him. It was clear to me how good he is. When you sit down with him and meet the guy, there's such a depth of sensitivity."
Related: A defense of Adam Sandler, actor
And Hoffman: Working with the actor was a surreal career highlight for Baumbach, a longtime fan. First he was intimidated. "I called him," Baumbach recalls. "We had set up the call. And then I jokingly said something like, 'Well, what should we talk about?' And there was silence, and then he said"—he makes his voice lower, more foreboding—"'I don't know, you wanted this call.' And I remember thinking, 'Uh oh.'"
This chilliness did not last. "He was so warm and great," Baumbach says. During filming, he still had moments of thinking to himself: "I'm working with Dustin Hoffman."
The film is a Netflix exclusive, which rankled some Cannes viewers who'd prefer a conventional theatrical release. (Baumbach made the film independently before it was acquired by the company.) Despite the distribution, "I believe in the theatrical experience," the director says. "I made this movie and make all my movies to be seen with an audience on a big screen."
And what about that fight, which is visceral and brutal and also funny? Sandler and Stiller prepared for it for a long time. In the film the scene takes place at Bard College, but it was actually filmed on the campus at Sarah Lawrence, and Baumbach went to Vassar (so that covers the holy trinity of eccentric liberal arts colleges in New York state). "We choreographed the fight, but they really did hit each other and didn't hold back," Baumbach says. "And Adam ended up with this giant bruise, which he took a photo of that night. I just felt very appreciative about how much they gave to it."
The Meyerowitz Stories is available now to stream on Netflix.