Adam Sandler's No-Look Pass In Pickup Basketball Game Goes Viral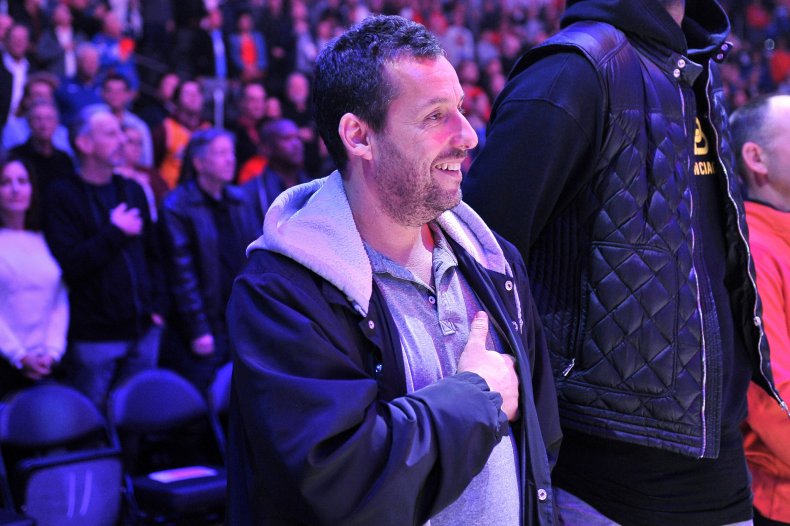 A clip of Adam Sandler throwing an impressive no-look pass during a pickup basketball game has gone viral,
The video was posted on Twitter Thursday by someone who claimed he played in the game, which reportedly took place at an LA Fitness in Atlanta.
"Adam Sandler threw me a dime today," Twitter user SenseiSigh wrote as the caption to the video of Sandler's pass.
Sandler's viral no-look pass is not the first time he has been seen playing in a pickup game.
In 2017, the star was in the process of filming the movie The Week Of in Long Island, New York. According to Newsday, Sandler was spotted at Christopher Morley Park in Roslyn Heights and called to play next in a game of pickup basketball.
Sandler was seen again on the hardwood this past June in New Jersey, prior to performing a comedy show in Atlantic City. The actor surprised a group of kids who were playing a game of pickup basketball. They initially did not believe it was actually him, according to BreakingAC.com.
"You guys hoop, we're gonna hoop. Everything is good," Sandler can be seen saying in a video posted to Twitter by user Lynda Cohen.
Sandler has been promoting his new movie Uncut Gems along with former member of the Boston Celtics and Minnesota Timberwolves, Kevin Garnett, who also co-stars. It is slated to be in theaters on Christmas, and Sandler's performance has garnered raves.
According to the movie site Rotten Tomatoes, Uncut Gems is "an electrifying crime thriller about Howard Ratner [played Sandler], a charismatic New York City jeweler always on the lookout for the next big score. When he makes a series of high-stakes bets that could lead to the windfall of a lifetime, Howard must perform a precarious high-wire act, balancing business, family and encroaching adversaries on all sides, in his relentless pursuit of the ultimate win."
As he continues to promote Uncut Gems, Sandler has been making the rounds on a number of different media outlets, including ESPN's The Jump, which focuses on NBA and basketball coverage. Prior to the show, Sandler was seen in a video once again showcasing his basketball skills.
"@AdamSandler is joining The Jump today, and if you didn't know ... he's a walking bucket," NBA on ESPN wrote on their Twitter account.