Rep. Adam Schiff (D-Calif.) urged Republicans to "find the courage" to convict President Donald Trump during closing arguments in the Senate impeachment trial Monday.
Intelligence Committee Chairman Schiff is the lead House impeachment manager making the case against Trump. Although his closing argument conceded that the Senate were very unlikely to convict the president, he suggested that the legacy of senators would be tied to their vote in the trial.
"If you find that the House has proved its case and still vote to acquit, your name will be tied to his with a cord of iron and for all of history," said Schiff. "But if you find the courage to stand up to him, to speak the awful truth to his rank falsehood, your place will be among the Davids who took on Goliath. If only you will say 'enough.'"
An overwhelming 67 votes would be required to convict Trump at the trial, an unlikely prospect given that at least 20 GOP senators would have to vote against the president. Regardless, Schiff appealed to the morals of the senators, insisting that Trump has no "decency," but they have an opportunity to show that they do by casting unlikely votes in favor of conviction.
"Truth matters to you. Right matters to you. You are decent. He is not who you are," Schiff said. "History will not be kind to Donald Trump. I think we all know that. Not because it will be written by 'never Trumpers,' but because whenever we have departed from the values of our nation, we have come to regret it, and regret is written all over the pages of our history."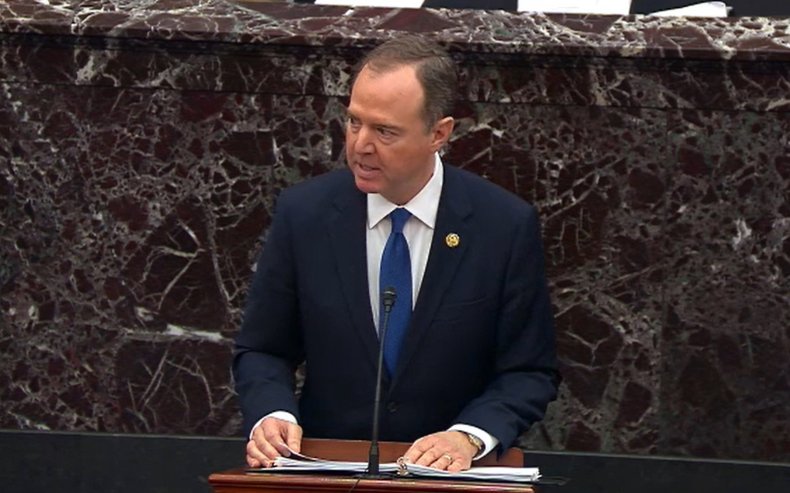 News that former National Security Advisor John Bolton's upcoming memoir would confirm many key details of the impeachment allegations initially led many observers to conclude that witnesses could be allowed at the trial, but the GOP-led chamber ultimately voted to block them on Friday.
Some Republicans have suggested that they believe Democrats have proven the central allegation that Trump attempted to pressure Ukraine into launching an investigation of former Vice President Joe Biden but claim the action does not rise to the level of an "impeachable offense." Schiff disputed that notion, saying it was "unsupported by history, the founders and common sense."
Schiff also warned that Republicans who wish to "let the voters decide" Trump's fate, despite what he believes is overwhelming evidence of guilt, would be acting against the best interests of the country and suggested that their decisions would eventually come back to haunt them.
"You can't trust this president to do the right thing," Schiff said. "Not for one minute, not for one election, not for the sake of our country. You just can't. He will not change, and you know it."
Trump is scheduled to deliver the annual State of the Union speech on Tuesday, one day before a final vote is expected at the Senate trial.