Rep. Adam Schiff Says Democrats Will Send 'Charlatan' Trump 'Back to the Golden Throne He Came From'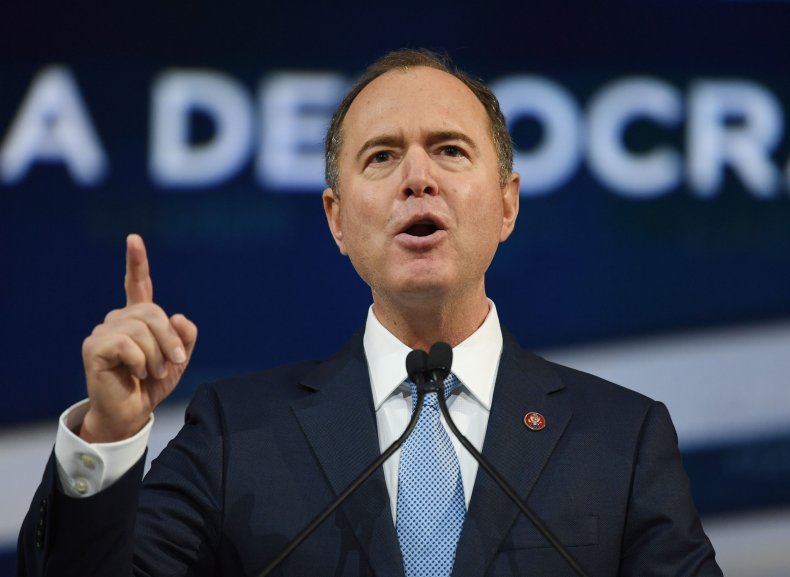 Introduced to uproarious applause as "our protector," House Intelligence Committee Chairman Adam Schiff railed against President Donald Trump in a speech at the California Democratic Party's Fall Endorsing Convention on Saturday.
"The most grave threat to the life and health of our democracy comes from within, from a president without ethical compass, without an understanding of or devotion to our Constitution and the beautiful series of checks and balances it established," he said.
Schiff is a leading figure in the House's impeachment inquiry, which began its public phase Wednesday with multiple televised hearings containing damning testimony about the president's personal involvement in efforts to pressure Ukraine to launch an investigation into his chief political rival.
While Schiff often displays a staid, parliamentary demeanor during these hearings, his bearing at the convention on Saturday was undeniably more assertive.
Schiff began his remarks on a somber note, and wove in allusions to the impeachment inquiry throughout. Building to a crescendo via a litany of Democratic electoral achievements, Schiff proclaimed, "We will send that charlatan in the White House back to the golden throne he came from." The line was among the most enthusiastically received during the speech. "There is nothing more dangerous than an unethical president who believes he is above the law," he added.
As chairman of the House Intelligence Committee, Schiff has led multiple public hearings this week involving key witnesses in the Ukraine affair. Balancing the uncertain optics of impeachment and how to proceed with the inquiry, Schiff has also had to contend with a pugnacious Republican opposition.
Republican members have attempted to exploit parliamentary rules in order to lodge their objections to Schiff's stewardship of the inquiry. The political success of this tactic with voters remains to be seen.
In one example of Republican posturing, Congresswoman Elise Stefanik attempted to use some of the Republican ranking member's time in order to question former U.S. Ambassador to Ukraine Marie Yovanovitch.
Pursuant to rules governing the inquiry, ranking members cannot yield their time to anyone but staff counsel, yet Stefanik appeared determined to make a show of the kerfuffle.
"What is the interruption for this time," she asked as Schiff gaveled over her. She later claimed that she was "muzzled" by Schiff.
After the stunt went viral, Stefanik's Democratic challenger in New York reported raising more than $400,000 over the ensuing 24 hours.
The House has scheduled further public hearings for the coming week, with some of the most central figures in the Ukraine scandal set to testify. These witnesses include a national security official who listened in on Trump's infamous July 25 phone call with Ukrainian President Volodymyr Zelenskiy; a former envoy who sent a text message conditioning a White House meeting with Zelenskiy on a probe into Democratic presidential candidate Joe Biden; and U.S. Ambassador to the European Union Gordon Sondland, who last week reversed his previous testimony to confirm an attempted quid pro quo with Ukraine for military aid.