Adam Schiff Blasts Republicans Over Donald Trump Jr. and Jared Kushner's Russian Contacts During Campaign
Since Attorney General William Barr's summary of special counsel Robert Mueller's report concluded the Trump campaign did not conspire with the Russian government in the 2016 election, House Intelligence Committee Chairman Adam Schiff has been under fire from Republicans for continuing to cite evidence of collusion.
During a committee hearing Thursday titled "Putin's Playbook: The Kremlin's Use of Oligarchs, Money and Intelligence in 2016 and Beyond," the panel's GOP members accused Schiff of using the committee as a "platform to spread false information and bizarre conspiracies," and called on him to resign as chairman.
Schiff blasted his Republican colleagues, saying they might think it's acceptable that "the Russians offered 'dirt' on the Democratic candidate for president as part of what was described as the Russian government's effort to help the Trump campaign." He then questioned the role Trump's oldest son may have played in that effort: "When that was offered to the son of the president, who had a pivotal role in the campaign...the president's son did not call the FBI," adding that "the president's son-in-law also took that meeting."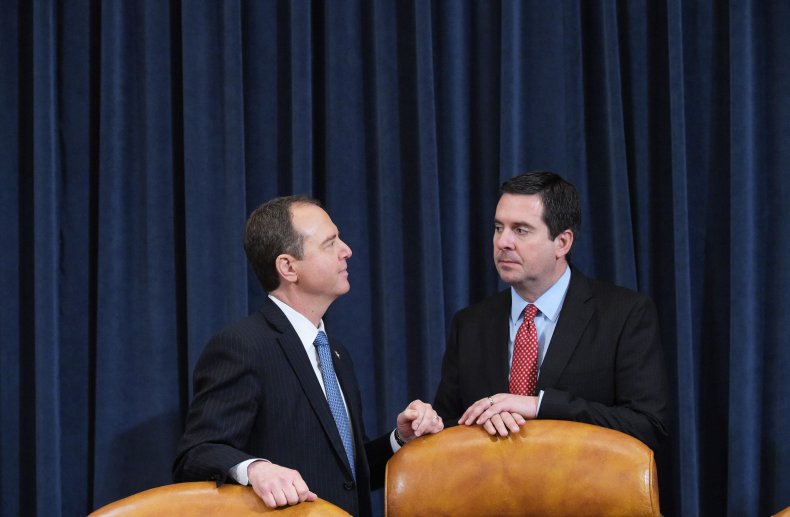 Schiff was referring to a 2016 Trump Tower meeting with a Russian lawyer with close ties to the Kremlin who had offered Donald Trump, Jr. and the president's son-in-law "dirt" on Hillary Clinton. Paul Manafort, Trump's former campaign chairman who has since been sentenced to more than seven years in prison for various financial crimes stemming from the Mueller investigation, also attended.
"You might say that's all OK. You might say that's just what you need to do to win, but I don't think it's OK," Schiff continued. "I think it's immoral, I think it's unethical, I think it's unpatriotic, and yes, I think it's corrupt and evidence of collusion."
Republicans objected to Schiff's assertion that they tolerated Trump Jr. and Kushner's contacts with Russians, classifying such a claim as "McCarthyism."
"We should not be used as a platform to spread false information and bizarre conspiracies," said Republican Devin Nunes, the ranking committee member. "This committee was created to oversee the intelligence community, not serve as a tribunal launching frivolous accusations and investigations of one party's political opponents."
GOP members on the committee, as well as rank-and-file Republicans and the president, have demanded that Schiff resign for continuing to say there was evidence of collusion. In a letter to Schiff on Thursday, all nine Republicans on the committee officially called for his resignation.
"Mr. Chairman, I'm asking for your resignation today, because I believe you are advancing [Russian President Vladimir] Putin's work," said Republican Mike Turner during the hearing.
Representative Mike Conaway told Schiff that he and his Republican colleagues "have no faith in your ability to discharge your duties in a manner consistent with your constitutional responsibility."