'Strong Evidence' Erik Prince Lied to Congress, Says Adam Schiff as He Announces Criminal Referral for Trump Ally
The House Intelligence Committee plans to make a criminal referral for Erik Prince to the Department of Justice, citing "strong evidence" that he lied to lawmakers about meeting with a Russian official days before Donald Trump was sworn into office.
"I do believe that there is very strong evidence that he willingly misled the committee and made false statements to the committee," Representative Adam Schiff, chairman of the Intelligence Committee, told The Washington Post in a live event on Tuesday morning.
Prince, the brother of Education Secretary Betsy DeVos, was an informal adviser to Trump's transition team and is the founder of the controversial security firm Blackwater USA.
"Later today we will be making a criminal referral to the Justice Department," Schiff said, adding that the "evidence is so weighty" that the department needs to re-examine the issue.
Prince made many appearances in special counsel Robert Mueller's final report on the two-year investigation into Russian election interference. In particular, Prince has been scrutinized for trying to connect members of the Trump administration to Russian officials.
In late 2017, Prince testified before the House Intelligence Committee about a meeting he had with Russian banker Kirill Dmitriev in the Seychelles. The meeting took place just nine days before Trump took over the White House in January 2017.
Prince told lawmakers during his testimony that the meeting happened by chance and was casual in nature, adding that it was not in any way set up by the Trump administration.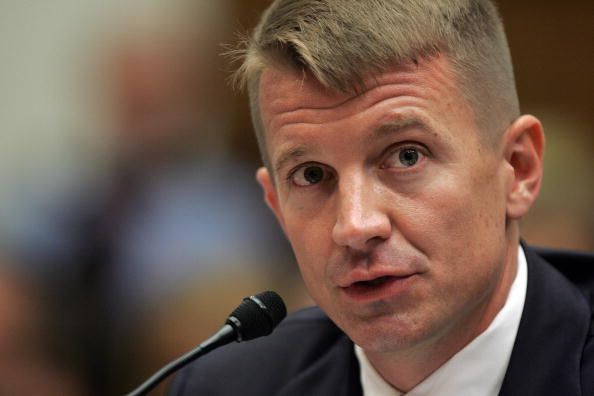 But according to Mueller's report, Prince talked about Dmitriev with United Arab Emirates emissary George Nader several times before meeting him in person. The report stated that Nader informed Prince that "the Russians were looking to build a link with the incoming Trump administration."
"We know from the Mueller report that that was not a chance meeting," Schiff told the Post's Robert Costa during the live event on Tuesday. "We know there were communications after he returned."
Schiff added that the House Intelligence Committee may also bring former Trump adviser Steve Bannon in for further questioning about the Prince-Dmitriev meeting in light of new information from the Mueller report.
"There were whole periods of time in which Mr. Bannon refused to answer questions," Schiff said. "When we asked whether he was asserting some privilege, he merely said he was not answering questions because the White House told him not to."
'Strong Evidence' Erik Prince Lied to Congress, Says Adam Schiff as He Announces Criminal Referral for Trump Ally | U.S.