Adam Schiff Mocks Republicans' Infrastructure Vows Under Trump: 'They Never Delivered'
In the wake of the House of Representatives passing President Joe Biden's $1.2 trillion infrastructure bill, Rep. Adam Schiff mocked the lack of similar policy passed during Donald Trump's presidency.
"For four years, Donald Trump and Republicans in Congress proclaimed that it was 'infrastructure week,'" Schiff, a congressman representing California's 28th District, said in a post from his campaign Facebook account. "They promised a big investment in roads, bridges, and highways. And they never delivered. We did. And that's a Big F-ing Deal."
Schiff's use of the phrase "infrastructure week" was in reference to a running joke that emerged during the Trump administration. Trump officials would often note that a given week was themed after "infrastructure," despite the administration never developing any substantial legislation that gained notable congressional support.
Trump's various "infrastructure weeks" also became notable for how often they were derailed by the former president's scandals.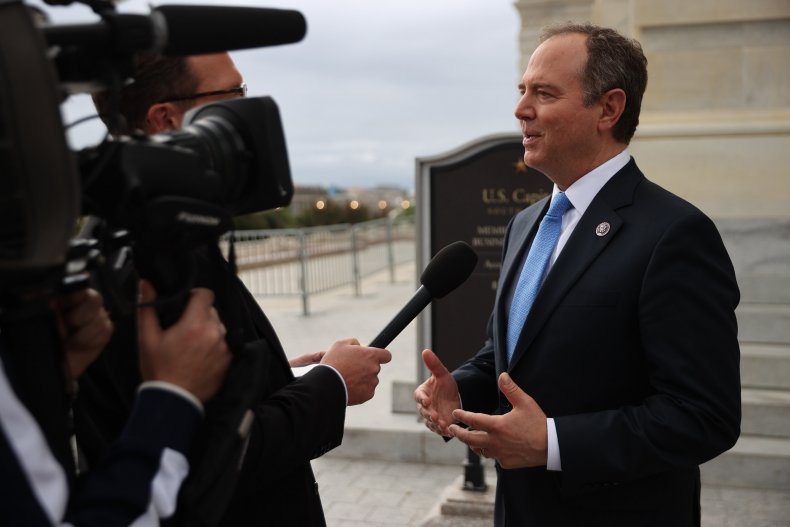 In his own address on the passage of a key piece of his agenda, Biden himself also took a shot at his predecessor.
"Finally, infrastructure week," the president said lightheartedly during a press conference on Saturday. "I'm so happy to say that: infrastructure week."
When reached by Newsweek, Schiff's office noted that the comment was made on the representative's unofficial account and shared his official statement from Friday.
"In California, like much of the country, we have fallen too far behind and too many of our roads, bridges, and schools are crumbling," Schiff said in the statement. "But today, Congress took tangible action to invest in our country's infrastructure and put our communities on a pathway to thrive, because building modern roads, bridges, schools, hospitals, water, and electric grid infrastructure is a vital part of building a better economy — one that works for everyone. The investments made by the bipartisan infrastructure package are long overdue, and they will create millions of jobs while positioning our nation to compete and recover. I am proud to support such impactful investments that I know the communities I serve so desperately need."
Schiff was among the members of the House to vote in favor of the bill on Friday, which passed 228-206. It was a bipartisan approval as a total of 13 Republican lawmakers broke rank to vote in favor of the legislation—including Don Bacon of Nebraska; Brian Fitzpatrick of Pennsylvania; Andrew Garbarino of New York; Anthony Gonzalez of Ohio; John Katko of New York; Adam Kinzinger of Illinois; Nicole Malliotakis of New York; David McKinley of West Virginia; Tom Reed of New York; Chris Smith of New Jersey; Fred Upton of Michigan; Jeff Van Drew of New Jersey; and Don Young of Alaska.
Among the dissenting votes were six Democratic progressives, including Jamaal Bowman of New York; Cori Bush of Missouri; Alexandria Ocasio-Cortez of New York; Ilhan Omar of Minnesota; Ayanna Pressley of Massachusetts; and Rashida Tlaib of Michigan.
Progressives had sought to link the infrastructure bill to the Build Back Better legislation, and have also notably clashed with moderate Senators Joe Manchin of West Virginia and Kyrsten Sinema of Arizona over the contents of Build Back Better, with the initial price tag of $3.5 trillion over 10 years reduced to $1.75 trillion.
Meanwhile, Malliotakis explained that her vote in favor of the infrastructure bill was more of a response to progressive Democrats' opposition to it.
"I weakened their hand. They have no leverage now," Malliotakis told Axios after the vote. "I voted against AOC and the Squad tonight."
Updated 11/07/2021, 3:55 p.m. ET, with a response from Schiff's communications team.