Adam Schiff Offers Deal to Senate Republicans: Let's Cap Witness 'Depositions to One Week'
Democratic Representative Adam Schiff made an offer to House Republicans during Thursday's impeachment trial of President Donald Trump, telling the Senate they should place a one week time limit on witness depositions.
Schiff's remarks were in response to Senate Republicans who have complained about the length of the trial, saying there is no need for witnesses to give their testimony to the Senate. Trump himself reportedly wants the trial to be completed before he delivers the annual State of the Union address in February.
"[Trump's] mood is to go to the State of the Union with this behind him and talk about what he wants to do for the rest of 2020 and what he wants to do for the next four years," South Carolina Lindsey Graham told Fox News in January.
"I will make an offer to opposing counsel, who have said that this will stretch on indefinitely if you decide to have a single witness," Schiff said. "Let's [cap] the depositions to one week."
Schiff referenced the 1998 impeachment of President Bill Clinton which has served as the template for the rules of Trump's impeachment trial.
"In the Clinton trial, there was one week of depositions, and you know what the Senate did during that week?" Schiff asked. "The Senate went back to its ordinary legislative business while the depositions were being conducted."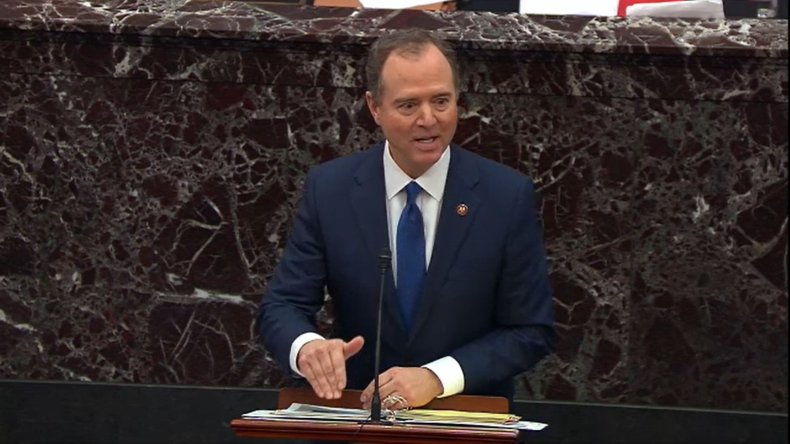 "You want the Clinton model? Let's use the Clinton model," Schiff continued. "Let's take a week to have a fair trial. You can continue your business. We can get the business of the country done."
"I mean, are we really driven by the timing of the State of the Union? Can't we take one week to hear from these witnesses?" Schiff asked.
"I think we can," Schiff concluded. "I think we should. I think we must."
Senators are expected to make a decision Friday regarding the inclusion of witnesses in the trial.
On Tuesday, Senate Majority Leader McConnell reportedly told attendees at a closed-door meeting that he would not have enough votes to block the Senate from hearing new testimonies. But as of Wednesday morning, GOP senators seemed to believe that witnesses would indeed be blocked from the trial.
McConnell refused to divulge any details about the potential outcome of the Friday vote to reporters on Thursday saying, "We'll see what tomorrow brings."
Newsweek reached out to McConnell's office for comment but did not receive a response in time for publication.
If the motion to allow new witness testimony and documents into the impeachment trial is defeated, Senate Republicans could move to acquit the president on Friday.