Adam Schiff Says Putin is Thanking God No One Is Accusing Russia of U.S. Election Interference Thanks to Trump
Rep. Adam Schiff (D-Calif.) credited President Donald Trump with making Russian President Vladimir Putin "a religious man" by deflecting Russian election interference claims to Ukraine at the Senate impeachment trial Thursday.
Schiff, the lead House manager prosecuting the case against Trump, said that the president had been promoting Russian propaganda designed to erroneously pin the blame for 2016 election interference on Ukraine. He repeated a Putin quote that Rep. Sylvia Garcia (D-Texas) had used in her earlier presentation concerning the debunked conspiracy theory. Putin made the comment during an economic forum in Moscow on November 20, 2019.
"'Thank God,' Putin said, 'thank God nobody is accusing us anymore of interfering in U.S. elections, now they're accusing Ukraine.' 'Thank God,' Putin says. Well, you've got to give Donald Trump credit for this, he has made a religious man out of Vladimir Putin," said Schiff.
Schiff's speech suggested that Trump acted in a manner that was conveniently beneficial to Putin and Russia. The congressman insisted that evidence clearly shows Trump helped mislead Americans about Russian election interference, along with the withholding of military aid to Ukraine in an attempt to get Ukrainian President Volodymyr Zelenskiy to announce an investigation of Trump's political rival, former Vice President Joe Biden. However, he stopped short of claiming that Trump's actions were directly guided by Moscow.
"Now of course there was this convergence of interest between the Kremlin and the president. The president wasn't pushing Kremlin talking points just to do Vladimir Putin a favor, he was doing it because it helped him," Schiff said. "Because it could get these talking points for him in his reelection campaign. And for that he would sacrifice our ally and our own security."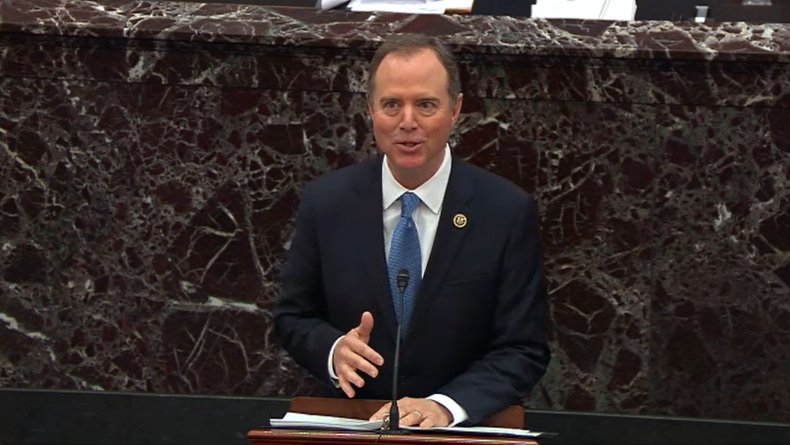 Although Schiff jokingly credited Trump with Putin's supposed religious awakening, he suggested that the Russian president thanking God for Trump could be a problem. He said Russia "don't wish us well," likening the country to a wounded animal.
"They are a wounded animal. They are a declining power," said Schiff. "Like any wounded animal, they are a dangerous animal. Their world view is completely antithetical to ours. We do not want them thanking God for our president and what he is pushing out. We don't want them thanking God for withholding money from our ally, although we can understand why they may."
As the chairman of the House Intelligence Committee, Schiff was a key figure in the successful impeachment of Trump. He has been a consistent source of consternation for the president and his allies, with Trump often referring to him as "shifty Schiff."
Newsweek reached out to the White House for comment but did not receive a response in time for publication.
The trial continued into the night on Thursday. Democrats could conclude their opening arguments when the trial resumes Friday.