Adam Schiff Says Russian Invasion of Ukraine 'Very Likely,' Calls for 'Enormous' Sanctions
Representative Adam Schiff, chair of the U.S. House Intelligence Committee, said Sunday that a Russian invasion of Ukraine is likely, and that preventing one would require "enormous sanctions" and an "understanding" by Moscow that such a move would draw NATO closer to Russia.
Schiff's comments came during an interview on CBS News' Face the Nation on Sunday. Host Margaret Brennan asked Schiff what he believes would stop Russian President Vladimir Putin "from his aggression."
"Do you need to cut that country off from the global financial system to sanction him personally?" Brennan asked.
"Well, I think that it would require enormous sanctions on Russia to deter what appears to be a very likely Russian invasion of Ukraine again. And, I think our allies need to be solidly on board with it. Russia needs to understand we are united in this," said Schiff, a Democrat from California.
He added that another "powerful deterrent" for Russia is "the understanding that if they do invade, it is going to bring NATO closer to Russia, not push it farther away."
"That we will move more NATO assets closer to Russia. That it will have the opposite impact of what Putin is trying to achieve," Schiff said.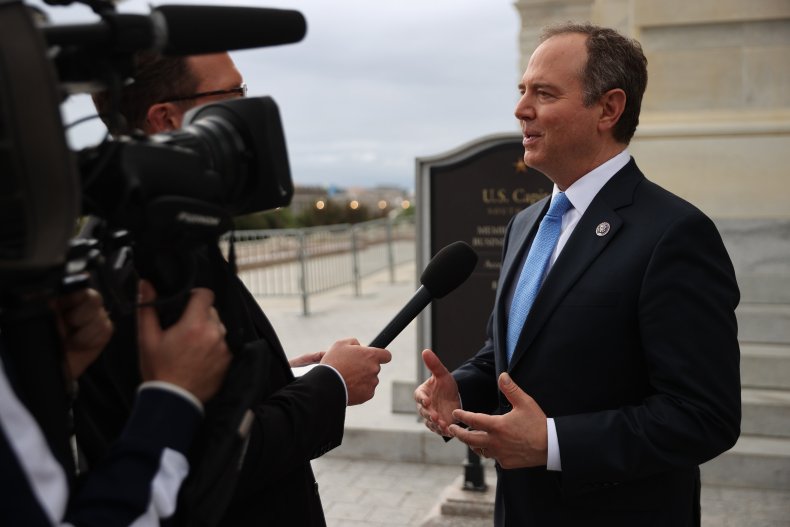 In recent weeks, Russia has amassed thousands of troops along the Ukrainian border, prompting concerns about a possible invasion.
On Thursday, Biden spoke with Putin about Ukraine and U.S.-Russia diplomatic relations.
"I made it clear to President Putin that if he makes any more moves and goes into Ukraine, we will have severe sanctions. We will increase our presence in Europe with our NATO allies, and it will have to be a heavy price to pay for it," Biden said.
Russia has said it is acting in response to NATO expansion toward its borders. Following Putin's discussion with Biden, Russian foreign minister Sergei Lavrov said that if "the West continues its aggressive line, then Russia will be forced to take all necessary measures to ensure strategic balance and eliminate unacceptable threats to our security."
Brennan asked the House Intelligence chairman if the "diplomatic talks are just building a pretext for Russia to say they have no choice but to invade?"
"I fear that Putin is very likely to invade. I still frankly don't understand the full motivation for why, why now he's doing this, but he certainly appears intent on it unless we can persuade him otherwise," Schiff responded.
"And I think nothing other than a level of sanctions that Russia has never seen will deter him, and that's exactly what we need to do with our allies," he added.