Fox Host Says Adam Schiff Is 'Stuck' In Role of Hollywood Crime Writer Ahead Of Public Impeachment Hearings
Trish Regan has accused Adam Schiff of being stuck in the role of a Hollywood crime writer ahead of the first public impeachment inquiry hearings being held today.
The Fox Business host said the House Intelligence Committee chairman had become the "chief storyteller" in the "fictional charade" of ongoing impeachment proceedings, adding that he was fulfilling his dream of being "center stage in a movie."
She also suggested that the congressman, who has been a leading figure in the Democrat push to remove President Donald Trump from office, was pursuing impeachment for "political glory" rather than the good of the country.
Adam Schiff fancied becoming a screenwriter while working as an assistant attorney in Los Angeles, The Washington Post reported, and read Silence of the Lambs and Witness scripts for inspiration before typing up a crime thriller of his own.
He told The Washington Post that he received the offer of an option from the producer Nick Wechsler, who was gone on to produce Under the Skin, Magic Mike and other major titles, according to his IMDB page.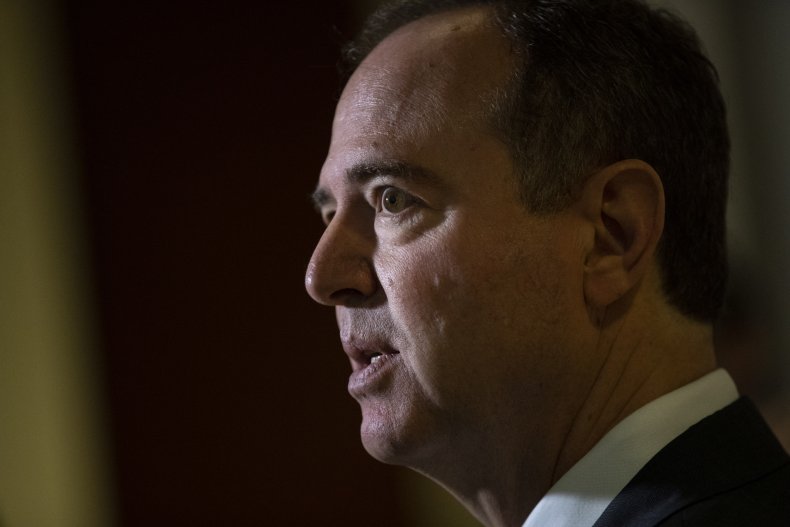 Although he claims to have turned down the offer, his career as a fledgling screenwriter before entering politics has become a regular point of attack for those opposed to the impeachment inquiry.
Speaking on Trish Regan Primetime last night, the Fox host said: "Here we are just hours away from Adam Schiff's big dream. He finally gets to be center stage in a movie he's been attempting to script ever since 2016."
"He used to spend hours at the library studying the script of the horror film Silence of the Lambs in order to write his own little crime thriller," she added. "Eventually he went into politics, and what do you know? This.
"This, tomorrow, is his big moment. He's attempting to be the chief storyteller in this fictional charade designed to sabotage President Trump, while simultaneously ravaging this great country."
Continuing her attack on the California Rep., Regan said he was "stuck in his little wannabe Hollywood crime thriller movie writer role" and "selling America out."
"For what? For what he thinks is political glory? It's not going to get him very far," she added.
Regan's segment railing against Schiff and other leading Democrats, including House Speaker Nancy Pelosi and the Squad, came on the eve of the first day of public impeachment inquiry hearings.
The top U.S. diplomat in Ukraine Bill Taylor and State Department official George Kent are set to testify in front of cameras today, with public testimony from former U.S. Ambassador to Ukraine Marie Yovanovitch following on Friday.
CNN has reported that another eight witnesses are due to appear at five public hearings next week. The testimonies will take place over the course of three days.