Adam Schiff Has Unfinished Business With Mike Pence Over Classified Evidence: 'Will the Cover Up Succeed?'
House Intelligence Committee Chairman Adam Schiff has said he will continue pushing to uncover evidence detailing Vice President Mike Pence's involvement in President Donald Trump's alleged efforts to extort Ukraine, after his colleagues voted to impeach Trump on two counts.
Soon after the House approved the two articles of impeachment against the president—one for abuse of power and the other for obstruction of Congress—Schiff told MSNBC's Rachel Maddow that he is still working to release evidence showing what he termed a "cover up."
Maddow asked Schiff whether the American people should expect new revelations about Pence's involvement in the president's Ukraine strategy.
Trump is facing allegations that he offered to release frozen military aid in exchange for an investigation into possible 2020 rival Joe Biden and his son Hunter, related to debunked accusations of corruption involving the Ukrainian energy firm Burisma.
Schiff told Maddow he and his colleagues have "acquired a piece of evidence" from a classified submission by State Department official Jennifer Williams, who was attached to Pence's office as a special adviser for Russia and Europe.
The chart below, provided by Statista, shows the House of Representatives vote on President Donald Trump's impeachment.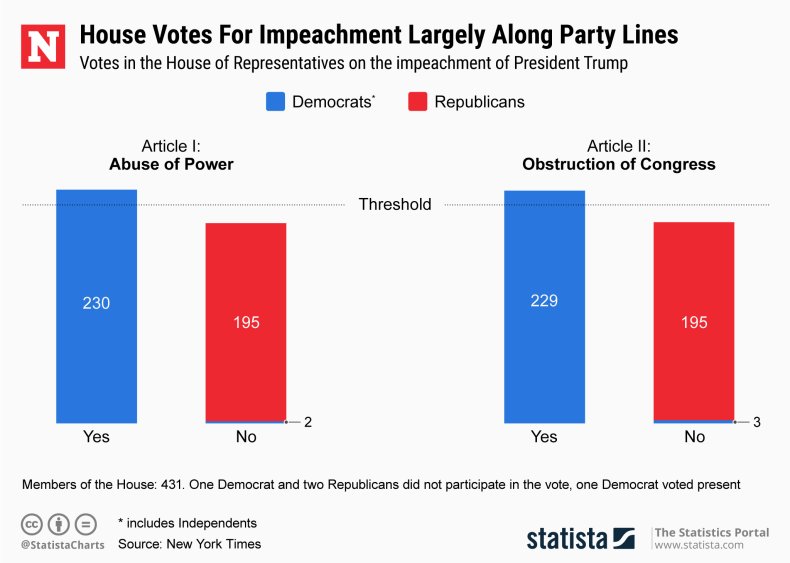 The new information was submitted one week after Williams' public appearance, on November 26, Schiff has previously explained.
Schiff said that "in going back and looking through her records, she found other information that was pertinent to that phone call that we had asked her about."
Schiff was referring to a phone call between Pence and Ukrainian President Volodymyr Zelenskiy, which she described as being "similar" to the call between Trump and Zelenskiy that sparked the impeachment investigation.
Williams previously told House investigators that there was no mention of the Bidens or Burisma on the Pence-Zelenskiy phone call.
"There is nothing that should be classified in that submission," Schiff said. "It is not proper to classify something because it would be embarrassing or incriminating."
He continued, "That submission does shed light on the vice president's knowledge. And we think the American people should see it, certainly any senators in the trial should have access to it."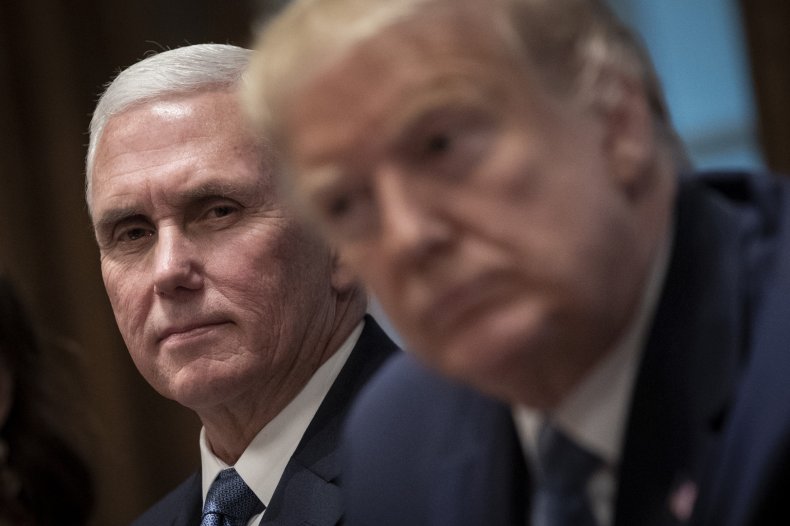 Classifying the information "goes to show that there is a body of evidence, documentary and otherwise, that administration figures from the president on down to include the vice president, do not want to American people to see or know," Schiff claimed.
"And the question is will they succeed? Will the cover up succeed?" Schiff asked. "Or will the Senate insist on what we were not able to do, obtain in the House? And that is a White House that will comply with lawful process."
Newsweek has contacted the White House by email to request a response to Schiff's assertions.