Adam Schiff Wants Trump's Deutsche Bank Records to Find Out If President Is 'Compromised' by Russian Money Laundering
Democratic Representative Adam Schiff told NBC News Sunday that Donald Trump's Deutsche Bank records could show that the president was compromised by Russian criminal money.
Schiff, who will take over as chairman of the House Intelligence Committee in January 2019, told NBC's Chris Todd that the records could expose a "form of compromise" with Russia that "needs to be exposed."
Read more: Giuliani rules out Mueller-Trump interview: "Over my dead body"
The California Democrat told The New Yorker last week that Deutsche Bank was an "obvious place to start" with records he will seek to obtain as committee chairman, due to the German financial institution's long-standing ties to the Trump Organization and involvement with Russian money laundering.
"Well, the concern about Deutsche Bank is that they have a history of laundering Russian money," Schiff told Todd on Sunday.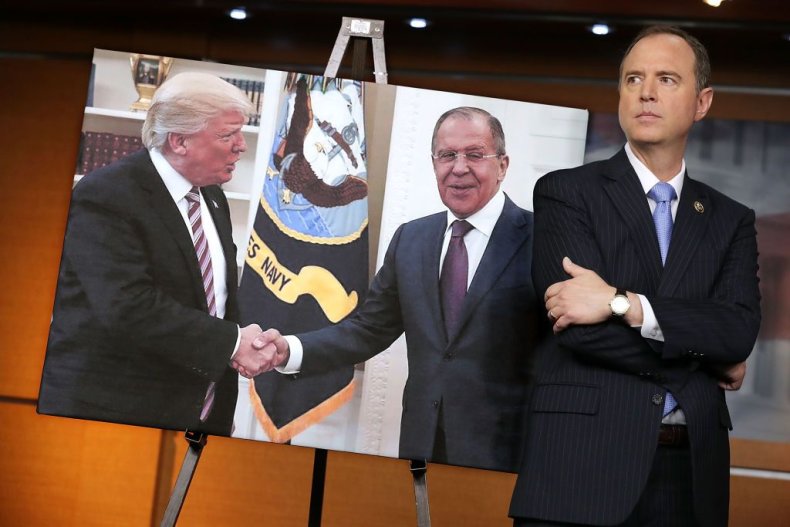 He continued, "They paid hundreds of millions of dollars in fines to the state of New York, because they were laundering Russian money. And this, apparently, is the one bank that was willing to do business with the Trump Organization. Now is that a coincidence?"
Trump's relationship with Deutsche Bank dates back to the 1990s, when the Frankfurt-based institution lent money to Trump's businesses while other banks turned him away.
Trump currently owes the bank around $340 million.
In November, police raided the bank's headquarters in Frankfurt as part of a probe into whether the lender helped criminals launder money through offshore entities. The investigation was sparked by information from the Panama Papers, a leak of thousands of documents exposing an international network of money-laundering and tax avoidance schemes.
In 2017, U.K. and U.S. authorities fined the bank $630 million for failing to stop $10 billion in illicit Russian money entering the financial system.
Trump has previously said that attempts to investigate his personal finances constituted a "red line," amid special counsel Robert Mueller's probe into allegations of Russian collusion.
The New York Times reported that Trump, enraged by reports subsequently shown to be erroneous that Mueller had sought to subpoena Deutsche Bank, threatened to fire Mueller in December 2017.
Veteran reporter Bob Woodward, in his exposé Fear: Trump in the White House, reported that Trump exploded when he read the reports about the subpoena.
House Democrats have long sought to investigate the president's financial ties with the bank.
Shortly after Trump took office, Joe Crowley, chair of the House Democratic Caucus, said, "President Trump's web of global financial entanglements are of serious concern. When a foreign-owned bank that is under investigation by the Department of Justice holds hundreds of millions in personally-guaranteed debt for the president, that is problematic for ethical, diplomatic, and judicial reasons. This is why we must know more about all of Donald Trump's business ties."