'This is America': NBA Commissioner Adam Silver Defends Anti-Trump Players Who Refuse White House Visits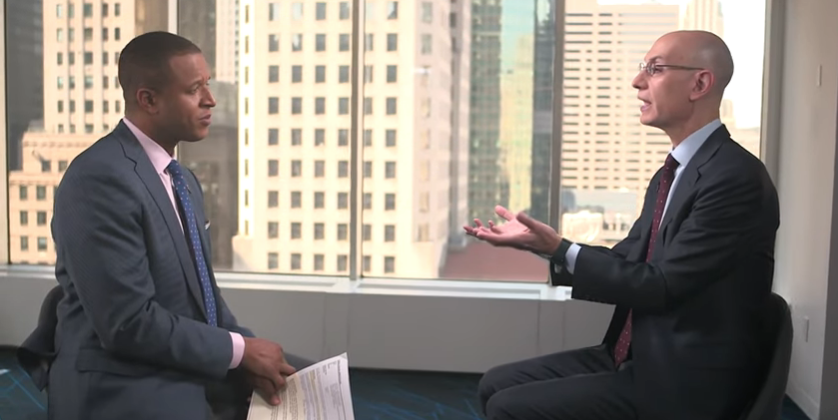 NBA Commissioner Adam Silver said he's proud of the league's long "history of activism" and he rejected critics' calls to prevent players from espousing anti-Trump or other socio-political views.
Silver discussed political protests and the anxiety of being a young basketball player in today's NBA, saying many players have approached him about mental health issues he says stems from social media providing them a platform that blurs the divide into their private lives and opinions. Silver told NBC's Today host Craig Melvin this week that many players isolate themselves with their phones, Twitter and Facebook, leaving them vulnerable to endless "haters" instead of the "old fashioned camaraderie" of past NBA teams.
Silver said the NBA will not "police every tweet" and he encouraged players to have political opinions about topics like President Donald Trump's policies and Black Lives Matter "just like every other American."
"If done respectfully and if a player chooses to say 'I don't suppport that president or particular policies of that president' that makes the player, hopefully, like every other American," Silver continued. "What I've said about people who have said to me 'how can you let a player criticize the president?' I've always said, 'this is America.'
Silver said that when Trump initially took office he "maybe naively" thought the president would take advantage of having a private discussion with players about social issues outside of "the bright lights of the media" -- but the president has failed to do so thus far.
After the Golden State Warriors won the NBA championship in 2017, Steph Curry was among several players who suggested they would not attend a White House celebration, sparking fury from Trump. That same year, Silver announced he expected NBA players to stand for the national anthem as many looked to protest in solidarity with former NFL player Colin Kaepernick's anti-police brutality kneeling.
"Going to the White House is considered a great honor for a championship team. Stephen Curry is hesitating, therefore invitation is withdrawn!" Trump remarked.
He laid out a historical timeline of protests from NBA players, citing former All-Star players including Bill Russell, Oscar Robertson, Bob Cousy and Kareem Abdul-Jabbar among its most outspoken who challenged the views of society during their careers. He said political activism is not new under him, it's in the "DNA" of the league.
"There's a history to activism in this league certainly going back to Bill Russell and that generation of players," Silver said.
"Bill Russell stood on the steps of the Lincoln Memorial when Martin Luther King delivered his iconic 'I have a dream' speech. And today while we look back and players think that doesn't seem all that controversial, Bill Russell, as a result of his political activism, suffered enormous hate and violence to his home and to his person. There were real ramifications back then for speaking out on those issues."
Melvin noted the NBA, as opposed to the NFL, has managed to set itself apart in allowing players to express their opinions on a wide range of issues on and off the court.
"We're proud of the fact our players demonstrate to people globally that they are multi-dimensional they are not just ball players, they have views about the society around them," Silver said. "It's not all political, many of them use social media to talk about the music they love, the restaurants they go to...they're real people."
Silver said the league and team franchises are working to reduce players' screen time on their phones and social media. He acknowledged an increase in mental health issues in the league today, and said he supports players using social media if it can help them bring those anxieties or issues out into the open for discussion.
Silver said he will continue to encourage championship teams to show up to the White House or not politicize NBA events, but that ultimately he has passed those decisions down to the teams.