NBA Commissioner Adam Silver Is Not a Fan of Kevin Durant Signing With the Warriors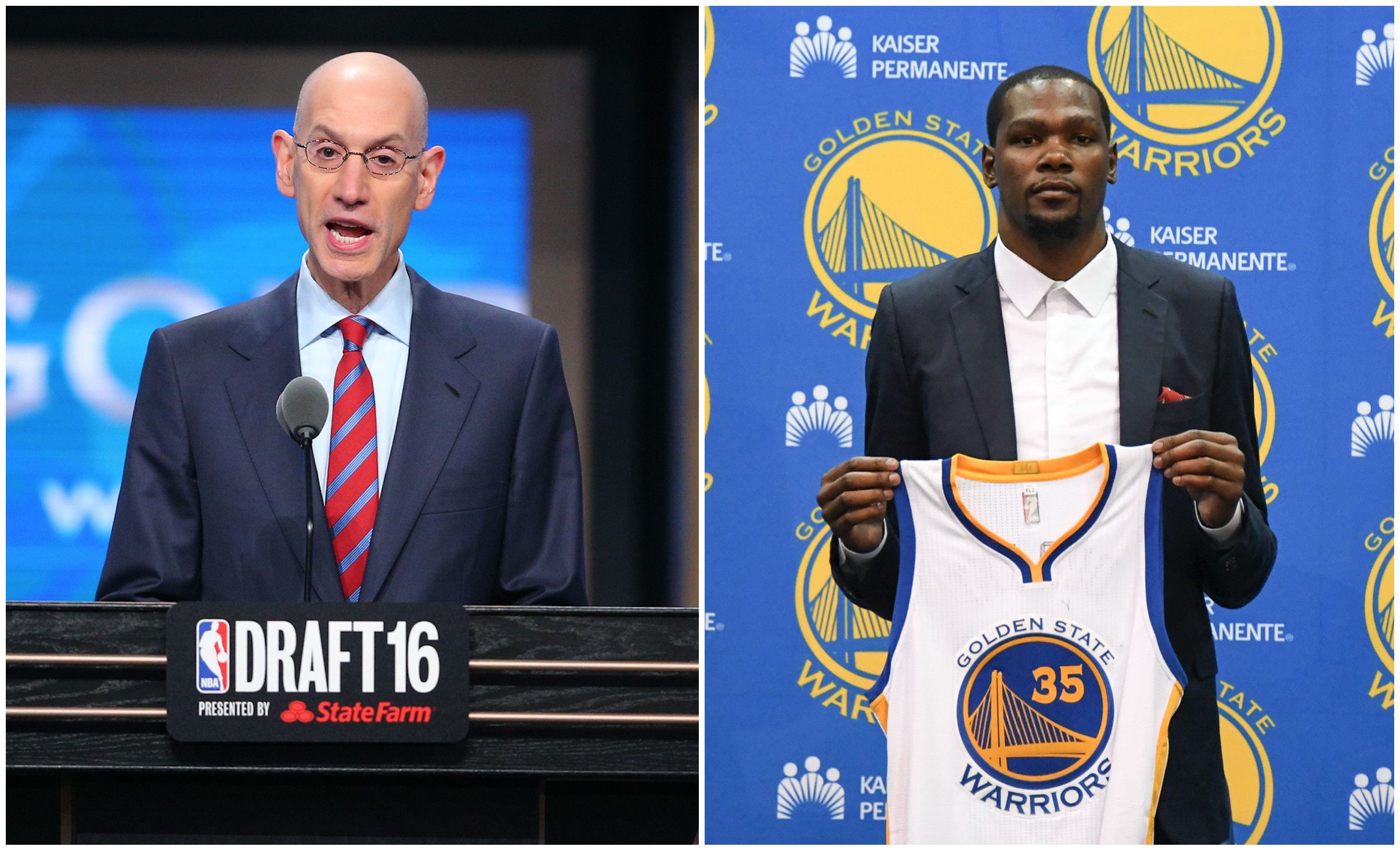 When Kevin Durant announced on The Players Tribune that he would be leaving the Oklahoma City Thunder, the franchise where he had spent his entire nine-year career, for the Golden State Warriors, the league gasped. The team with the player who won the last two MVPs and that had come within a missed shot or two of winning the last two titles had just added a top-three player in his prime. We knew it was a possibility, but to actually see pictures of Durant photoshopped into a Warriors jerseys alongside article after article breaking down the potential dominance of a team with three of the greatest shooters in league history on the perimeter was jarring in a way we couldn't anticipate. This, we realized, was going to change things. The league was going to be different now. Whether this was a good thing or a bad thing, however, was up for debate.
But not to NBA commissioner Adam Silver, who said after the league's board of governors meeting that he was not a fan of the move. "I do not think that's ideal from the league standpoint," he said Tuesday in Las Vegas.
Prior to Silver's comments, many were hesitant to argue that Durant joining the Warriors is "bad" for the league, as there was an implication that doing so would in some way be speaking out against its players' free will. Who are we to say where these players should go or what is best for a league that is booming financially? When LeBron James, Chris Bosh and Dywane Wade formed a Miami Heat superteam in 2010, the league was just fine. From the 2001-2002 to 2014-2015 seasons, league revenue nearly doubled, and in 2016 it isn't showing any signs of slowing down. A new TV deal allowed the salary cap to rise from $70 million last season to $94 million this year, an increase that allowed teams to spend unprecedented sums of money on free agents this offseason. It also allowed the Warriors to offer Durant a max contract while still retaining the core of superstars that led the team to back-to-back NBA Finals appearances.
Though Durant heading to the Warriors is intriguing and will create a similar one-team-versus-the-field effect like with the Heat in 2010, the goal of any sports league, especially from the commissioner's office, is competitive balance. Durant to the Warriors is an affront to this idea, and not only is Silver displeased, he wants to take action in preventing it from happening again.
"We all knew all this money was going to come into the system and many of these things could have happened," he said. "The fact that it's now in front of us and we're looking at how the money is being paid out and we see a particular player move, yes, without suggesting I'm negotiating, there's no question that those are things that will be discussed in future meetings with the players' association."
Silver's comments are remarkably similar to those his predecessor, David Stern, made in 2010 after James joined the Heat. Both commissioners made sure to acknowledge that the players in question operated entirely within the rules of the game. "Our players, having negotiated for the right to be free agents at some point in their career, are totally within their rights to seek employment with any other team," Stern said of James in 2010. "That's something we agreed to. That's something we embrace. That's our system."
And Silver? "I absolutely respect his decision, once he becomes a free agent, to make a choice that's available to him," he said of Durant. "In this particular case, he operated 100 percent within the way of the system, and the same with Golden State."
And like Silver, Stern expressed interest in restructuring the dynamics of how free agency works in the wake of such a seismic transaction. "We are definitely going to discuss [change] with the labor relations committee because there was a consensus that we should talk about this as a group to see what we can do going forward, or what should be done going forward," he said at the time.
But James signing with the Heat happened in an offseason following a year in which the league lost $370 million. In 2016, the NBA is more flush with cash than it has ever been, which presents its own set of challenges for Silver. The salary cap will rise once again next season, from $94 million to $102 million, which means teams will have even more money to spend on high-priced stars, or, of concern to Silver, multiple high-priced stars.
Durant joining the Warriors might have been an anomaly, but Silver is smart enough to realize that as the league's financial situation changes so rapidly, the league may need to implement certain checks and balances to prevent—as they would say in Silicon Valley, the culture of which pervades the Warriors' operations—a monopoly. Silver may be in a better position to regulate the Warriors than the federal government is to regulate Uber or Airbnb, but it will still be a complex problem to solve. The NBA already tried to make the salary cap increases more gradual, but the players' association rejected the proposal.
"In a way, the good news is that we are in a collective bargaining cycle, so it gives everybody an opportunity—owners and the union—to sit down behind closed doors and take a fresh look at the system and see if there is a better way that we can do it," Silver said. "My belief is we can make it better."