Adam Toledo Video: Chicago Releases Footage From Fatal Shooting of 13-Year-Old
Video footage of the police shooting of 13-year-old Adam Toledo, who was killed on March 29, has been released by the Chicago Civilian Office of Police Accountability (COPA).
Police said the shooting occurred after an "armed confrontation," and the Cook County's attorney office alleges the 13-year-old had a gun in his hand when he was shot. Officials faced pressure to release footage of the shooting, and on Thursday COPA released multiple videos of Toledo's final moments.
Body camera footage from one officer showed him chasing Toledo down an alley and screaming for him to "stop" and "show me your f***ing hands." After the officer fires, Toledo falls to the ground. The officer then calls for an ambulance and asks Toledo if he's all right as the 13-year-old lies somewhat motionless on the ground.
"Stay with me, stay with me," the officer says.
The officer tells another person that he can't feel a pulse and that he's going to start doing chest compressions. Officers who responded to the scene encouraged Toledo to "stay awake" and said, "Come on, man, talk to me."
A total of 17 body camera videos, four third-party videos, two audio recordings of 911 calls and 6 ShotSpotter recordings were released. People can access the footage on COPA's website.
Ahead of the release of the footage, Chicago Mayor Lori Lightfoot warned people it could be "incredibly difficult to watch."
"I say that as a mother of a 13-year-old myself, but as a mayor who is passionate about protecting our young people," the mayor said at a press conference Thursday. "As more people see this footage, I want to ask that everyone tuning in right now to think first and foremost of Adam Toledo and what his family is enduring every single day since they've learned of his passing."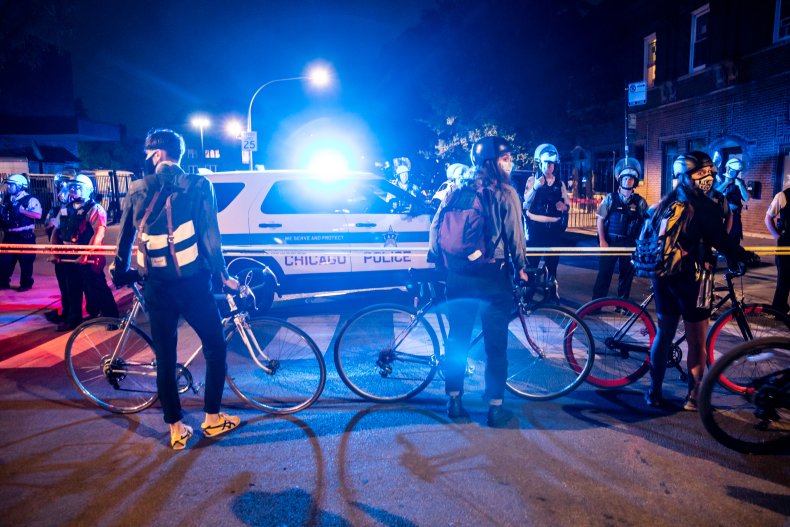 Toledo's family viewed the footage privately before it was released to the public, and COPA initially said it wouldn't be releasing the videos to respect the family's wishes. However, it later agreed to allow the footage to be seen in the interest of transparency, saying that it's "essential to building public trust."
On March 29, officers responded to reports of gunshots at around 2:30 a.m. They saw two males, identified as Toledo and Ruben Roman, 21, who were both running. Prosecutors contend that police found Toledo with a firearm in his hand and advised him to drop it multiple times. When he allegedly turned toward the officer, the officer fired and struck him in the chest, according to prosecutors.
Meanwhile, Chicago is bracing for protests, and police have new rules about how officers should treat demonstrators. Officers are not allowed to prevent protesters from filming them and must give clear warnings to them, as well as giving them time to vacate an area, before dispersing a crowd.
As has been the case in other officer-involved shootings, Toledo's family urged people to remain peaceful, even after they see the footage.
"We acknowledge that the release of this video is the first step in the process toward the healing of the family, the community and our city," a joint statement from Toledo's family and the mayor said. "We understand that the release of this video will be incredibly painful and elicit an emotional response to all who view it, and we ask that people express themselves peacefully."