Adam Vinatieri Breaks NFL All-Time Points Record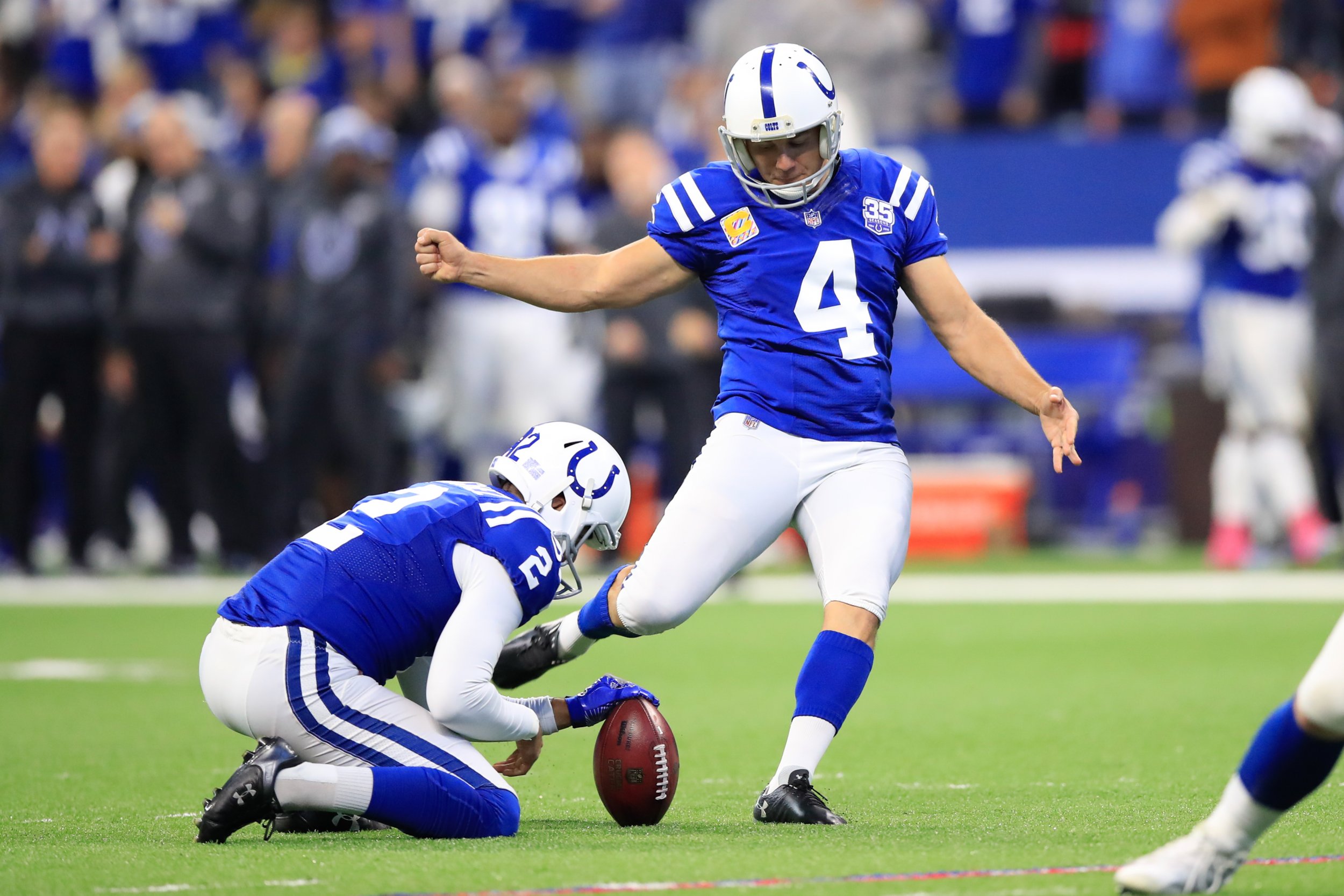 Indianapolis Colts kicker Adam Vinatieri is now the NFL's all-time points record holder.
On Sunday, Vinatieri made a 25-yard field goal against the Oakland Raiders to record 2,547 career points, surpassing Hall of Famer Morten Andersen's previous record of 2,544.
Additionally, the former Super Bowl champion managed to break the record despite dealing with a groin injury. Indianapolis had worked out three free-agent kickers last week in case Vinatieri was unable to play on Sunday, according to NFL.com.
Vinatieri entered with 2,540 points and tied Andersen after making an extra point and field goal during the first quarter of Sunday's game. The 45-year-old kicker had also broken Andersen's record for most all-time field goals made (565) four weeks ago.
Vinatieri still trails Andersen's record for most games played (382) and George Blanda's record for oldest player to appear in an NFL game (48 years, 109 days), but hasn't yet ruled out playing after the 2018 season.
"I don't ever want to get to a point where it's, 'I should have hung it up a year ago,'" Vinatieri told NFL Network's Judy Battista earlier this month. "I'm not putting a time on it. If we get through the season and we're trending up, team-wise, if we're a playoff contender ... I want another Super Bowl. If we've got a chance here [in Indianapolis] or anywhere else, I'd consider continuing. I'm not overly into moving my family, but if the Colts didn't want me back and next year's AFC or NFC champion said, 'We need you,' it would be interesting."
Vinatieri announced his decision to return for his 23rd season last December following the Colts' Week 17 loss to the Baltimore Ravens. Back then, he continued to pledge his loyalty to Indianapolis, but wouldn't rule out playing for another team if the organization had plans to let him leave.
"Indianapolis is home to me and my family. I love the Irsay family, but I understand this is a business," Vinatieri said. "I just know I'm going to play another year."
Vinatieri spent his NFL career playing for both the Colts (2006-present) and New England Patriots (1996-2005), where he was a key member of three Super Bowl teams, having made numerous late postseason field goals, including two game-winners in Super Bowl XXXVI and XXXVIII, respectively.