Gambia President Adama Barrow: 'Peaceful Transition More Important Than Yahya Jammeh's Luxury Cars'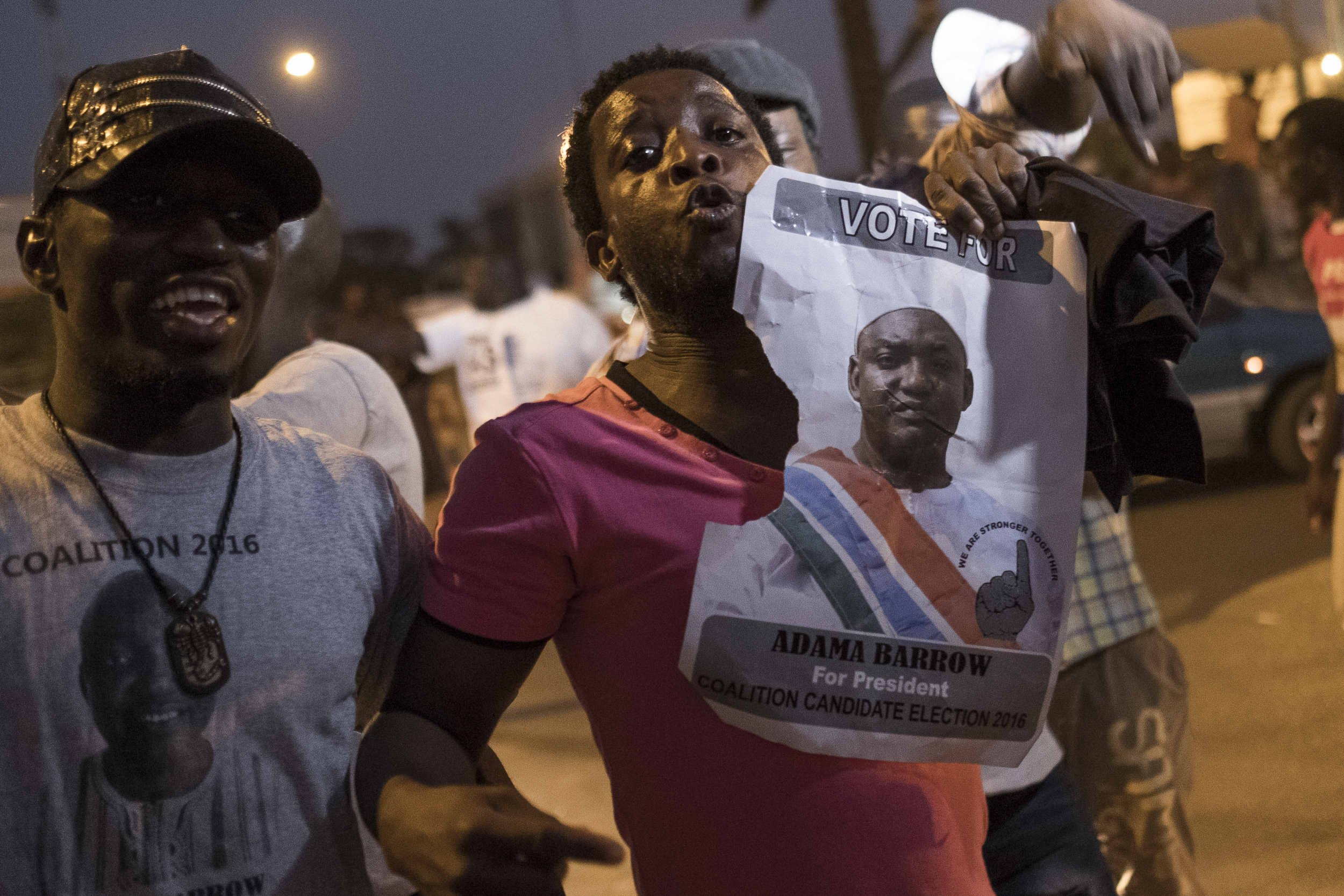 Gambia's President Adama Barrow has vowed to maintain peace as his main priority, rather than preventing exiled ruler Yahya Jammeh from keeping hold of his fortune.
Speaking to Newsweek from the Senegalese capital Dakar on Tuesday, President Barrow says he is scheduled to return to Gambia on Thursday, subject to confirmation by regional body the Economic Community of West African States (ECOWAS) that it is safe for him to do so.
Barrow was inaugurated on January 19 at the Gambian embassy in Dakar. After a three-day standoff that saw ECOWAS troops enter Gambia, Jammeh finally stepped down and left the West African country—reportedly for Equatorial Guinea—following negotiations with the presidents of Mauritania and Guinea.
But his departure has proved controversial. One senior member of Barrow's coalition, Mai Ahmad Fatty, said that Jammeh had cleared $11 million out of the state treasury in the weeks before his departure, a claim later contradicted by the president's spokesman Halifa Sallah.
Jammeh also managed to take some of his personal riches with him, including two Rolls-Royces, a Mercedes Benz, and other cars and luxury household items, according to The New York Times. Barrow's spokesman Sallah told AFP Tuesday that Jammeh was allowed to keep his collection of 13 luxury cars as "it is better to leave with all his properties instead of coming down and checking properties."
"This money issue, I don't want to comment on that until I get the truth about it," says Barrow. "I don't have any document that I can rely on to say that it has happened, so I don't comment on that."
But the president points out that, whatever possessions Jammeh left Gambia with, maintaining the country's peace and stability was more important to the new government. "Him leaving the country with some of his cars, this is diplomacy. We wanted a peaceful transition, we wanted to resolve this problem peacefully. That's why it was very important for us to allow peace to happen in that way," says Barrow.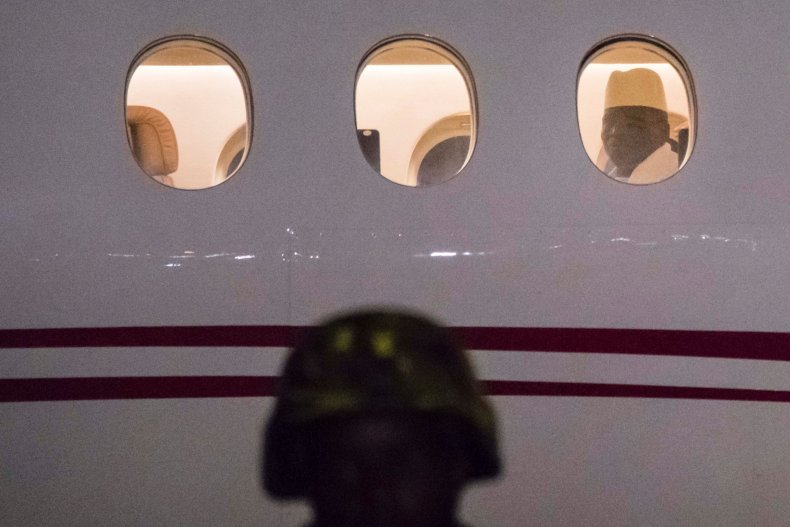 The 51-year-old president, who owns a real estate agency and has no political experience, says his top priority when he returns to Gambia is to put his cabinet in place and "start the ball rolling." Barrow made his first appointment Monday, choosing Fatoumata Jallow-Tambajang, who chaired the multi-party opposition coalition that defeated Jammeh, as his vice president.
A central question for Barrow's government will be how to deal with Jammeh. On top of the allegations of looting state coffers, human rights organizations have consistently accused Jammeh—who seized power in a 1994 military coup—of failing to uphold basic human rights, such as freedom of expression. The ex-army officer, through the medium of his military, has cracked down violently on political opposition: Barrow was nominated as the coalition's presidential candidate in the absence of many other senior opposition figures, who had been arrested in the run-up to the vote. Several others, including Solo Sandeng of the United Democratic Party, have also reportedly died in custody.
Barrow told Newsweek after his election victory in December 2016 that he wanted to "reconcile" with Jammeh and was not intending to seek prosecution of the ex-president. Jallow-Tambajang, on the other hand, told The Guardian that the coalition would try to prosecute Jammeh within a year of taking power.
The president says that his position has evolved and he now wishes to set up a truth and reconciliation commission to investigate alleged abuses conducted during Jammeh's 22 years in power. "By the time we have some recommendations from the commission, we will act based on those recommendations," he says. "It will take a period but we want to know. You have to know the truth first before you can resolve, reconcile, or before you can take any other decision. I think that's fundamental."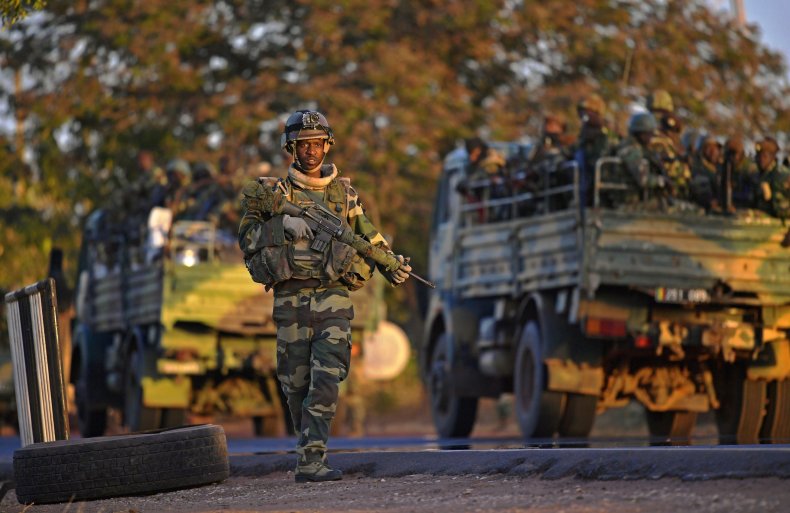 Barrow took 43.3 percent of the vote in the December 2016 election, ahead of Jammeh on 39.6 percent, in a shock victory. Jammeh initially accepted the result, but changed course a week later and demanded a fresh vote. The former president lodged an appeal with the country's Supreme Court, which did not have enough judges to hear the case, and attempted to block Barrow's inauguration from taking place on Gambian soil.
In his final days in office, Jammeh cut an isolated figure, as ministers resigned and neighboring West African states called upon him to step down. But Barrow says that it was the threat of military action by ECOWAS that finally pushed his predecessor into accepting defeat. "To be very frank, it was the ECOWAS forces that intimidated him, that's why he accepted to leave the country," says Barrow.
Gambia's peaceful transition of power—the first in its history since independence in 1965—is being cited by observers as an example to other African states. Barrow has also indicated that he wants the country—a sliver of land completely encompassed by Senegal with an Atlantic coastline popular with Western tourists—to play a full role in the international community after several decades of isolation. Despite recent shifts to more isolationist policies in the West—such as the U.K.'s decision to leave the European Union and Donald Trump's election in the U.S.—Barrow says he is determined to pursue an outward-looking agenda.
"[We will have a] very open foreign policy. We want to be friends with everybody. We want to be part of all international organizations and accept all democratic principles."